2023 Dutch Dressage Championships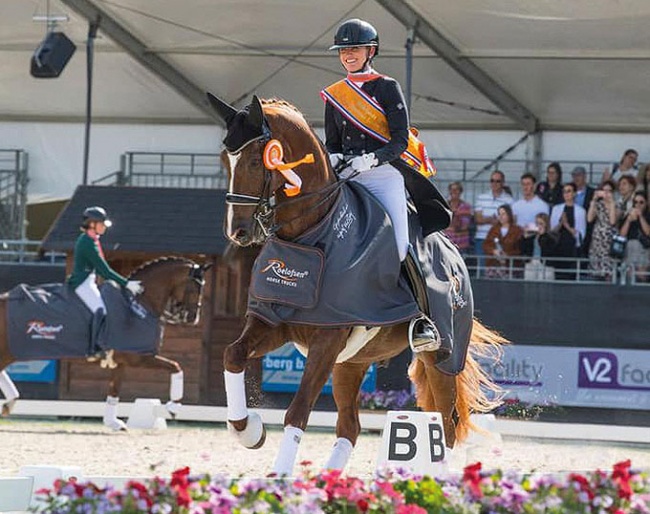 Children rider Esmae Niessen, junior rider Annique Frans, young rider Robin Heiden became the winners of the 2023 Dutch Dressage Championships on 25 - 28 May 2023. In the senior classes, Dinja van Liere captured gold in the small tour while Marlies van Baalen finally put the icing on the cake and grabbed the one missing title in her collection, Dutch Grand Prix Champion. 
The Dutch Nationals are traditionally hosted at the KNHS and KWPN headquarters in Ermelo, The Netherlands. 
The Championships include classes from children level to senior Grand Prix, but excludes the ponies who compete in Ermelo as a team selection trial but not for the national title. There are also divisions at fourth level as well as a small tour championship. 
Youth Classes: Niessen, Frans, Heiden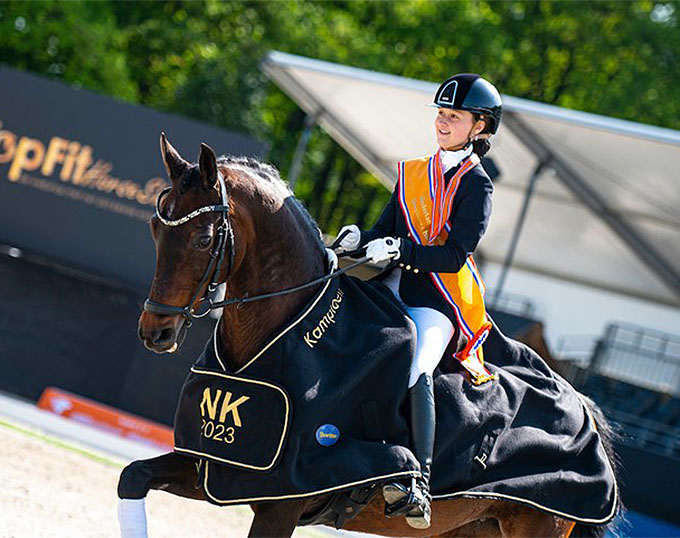 Nine children combinations were entered and eight completed both rounds. It was newcomer Esmae Niessen who grabbed the gold medal after winning both rounds with 78.250% and 76.922%. Her partner in crime is the 15-year old KWPN mare Dadona Diva (by Johnson x Rosenkavalier), which she premiered at international Children's level at the CDI Tolbert in April. She's in pursuit of a team spot for the European Children Championship after also having bested the first observation in Exloo.  "This is incredible," she said about her national title. "We've only been a combination for a short while and she does everything for me. I think that's really cool." The silver went to Britt Kikkert-van der Linde while Eliev Verstappen got bronze.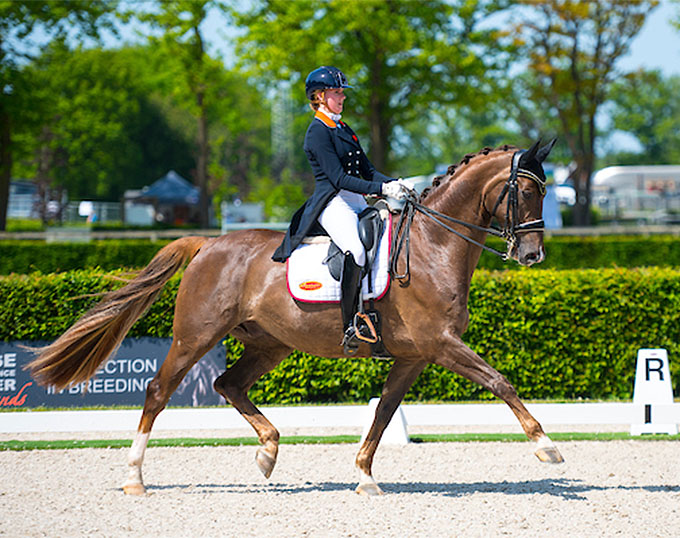 At junior level no less than 27 junior pairs were entered for the first round and the top 8 moved to the second round. It was a surprise conquest for brand new face, Anique Frans, who participated in her first ever Dutch Championships and immediately rode to the title and gold medal. Based in Ijsselmuiden (NED), the 16-year old Frans edged out several long time Dutch team members and division routiniers. Aboard the 9-year old KWPN gelding Jack Sparrow (by Everdale x Wolkentanz II) she was second in the team test with  70.303% but topped the freestyle with 74.283% and got the gold. "Totally unexpected," Frans said after the podium ceremony. "I rode two internationals to see how I was doing. I have been riding Jack Sparrow for two years and competed him straight at Z1 level. It went super well so we decided to try for juniors." Frans trains with her mom Ester Plender and Joyce Heuitink. The silver went to Lara van Nek, while Yasmin Westerink collected bronze.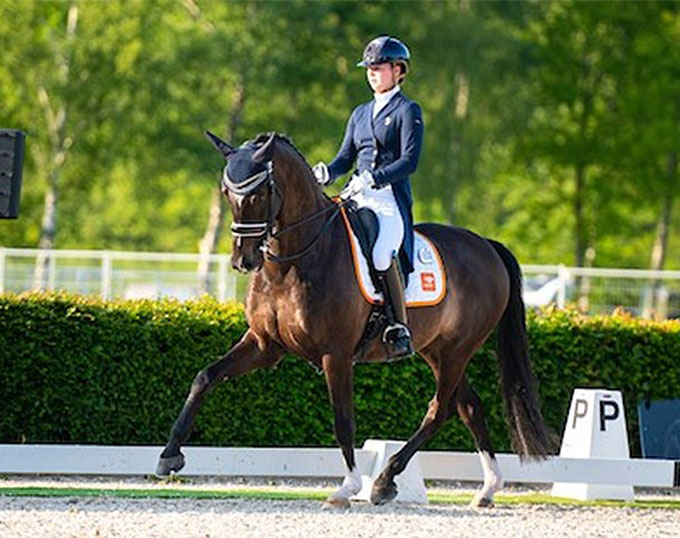 Tweny-three young riders lined up for the championship battle in their division and the top eight of the team test moved to the second round, the freestyle. It became a neck-to neck race between team members Robin Heiden and Shanna Baars. Team routiniers Heiden and the home bred 12-year old KWPN gelding Gasmonkey (by Tuschinski x Ferro) made it onto the highest step of the podium in the end after placing second in the team test with 70.588% and winning the kur with 75.808%. "I'm super happy that it worked out," Heiden smiled. "It was quite a thriller today. it feels really good to have the title now. Last year I was also second after day one but then it didn't work out in the Kur. We had too much tension then. Today Gasmonkey felt self-confident and I could really ride him. That felt very good." Shanna Baars ended up with silver, while Chief van Bedaf got bronze. 
Under 25: Marten Luiten Does it Again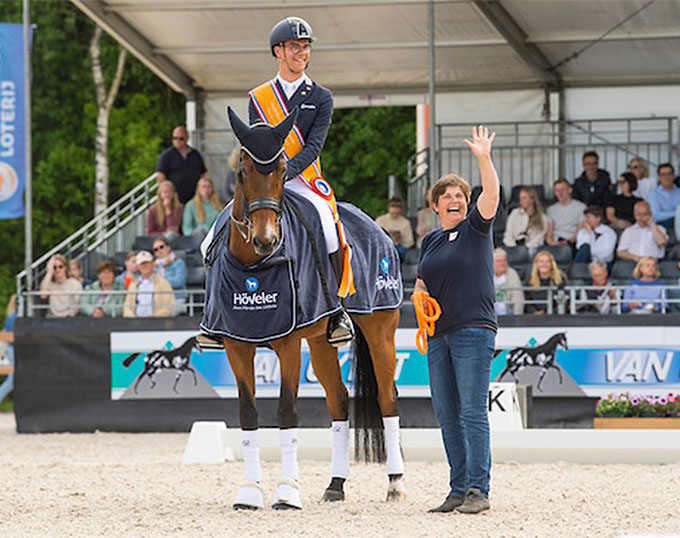 Seventeen Under 25 riders were entered for the Championship, sixteen competed in round 1 and eight moved to the finals. The duel between Marten Luiten and Daphne van Peperstraten turned out to be in favour of Luiten who renewed his U25 title from last year. 
Now training with Anky van Grunsven, Luiten and Willeke Bos' 13-year old KWPN mare Fynona (by Ampere x Gribaldi) won both rounds with 75.342% and 78.158% in the kur to stay 3% ahead of silver medalist Van Peperstraten. The bronze was for Zoe Kuintjes. When asked how many titles he has asked so far, Luiten replied, "this is bad, I don't even know. It's always a bit exciting in the freestyle, especially when you are first on the first day and want to keep that spot. It's nice when it works out."
Luiten is almost ready with his Master studies in Business Administration in Groningen, but also has a barn full of horses. "I have to finish two more subjects and in September my internship begins and then I'm done with my Masters," he said.
Senior Small Tour: Dinja van Liere
The senior small tour championship is always one of the busiest in The Netherlands and this year the group even had to be cut into two as so many riders achieved the qualification scores. It were the professionals in the end who had something to say about the podium places and Dutch World Championship bronze medal winner Dinja van Liere ruled the roost with Eugene Reesink's 8-year old Hanoverian Vita di Lusso (by Vitalis x Weltano). She won the Prix St Georges with 75.882% and the freestyle with 81.350%. 
Kirsten Brouwer nabbed the silver aboard the 9-year old KWPN bred Jack Daniels (by Electron x Ferro), while Renate van Uytert-van Vliet got bronze aboard the 9-year old KWPN stallion Just Wimhof (by De Niro x Riccione).
Senior Big Tour: Marlies van Baalen
Without a doubt the most important division of the annual Dutch championships is the senior big tour and this year a great number of top riders and horses were absent from the Nationals (Dinja van Liere's Hermes, Kirsten Brouwer with Foundation, Emmelie Scholtens with Indian Rock and Desperado, Marieke van der Putten with Titanium, Edward Gal with Total US and Toto Jr). However that didn't make the competition less interesting. 
Thirty-three pairs were originally entered for the first round, the Grand Prix, but but two didn't show up, Hans Peter Minderhoud withdrew Dream Boy last minute and retired his tense Invictus as the end of the Grand Prix; Theo Hanzon and Invershin got eliminated. So in the end 28 riders finished in the first round and 12 moved to the Freestyle final.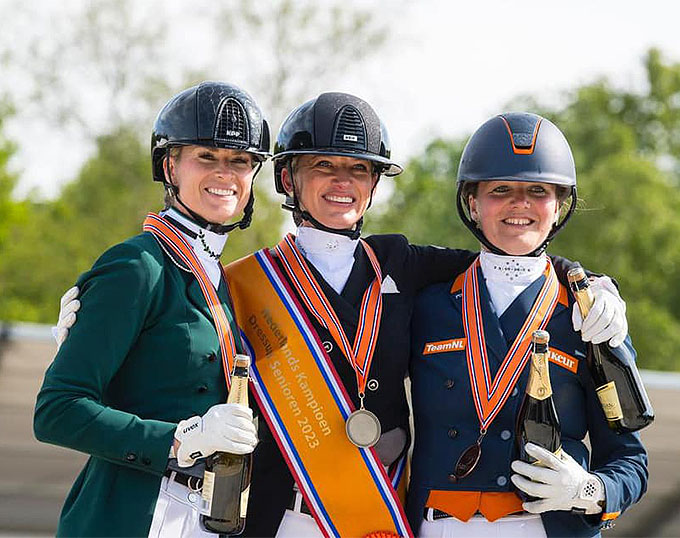 Marlies van Baalen has been a leading dressage rider in The Netherlands since the 1990s. She has earned titles in youth division, indoor winter titles on several horses, competed at Championships and the Olympics, but she has never been Dutch Grand Prix Champion, until this year.  The 42-year old rode the home bred 11-year old Dutch warmblood gelding Habibi DVB (by Don Schufro x Johnson) to the title with a double victory. She won the Grand Prix with 75.783%  and the freestyle with 82.355%. Dinja van Liere got silver aboard Jan Pieter Dalsem's Hartsuijker (by Johnson x Scandic), while the bronze went to Thamar Zweistra on Hexagon's Ich Weiss (by Negro x Rubiquil). 
"Habibi has been improving so much the last few months at competitions. We're in a good rhythm. He grows at shows. He is such a nice horse with a great character. I'm mega happy," said the 42-year old Van Baalen. "I gave it my all. He has that inner peace and the qualities to perform in an impressive stadium. I'm very grateful for that. There aren't that many complete horses as Habibi. I will take this all in."
When asked if Paris is on the horizon, Van Baalen replied, "You can make a long term plan but now I want to enjoy the moment and I will do that. Last weekend I broke my toe when I put a blanket on Habibi. I had to rest for two days and maybe that's why we were so fresh at the start. I've reduced the painkillers a little, but I still needed them to pull on my boots. I can't walk fast, but I ride well."
Photos © Digishots
Results - 2023 Dutch Dressage Championships - Ermelo
Children
1. Esmae Niessen - Dadona Diva - 78.250%  -  76.922% --- 155.172
2. Britt Kikkert - Van der Linde -  Dark Knight Texel  - 77.725% × - 76.209% --- 153.934
3. Eliev Verstappen  - Happy Feet   - 74.225%  -  72.454%  --- 146.679
4. Levi Heusinkveld  - Harimann  - 73.300%  - 69.551%   --- 142.851 
5. Sophie Evers  - Beaumonde  - 72.375% -  67.880%   --- 140.255 
6. Sophie van Iwaarden  - Hermès Mithras  - 71.600%  -  66.727%  --- 138.327 
7. Jayda Vermeer  - Kendrick  - 69.725%  - 67.380%  ---  137.105
8. Estelle Middelkoop  - Guapo - 72.350%  - 64.371%  ---  136.721 
Roos de Jong -  Falcon - 
Junior Riders
1. Anique Frans - Jack Sparrow   - 70.303% × - 74.283%  --- 144.586 
2. Lara van Nek  - Jatilinda   - 71.162%  - 72.517%   --- 143.679
3. Yasmin Westerink  - Dibert L    - 70.252% - 72.308%   --- 142.560 
4. Anniek van Dulst  - Kadanz  - 69.141%  - 73.283%   --- 142.424 
5. Ilse De Wilde  - Excellentie   - 70.101%  -  71.925%  --- 142.026
6. Kebie Raaijmakers  - Kevita   -  68.485%  - 72.992%  ---  141.477
7. Isa Hollands  - Hupadoeska pb    - 69.747%  - 71.500%   --- 141.247 
8. Jessica Nesselaar  - Indigo   - 69.348%  -  71.808%   --- 141.156
Young Riders
1. Robin Heiden - Gasmonkey   -  70.588%  -  75.808%   --- 146.396 
2. Shanna Baars  - Farzana G    - 71.520%  -  74.842%   --- 146.362 
3. Chiel Van Bedaf  - Key-West Texel    -  69.951%  - 70.467%   --- 140.418  
4. Margje Janssen  - Elma    -  68.971% -  71.425%   --- 140.396 
5. Geertje Hoogendoorn  - Emporio Armani Ld  -  66.569%  -  73.167%   --- 139.736 
6. Isabelle Bergsma  - Havita OMHG   -  67.843%  -  70.917%   --- 138.760
7. Micky Schelstraete  - Duval's Kapri Son  - 69.363%  - 68.225% ×1   --- 137.588
8. Rowena Weggelaar  - Don Quichot   -  70.000%  -  RT   --- 70.000
Under 25
1. Marten Luiten -  Fynona    - 75.342%  -  78.158%   --- 153.500 
2. Daphne van Peperstraten  -  Cupido   -  74.060%  -  76.708%   --- 150.768
3. Zoë Kuintjes  - Cupido  -  72.436%  - 74.750%   --- 147.186
4. Thalia Rockx  - Golden Dancer de la Fazenda    - 71.581%  - 73.883%   --- 145.464 
5. Jessica Poelman -  Chocolate Cookie R.D.P  - 69.872%  - 71.725%   --- 141.597
6. Julia Bouthoorn  - Choice Finch   -  68.590%  - 72.217%   --- 140.807
7. Kim Noordijk  - Joep    -  69.017%  -  71.575%   --- 140.592
8. Quinty Vossers - Hummer    -  69.274%  - 71.133%   --- 140.407
Senior Small Tour
1. Dinja van Liere  - Vita di Lusso    -  75.882%  - 81.350%   --- 157.232
2. Kirsten Brouwer  - Jack Daniels   73.382%  -  78.850%   --- 152.232
3. Renate van Uytert-van Vliet -  Just Wimphof    - 73.039%  - 77.000%   --- 150.039 
4. Jonna Schelstraete - Van dem Ham  - Ironman   -  72.941%  - 76.800%   --- 149.741
5. Diederik van Silfhout  - Dante US   - 72.108% -  76.875%   --- 148.983 
6. Marieke van der Putten  - Zantana   - 72.402%  -  74.867%   --- 147.269 
7. Quinty Vossers  - Inferno    - 71.912%  - 74.533%   --- 146.445
8. Daphne van Peperstraten -  Hotmail V   -  70.098%  - 75.650%   --- 145.748 
9. Madeleine Witte-Vrees  - Elton    - 70.980% - 72.867%   ---  143.847 
10. Lynne Maas  - Happyness e   - 70.981%  -  72.167%   --- 143.148
11. Kim Noordijk  - Jupiter    - 70.490% - 71.758%   --- 142.248 
12. Dominique Filion - The Boss   - 72.598%  - RET ---- 72.598
Senior Grand Prix
1. Marlies van Baalen - Habibi DVB  - 75.783%  - 82.355% ---  158.138 
2. Dinja van Liere - Hartsuijker    - 74.609%  - 81.885% ---  156.494 
3. Thamar Zweistra - Hexagon's Ich Weiss    - 74.000%  - 81.040% --- 155.040
4. Lynne Maas - Electra  - 73.522%  - 78.700% --- 152.222 
5. Diederik van Silfhout - Filius Apache   - 72.413%  -  76.775% --- 149.188 
6. Denise Nekeman - Boston STH  - 71.478%  - 76.725% --- 148.203 
7. Devenda Dijkstra - Hero   - 70.935% -  75.120% --- 146.055
8. Adelinde Cornelissen - Fleau de Baian  -  71.196%  -  73.520% --- 144.716
9. Mirelle van Kemenade-Witlox - Siebenstein  - 69.804%  - 73.425% --- 143.229
10. Jennifer Sekreve - Hitmaker   -  69.413%  - 72.925% --- 142.338
11. Patrick van der Meer - Hollywood    - 69.065%  -  72.735% ---  141.800 
12. Laurens van Lieren-  Dutch Design    - 69.478%  -  71.285% --- 140.763
Related Links
2023 Dutch Dressage Championships Without Leading Ladies on Their Top Horses
Small Tour at 2023 Dutch Dressage Championships Bursting Out of Its Seams
Previous Winners
Dinja van Liere and Hermes Win 2022 Dutch Grand Prix Championships with All Girl Podium
Van Norel, Van Nek, Luiten Win 2022 Dutch Youth Championships
Jonkers, Van Rooij, Luiten, De Koeyer and Gal Win 2021 Dutch Dressage Championships
Raaijmakers, Heiden, Van Peperstraten, Nieuwenhuis, Gal Win 2020 Dutch Dressage Championships
Gal and Toto Jr Take Comfortable Lead in 2020 Dutch Dressage Championships
Van Nek, Luiten, Rockx, Van Silfhout, Nieuwenhuis, Gal Win 2019 Dutch Dressage Championships
Buijs, Van Peperstraten, Rockx, Nieuwenhuis, Gal Win 2018 Dutch Dressage Championships
Van Peperstraten, Donkers, Maas, Meulendijks, Gal Win 2017 Dutch Dressage Championships
Oudhof, Nieuwenhuis, Gal, Meulendijks, Van Silfhout Crowned 2016 Dutch Champions 
Scores: 2015 Dutch Dressage Championships
Scores: 2014 Dutch Dressage Championships
Scores: 2013 Dutch Dressage Championships
Edward Gal and Undercover Win 2012 Dutch Dressage Championships
Minderhoud, Witte-Vrees, Krooswijk and Te Riele Proclaimed 2011 Dutch Dressage Champions
Gal Prolongs Grand Prix Champion's Title at 2010 Dutch Championships
Edward Gal and Totilas Conquer 2009 Dutch Championships
Adelinde Cornelissen, 2008 Dutch Dressage Champion
2005 Dutch Championships: Van Grunsven Star of Holland for 12th Time