Germany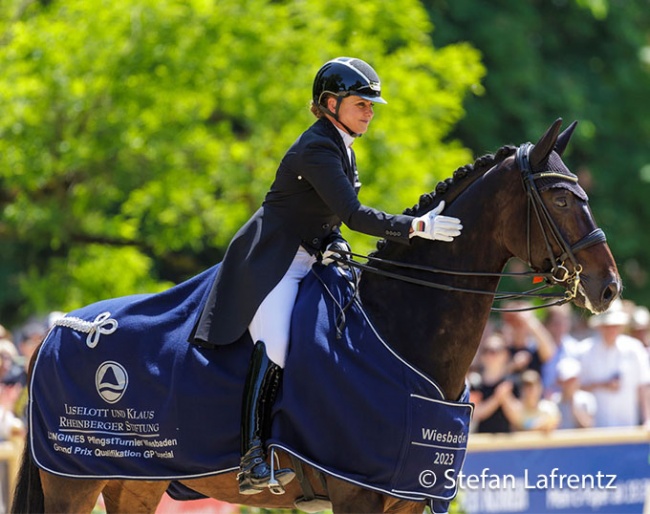 Dorothee Schneider has announced that she will not be contending a German team spot for the 2023 European Championships with Showtime. 
Showtime is a 17-year old Hanoverian by Sandro Hit out of Rosaria Alpina (by Rotspon). He is owned by Dorothee's long-time sponsor Gabriele Kippert. 
Rotterdam Career Highlight
Schneider and Showtime were first members on the German team at the 2016 Olympics in Rio, where they won team gold.
Niggling injuries have interrupted the gelding's presence on the team ever since. They returned at the 2019 European Championships in Rotterdam, where they experienced their career highlight, winning two individual silver medals and team gold. They scored 80.233% in the Grand Prix, 85.456% int he Special and 90.561% in the freestyle.
Niggling Injuries
After Rotterdam another 1.5 year break from internationally showing followed. They competed at the 2021 CDI's in Munich and Kronberg to secure a spot on the German Olympic team for Tokyo. 
At the 2021 Olympic Games they had hoped to achieve the same level as in Rotterdam. Even though they won team gold, they were 15th in the individual Kur to Music which seemingly came as a disappointment. 
They returned to competition at the 2022 German Dressage Championships in Balve in June 2022 and won the Grand Prix and Special but withdrew from the Kur. They aimed for a team spot for the 2022 World Championships and therefore had to compete at the CDIO Aachen, but withdrew before the Grand Prix. 
2023 Showing
The horse made yet another "come back" at the 2023 CDI-W Basel, scoring 74.283% to finish 7th in the Grand Prix but withdrew from the World Cup qualifying freestyle.
Five months later they returned at the CDI Wiesbaden and clocked a double international victory with 76.826% in the Grand Prix and 76.723% in the Special.
On the verge of the first German team selection trial at the 2023 German Championships in Balve, Dorothee Schneider has announced that she'll not be running for a team spot with Showtime. She is, however, listed to compete in Balve.  Dorothee is currently campaigning her rising Grand Prix horse First Romance as well as with Sister Act MT. Her 2021 European Championship ride Faustus has not yet made an international start in 2023.
Gut Feeling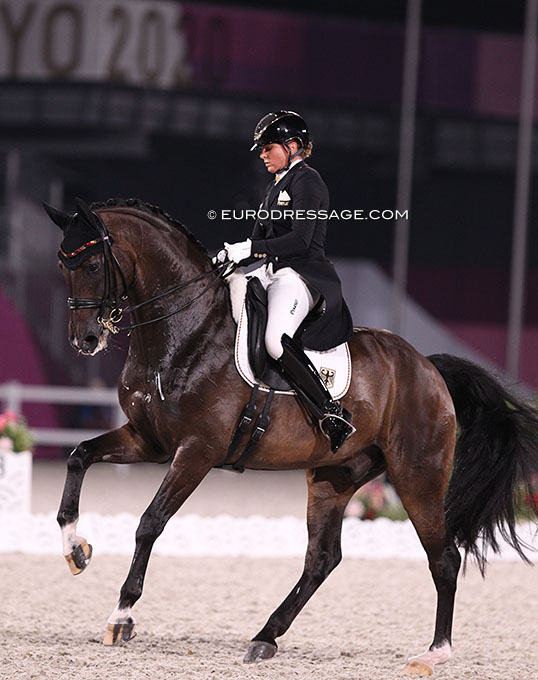 "No, I'm not aiming him for the European Championships," Dorothee said about 17-year old Showtime. "Showi has been in my care for fourteen years and during that time he has given me everything and more. He contributed to several German medals at two Olympics and one European Championship with his great performances. At the European Championships in Rotterdam he won two individual silver medals in addition to team gold - in the freestyle we even cracked the 90 percent mark. He has proven everything.'
Schneider continued, "I don't want to do the selection trial path with him anymore, but rather decide based on gut feeling when I'll bring him back to a competition.You only have a horse like Showi once in a lifetime and I just want to enjoy the fact that he is so fit and full of energy and that he has fun in the arena."
Photos © Stefan Lafrentz - Astrid Appels
Related Links
Dorothee Schneider's Showtime to Make Come Back at 2023 CDI-W Basel
Schneider Pulls Showtime from CDIO Aachen and WEG Contention
Dorothee Schneider and Isabell Werth Win the 2022 German Grand Prix Championships
Dorothee Schneider's Showtime to Make Come Back in Balve
Showtime Withdrawn from 2021 European Championships, Faustus In
Werth and Bella Rose Win 2019 CDIO Aachen Grand Prix, Showtime Steals the Show
Clash of the Titans: Dalera Beats Showtime in 2021 CDI Munich Grand Prix 4*
Desperados and Showtime Withdrawn from German Team Selection for 2017 European Championships
Cosmo, Showtime, Emilio Win 2015 Otto Lorke Prize