2023 Hamburg Dressage Derby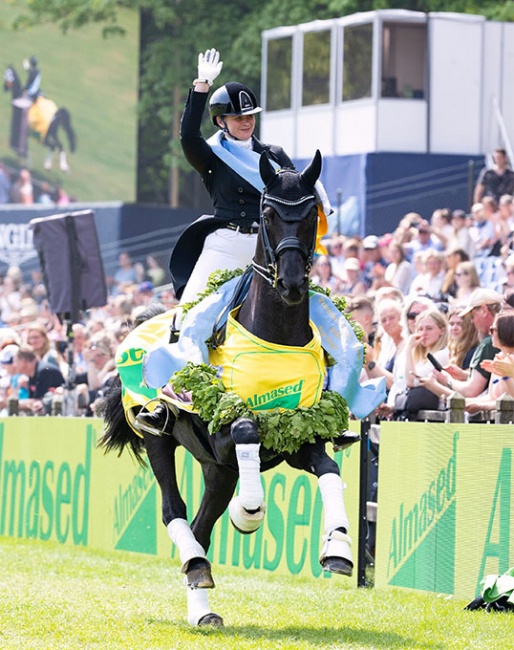 German professional dressage rider Andrea Timpe became the winner of the 63rd Hamburg Dressage Derby held in Hamburg-Klein Flottbek on 19 - 21 May 2023.
Shot in the Foot
With only 9 starters in the big tour, the Hamburg Dressage Derby hasn't seen such a small field of participants in decades. 
The organizers shot themselves in the foot by deciding to make the big tour a 4* level CDI class, which meant that only horses who had competed at 3* level and achieved a 63% score are eligible to compete at 4* level.
Big name riders don't like to bring their top horses to Hamburg as the horse change final can be tiring for them and usually they spare their mounts from it. In the past a second Grand Prix horse would be brought along that was used in the Finals, and Hof Kasselmann often sponsored horses for this historic competition but with the 4* status this was no longer possible. 
The result was just 9 pairs and the top German riders flocking to the CDI Munich in the south of Germany, which takes place the same weekend.
Kneese, Klaesson, Timpe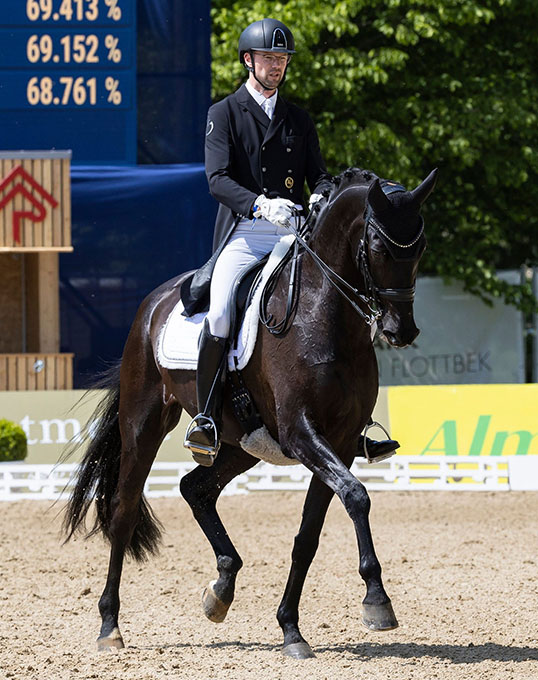 The top three ranked riders of the Grand Prix move on to the Horse Change Final on Sunday. But before that class they all compete in the one more test, either the Special or the freestyle on Saturday. 
The Grand Prix was won by local hero Felix Kneese aboard the 13-year old Oldenburg San Simeon (by Sir Donnerhall x Johnson), owned by Mareike Groth-Becker. He posted 70.109% and went on to the take the Kur to Music victory with 73.110%. 
Norwegian Mathilde Merethe Klaesson and her 13-year old Danish bred Sandbaeks Rio El (by Skovens Rafael x De Noir) were second in the Grand Prix with 69.935% and won the Special with 70.724%. 
The Hattingen based Andrea Timpe was third in the Grand Prix with her own Don Carismo, a 13-year old Hanoverian by Don Crusador x Carismo. They placed second in the freestyle with 71.660%.
Timpe Proves Her Skill
The 37-year old Timpe, however, made an impressive push for power in the horse change finals, which she won with a total of 209.234 points. She proved skill and consistency on all three horses and produced her best test on San Simeon (3rd with 70.267%). She was fourth with her own Don Carismo (69.967%) and fifth on Rio El (69.000%).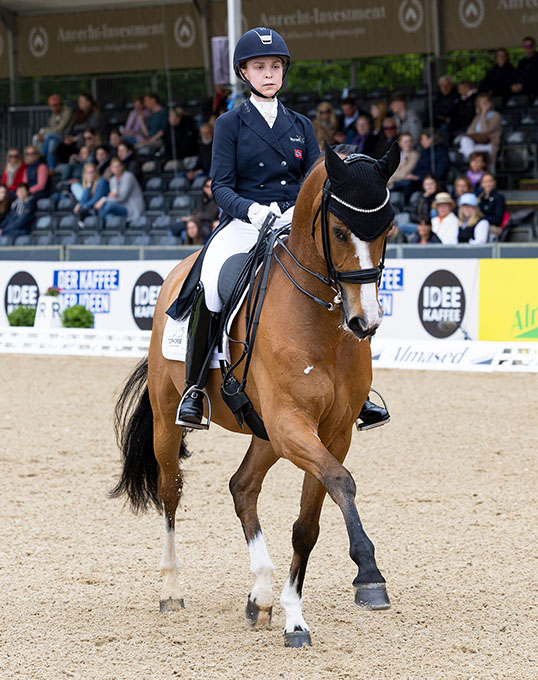 Timpe was beaming after she secured the Hamburg Derby victory. "I'm not really a nervous type, but last night I truly slept very little and kept worrying. I can hardly believe that it worked out and was so much fun to ride these great horses," said Timpe. 
The 23-year old Mathilde Klaesson was the youngest rider of the bunch and impressed by finishing second overall with 207.699 points. She rode the best test of the day in the horse change finals on her own Rio El (71.433%) and scored 68.133% both on San Simeon and Don Carismo (7th). After a successful career as a junior and young rider; Klaesson made her senior Norwegian team debut at the 2022 World Championships in Herning as the youngster rider in the field. She had prepared herself for this occasion by training in the U.K. with Kyra Kyrklund. Most recently she has been spending time training closely with Isabel Freese in Germany before returning home to Norway.
The 41-year old Kneese landed third place in the Finals with 205.333 points. His best test was on San Simeon (70.700% - 2nd). He placed 6th with Rio El (68.733%) and 9th with Don Carismo (65.900%). He trains with Dolf Dietram Keller.
Photos © Thomas Kellmann
Related Links
Scores: 2023 CDI Hamburg
Kathleen Kröncke Wins the 2022 Hamburg Dressage Derby
Frederic Wandres Wins the 2019 Hamburg Dressage Derby
Emma Kanerva Wins 2018 Hamburg Dressage Derby
Emile Faurie Wins 2017 Hamburg Dressage Derby
Borja Carrascosa Wins 2016 Hamburg Dressage Derby
Anabel Balkenhol Wins the 2015 Hamburg Dressage Derby
2014 Hamburg Dressage Derby: a Scandinavian Show Down
Fabienne Lutkemeier Wins the 2013 Hamburg Dressage Derby
Scores: 2011 CDI Hamburg
Scores: 2008 CDN Hamburg
Scores: 2007 CDN Hamburg
Scores: 2006 CDN Hamburg
Scores: 2005 CDN Hamburg
Scores: 2004 CDN Hamburg
Scores: 2003 CDN Hamburg
Scores: 2000 CDI Hamburg