Ireland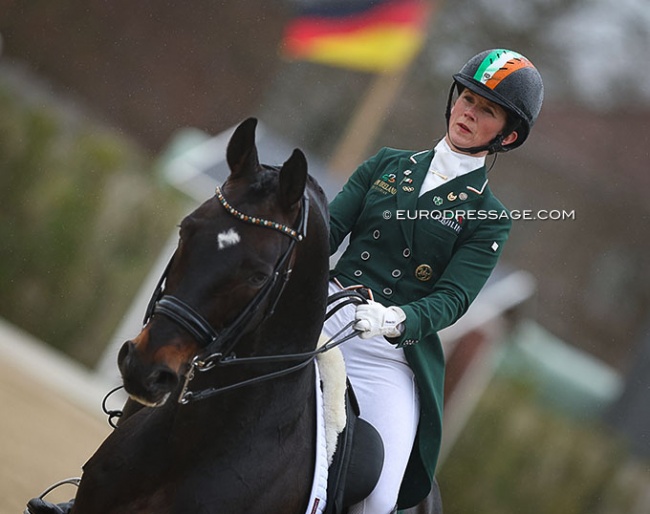 Irish Grand Prix team rider Judy Reynolds has decided to move her business from Dorsten to her trainer Johann Hinnemann's yard, Krusterhof, in Voerde, Germany. 
Anna Merveldt and Johann Hinnemann
A native from Kilteel, Co Kildare, Judy Reynolds first trained with Gisele and Heike Holstein in Ireland before deciding to leave her home country Ireland for Germany in 2002 to test her mettle against stiffer competition. 
At the time she rode Russian bred Trakehner Rathbawn Valet and mare Burgfraulein and moved to the Munich area in Bavaria to train with Irish Anna Merveldt(-Steffens). Judy ended up competing Valet at the 2006 World Equestrian Games and Burgfraulein at the 2007 European Championships. Through Merveldt she got introduced to coach Johann Hinnemann. 
For four years Judy worked with Anna until the latter decided to relocate to Italy. Initially Judy would be in Germany for the "season" and home in Ireland for the winters, competing in the UK until 2005. After Merveldt moved to Italy, Judy stayed in Munich on her own for one more year and commuted to Hinnemann in Voerde for training.
Tired of the demanding 600 km commute, Judy moved to Krusterhof and remained with Hinnemann for 3.5 years. In her first decade in Germany, she produced horses such as Burgfräulein, Remember, and Rathbawn Valet to Grand Prix level with her top horse Vancouver as the rising talent, alongside Zigal, which she sold to the U.S.A. With Remember she rode the 2010 World Equestrian Games and 2011 European Championships after which she sold him to Gregory Tackx in Holland. 
France and Back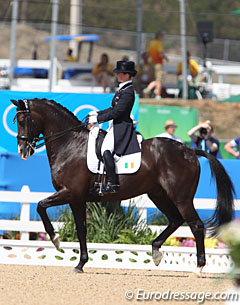 At the start of 2012 Judy accepted the offer to join Irish show jumper Jessica Kürten at Edouard de Rothschild's yard in Ferrieres-en-Brie in France, but after eight months she returned to Hünxe, Germany, and shared a yard with jumping rider Bertram Allen. 
In 2014 she premiered her career making horse Vancouver (by Jazz x Ferro) at international Grand Prix level. They competed at the 2014 World Equestrian Games, 2015 and 2019 European Championships, 2016 Rio Olympics, 2018 World Equestrian Games in Tryon, and three World Cup Finals (2016, 2017, 2019). They were the key figures for Ireland to secure a team slot at the 2021 Tokyo Olympics, but in the end Ireland decided not to send a team and Vancouver was retired from sport. 
With Bertram Allen's business expanding and more horses arriving in his barn, Judy got cramped and went independent with her business at Gut Hohenkamp in Dorsten, where she stayed until now.
Return to Krusterhof
In January 2023 German professional Grand Prix rider Stefanie Wolf decided to leave her employer of 15 years, Johann Hinnemann, and relocate to Munster. This left the head trainer spot at Krusterhof vacant and Judy has agreed to fill that spot alongside basing her business out of Hinnemann's stable.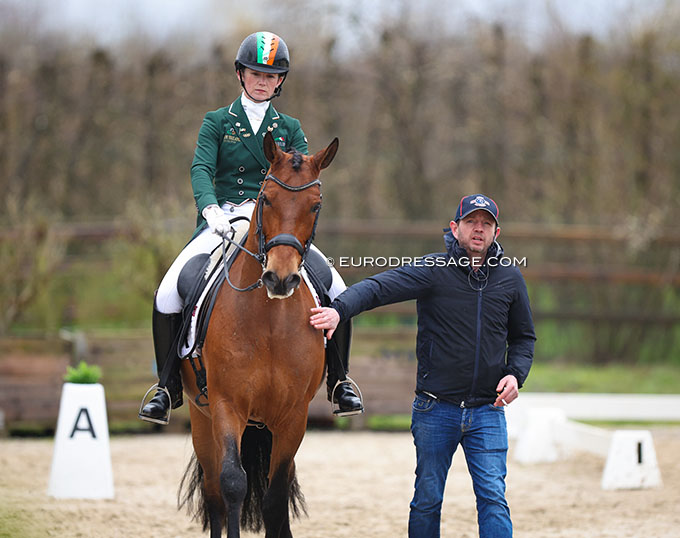 "I am moving my yard to Krüsterhof," Judy confirmed to Eurodressage. "I will base my horses and client's horses there. It works well as I am riding Rockman Royal for Johann already and the move will allow me to take on more visiting students for training as well as grow overall. We hope to move in June. I am very looking forward to it as I was based there full time for a number of years up until 2012 so it is a bit like going home."
This year Reynolds has been campaigning horses For Fun (by Furstenball x Maizauber), Faisao (by Spartacus x Hostil) and Rockman Royal (by Rock Forever x Show Star) at international Grand Prix level. 
Photos © Astrid Appels
Related Links
Judy Reynolds Retires Vancouver K from Competition Sport
Judy Reynolds to Relocate to France
Irish Riders Selected for 2011 European Dressage Championships
Reynolds, Kanerva Go to 2010 World Equestrian Games, Hartstone Out
Judy Reynolds Is Irish Field Dressage Rider of the Year 2008
Judy Reynolds Qualified for 2006 World Equestrian Games
Irish WEG Qualified Rider Judy Reynolds in Hospital