Dutch warmblood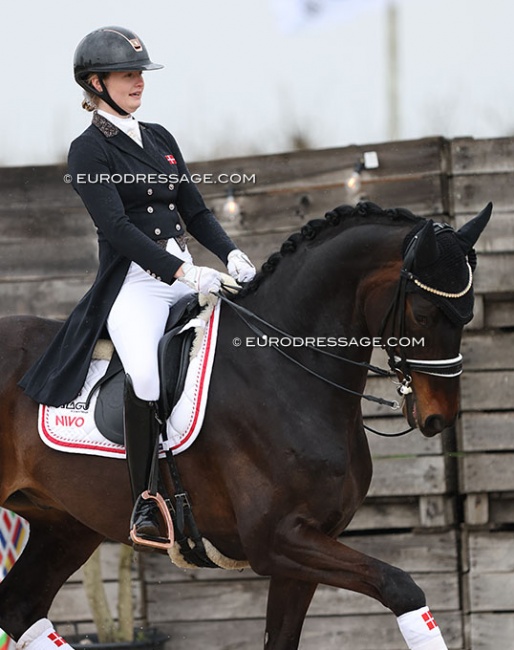 The Danish equestrian federation has announced the combinations that will represent Denmark at the 2023 CDIO-PJYR Hagen "Future Champions" competition at Hof Kasselmann on 13 - 18 June 2023.
The Youth Nations Cup competition in Hagen is a team selection and observation trial for Denmark, as well as Germany, and performances there have a strong impact on team selection for the 2023 European Youth Championships later this summer. 
For the 2023 CDIO-PJYR Hagen teams of three are nominated based primarily on the performances of the riders at the Danish Junior/Young Riders Championships last weekend. The potentials for the fourth team spot go into the CDI-Tour. Danish team trainers Lisbet Seierskilde and Dennis Fisker will be supporting their riders in Hagen. 
Long-time team member Alexander Yde Helgstrand was absent at the Nationals and has also not been selected to compete with and against his team mates and peers in Hagen. He competed his YR horse Belantis in Florida this winter and rode him to three second places at the CDI Aalborg at the start of May.
"Alexander participated at our squad training on Vilhelmsborg (on) 22-23 April and did very well with good results at the CDIY Aalborg," Fisker told Eurodressage. "He is invited to ride the CDIY in Aachen end of June and this will count as his selection trial instead of Hagen."
The Danish CDIO team riders for Hagen are:
Pony Riders - CDIO
Emilie Hansen on Bossa Nova Bitsch
Anna Munkebo on Lyngdal's Mira Puella
Ingeborg Elizabeth Schou on FS Calimero
Pony Riders - CDI
Maya Leisted Grønbech on Giotto N
Rikke Maria Schoubye Johansen on Lykkesholm's Cyperb
Sofia Rosenkilde on Cosmo Royale
Laura Maria Hagerup on Cake Royal
Children - CDIO / CDI
Denmark fields no children combinations.
Junior Riders - CDIO
Johanne Kofod Jensen at Frida Gold
Sophia Boje Obel Jørgensen at Askari Pilekaer
Josephine Gert Nielsen on Bravo Bianco
Junior Riders - CDI
Theresa Rosenkilde at Blue Hors Zwobber
Cornelia Munch Sinding at Hjorth's Zarina
Annabelle Rehn at Vestervangs Garcon
Karla Marillo Skov at Barbylon D
Victoria Toft Waksvik on Dancing Boy
Young Riders - CDIO
Ida Kirstine Bjørn on Hussmanns Jackson
Frederikke Gram Jacobsen on Ryvangs Zafina
Sophia Ludvigsen on Blue Hors Elliott
Young Riders - CDI
Kristian Würtz Green on Bovbjergs Zhivago
Pernille Korsgaard Madsen on Napoli TH
Johanne Amby Ubbesen on Møgelvang Ferrari
Lea Torabi on Bergåkras Amaranth
Related Links
German Teams Announced for 2023 CDIO-PYR Hagen
Obel Jorgensen and Gram Jacobsen Win 2023 Danish Junior/Young Riders Championships