Germany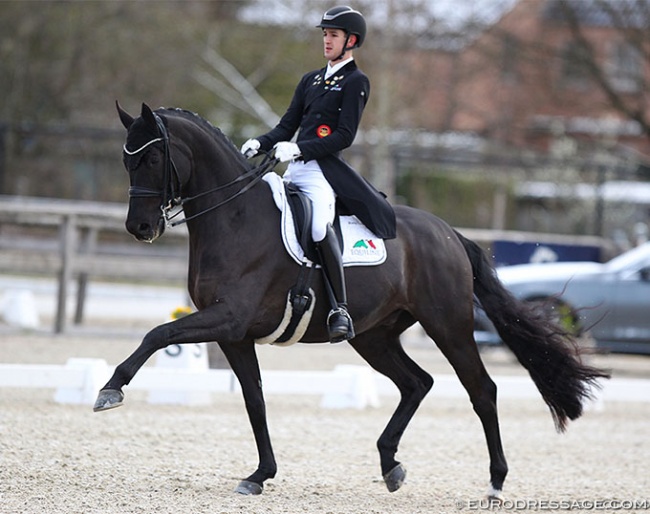 German young rider Moritz Treffinger has taken his first steps towards a professional career as a dressage rider, accepting a position on the riders' team at Gestut Bonhomme in Werder, Germany. 
The soon to be 20-year old will move to Bonhomme at the beginning of June. 
Treffinger will be filling a gap that will be created by the departure of Simone Pearce as head rider at Bonhomme. She will leave the yard mid June for a position at Thomas Ritzinger's yard in Bavaria. 
"My goal is to ride the horses as good and successful as Simone one day, but for the moment I would say, I'm hired as a young, motivated dressage rider with sporty perspective - not replacing Simones position in particular," Moritz explained. "I'm sure Gestüt Bonhomme is the right place for me to develop my further riding career with very talented horses and nice people, supporting me."
Treffinger hit the international spotlight in 2018 when he became the European Pony Champion on Top Queen H. In 2019 he moved to junior level with Standing Ovation and in 2021 he began competing the Oldenburg bred Superstition (by Surprice x Hotline) at young riders level. Aboard the 10-year old Oldenburg Francis Royal (by Franziskus x Rubin Royal) he finished 8th at the 2023 Preis der Besten.
Photo © Astrid Appels
Related Links
Moritz Treffinger and Baden Wurttemberger Federation Clash - Waives Squad Selection for Mental Health
2018 European Pony Champion Top Queen H Sold
Moritz Treffinger Adds Kur Gold to Record at 2018 European Pony Championships
Moritz Treffinger's Standing Ovation Sold to Japan