UAE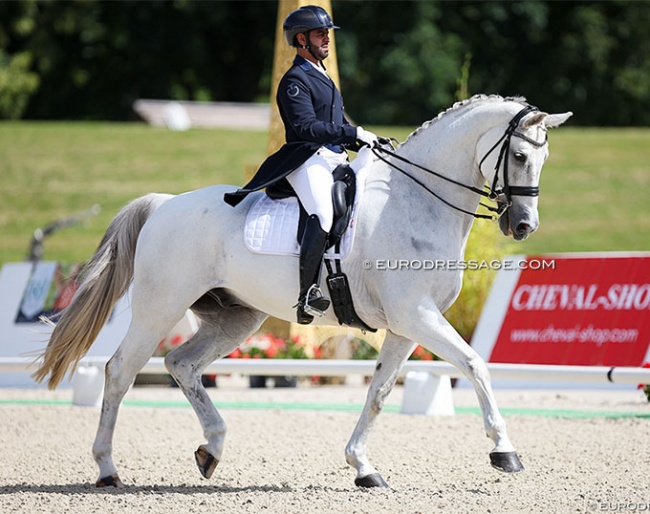 Mohamed al Serkal, one of only two dressage riders representing the United Arabic Emirates, has announced the withdrawal of his horse Dynamite from 2023 Asian Games contention. 
Dynamite S is a 15-year old Dutch warmblood gelding by Sydney out of Lynamite B (by Voltaire). He is bred by H. Wilting and owned by Dominique Fillion.
Filion's Dastan
The grey gelding was trained from young horse level to Grand Prix by his owner Dominque.
They made their international show debut in 2016 in Moscow, when she was based in Russia working at Maxima Park. After Filion's move back to the Netherlands the pair returned to the arena at the CDI Deauville in July 2019 at small tour level, before stepping up to Grand Prix level at the CDI Sint-Truiden in August 2020. They posted 66.261% in their first and only international Grand Prix test.  Filion competed the horse nationally at Grand Prix level in 2021 under a different name, Dastan. 
Leased for Al Serkal to Ride
In June 2022  Al Shira'aa's founder Sheikha Fatima Bint Hazaa Al Nahyan began leasing the gelding as a schoolmaster for UAE rider Mohamed al Serkal to qualify and compete at the Asian Games in Hangzhou (CHN). 
Al Serkal is member of the FEI Dressage committee Group 7, an initiative of six Middle Eastern and North African dressage riders to boost the popularity and development of dressage in the Middle East.
The pair made its international show debut in the amateur small tour class at the CDI Jardy, after which they competed in Deauville.  They rode one international in 2023, the CDI Le Mans, in February, where they posted  65.490% in the Prix St Georges, 63.382% in the Inter I and 68.817% in the Inter Kur. 
Withdrawn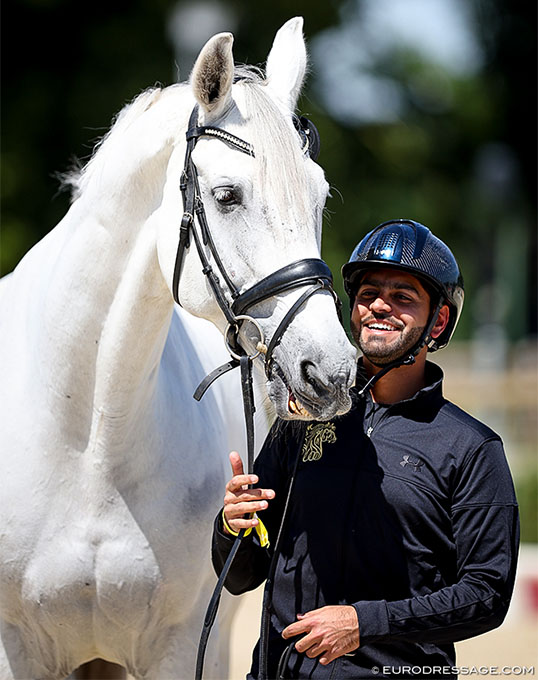 Al Serkal, however, announced that Dynamite has now been withdrawn from Asian Games contention. 
"In February this year, during our International show outing to Le Mans, France at the CDIAm where we scored our personal best, we started to see changes in Dynamite and when we returned home something was not right," Mohamed explained. "He was then treated and just before CDI Lier, I rode him at home and we were sure something was not right. We visited the vet the next day and dynamite was essentially sent directly to rest for three months with a plan for recovery. However, collectively (myself, my sponsor and my team in NL) decided that it's best to not take this risk especially for the Asian Games and the pressures that will come with it during the summer and in China."
Serkal is appreciative of having received this ride from Al Shira'aa. 
"This unforgettable opportunity wouldn't be possible without the support of Al Shira'aa Farms, being my backbone in the sport and continuous motivator," he said. 
Serkal does not rule himself out for the Asian Games. "There will be more to be announced soon. The journey to the games is not done yet," he added.
Photos © Astrid Appels
Related Links
Dominique Filion's Dynamite S Leased as Asian Games' Hopeful for United Arabic Emirates
Maknami Directs National Judges Maintenance Course in Abu Dhabi