U.S.A.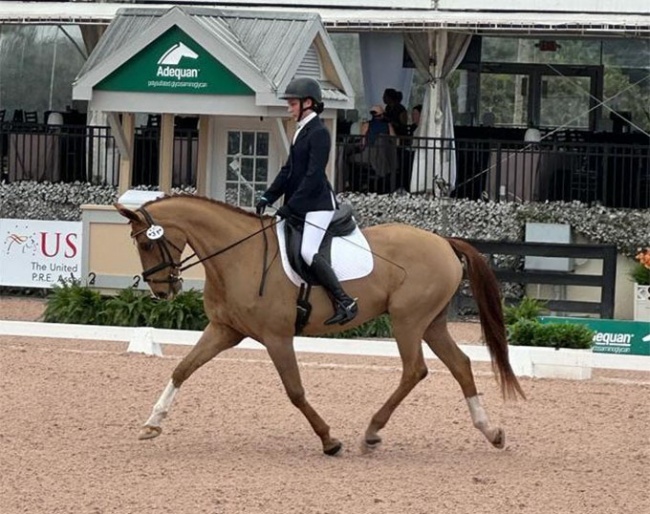 American para dressage rider Adalie Tuman is the first to receive the Hope Hand Memorial CPEDI1* Travel Grant.
The grant was established in memorial of Hope Hand to help riders achieve their goals on their para equestrian journey. Tuman was one of the many young riders Hand connected with and helped with encouragement, connections, and leading them down their international para dressage pathway.
Tuman and Hand met when Tuman was only 12 years of age, but with events and clinics occurring in her area they continued to see each other many times throughout five years, their final meeting was in June 2021, when Tuman was obtaining her FEI classification at the Tryon CPEDI3*. Tuman's story is a lot like many of the international athletes that Hand has personally mentored and encouraged. Tuman spent a great deal of time with Hand over the years and she was inspired by her.
Tuman  said, "I am so incredibly grateful to USPEA for selecting me to be the first recipient of the HHM CPEDI 1* Travel Grant. It is especially meaningful to me because Hope has always been such a selfless advocate for me and for so many other young equestrians."
Tuman is 17 years old and has been riding for over 11 years with seven of those years spent as a student at Wheatland Farm, a Para Equestrian Center of Excellence. As she gained experience she sought out the best in the dressage world participating in numerous clinics with Michel Assouline, Mette Assouline, Silva Martin, and Heidi Berry. Heidi Berry is also an FEI 3* Judge and Tuman's coach.
Riding at Wheatland Farm, Tuman met Hand at a para dressage clinic conducted by Michel Assouline. After observing her ride, Hand was enthusiastic and encouraging, and offered to stay in touch personally with Tuman to help guide her in the beginning of her para dressage journey. Hand watched from afar as Tuman, earned her Grade III classification and began having success as a young rider. In 2021, she competed in her first recognized show, scoring a 67%, and high score for the VADA/NOVA Junior/Young Riders. In the summer of 2022, Tuman acquired her own horse named Beste Guess, who had been competing PSG prior to Tuman purchasing him. In August of 2022, just one month after beginning her new partnership with Guess, she attended her first show on him and scored a 68.8,% giving her first place. 
When she isn't showing or riding, Tuman is gaining education attending dressage educational classes via Zoom, a judging seminar offered through the Virginia Dressage Association, and two CPEDI 3*s in Tryon to watch and talk to the athletes.
Tuman is looking forward to continuing her education and experience in the international para dressage world and the Memorial Grant will be a great help to her.
Related Links
Jonquil Solt (GBR) and Hope Hand (USA) Passed Away
Hope Hand Receives Posthumous 2022 USEF Lifetime Achievement Award
USPEA President  Hope Hand Awarded The Pegasus Medal of Honor