Brazil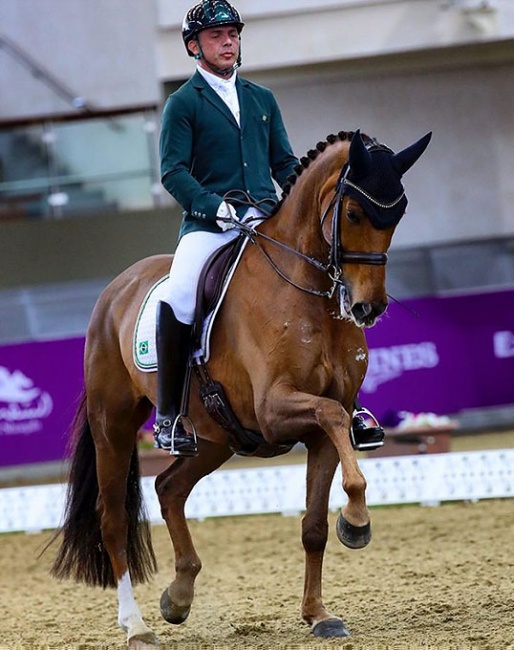 The International Testing Agency (ita), leading an independent anti-doping program for human athletes for the FEI, reports that it has notified Brazilian Paralympian Rodolpho Riskalla of an apparent anti-doping rule violation.
Ligandrol
The ITA reports that a sample collected during an in-competition testing mission in the scope of the Para Grand Prix Freestyle – Grade IV Al Shaqab, held in Doha, Qatar, on 25 February 2023 from Rodolpho Riskalla, a rider from Brazil, has returned an Adverse Analytical Finding (AAF) for the prohibited substance "SARMS LGD-4033 (ligandrol)".
Accordi!ng to WebMD, "Ligandrol is a type of chemical known as a selective androgen receptor modulator (SARM). It mimics the activity of testosterone in the body. Ligandrol is banned by the World Anti-Doping Agency (WADA) and the National Collegiate Athletic Association (NCAA). Ligandrol is used to increase energy, improve athletic performance, increase muscle growth."
SARMS LGD-4033 (ligandrol) is prohibited under the 2023 WADA Prohibited list as anabolic agent (S1.2). It is prohibited at all times and considering that it is a non-specified substance a provisional suspension is mandatory under the FEI Anti-Doping Rules for human athletes.
Provisionally Suspended
The athlete has been informed of the case and has been provisionally suspended until the resolution of the matter. He has the right to request the analysis of the B-sample.
Pursuant to the FEI's delegation of its anti-doping program for human athletes to the ITA, including the independent management of results, the prosecution of the case is being handled entirely by the ITA.
Given that the case is underway, there will be no further comments during the ongoing proceeding.
Riskalla
In 2015 Riskalla contracted bacterial meningitis and lost both legs below the knees, all the fingers on his right hand and some from the left.
He defied the odds and went on to ride at the 2016 Paralympic Games in Rio. At the 2021 Tokyo Paralympics he won silver aboard Don Henrico.
In September 2022, Riskalla was elected to the World Anti-Doping Agency (WADA) Athletes' Council.
Source: ITA
Related Links
Yom Tov and Riskalla Unite - Aiming to Write History for Brazil at Paris Olympics
Irish Coffee BH, 2024 Paralympic Hopeful for Rodolpho Riskalla
Rodolpho Riskalla elected to WADA Athletes' Council