2023 CDI Ocala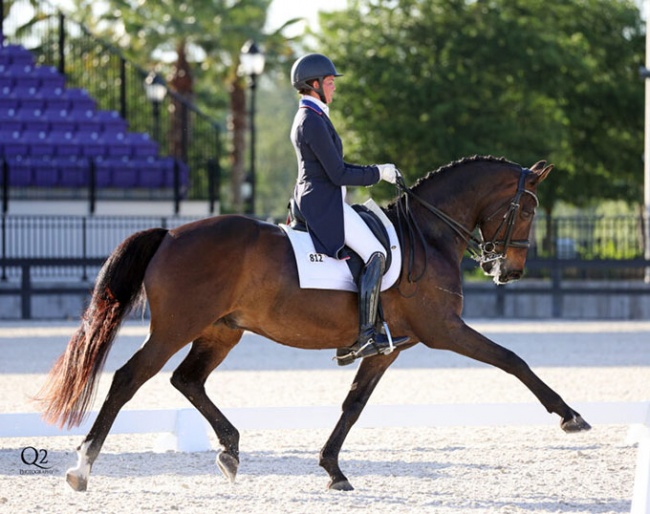 -- WEC press release
Anna Marek (USA) received the perfect birthday present as she led the victory gallop in the Grand Prix for Special 3* with Firefly at the 2023 CDI Ocala on Friday 14 April 2023.
Marek (USA) was hoping today would be the day for her and Firefly, and her wish came true when she won the Grand Prix for Special CDI3* over 20 other competitors. The pair also scored a personal best of 72.217%. 
"I was saying all day today, I hope Firefly gives me the best present of all," said Marek, who turned 34. "I felt like the whole test was harmonious and the tempo stayed the same. It felt easy for us and relaxed."
"He's a great little horse," she continued. "He doesn't have the biggest gaits, but he can do everything really well. He doesn't have a weakness, which I think is the thing about him. There are things that aren't so great right now but there are moments where they could be. What I felt today, all those little things I have been working on came together and it worked. It was the best test we've done together and our personal best."
Ashley Holzer (USA) and Hansel, a 10-year-old KWPN gelding by Blue Hors Don Olymbrio x Metall owned by P.J. Rizvi, finished second with 71.544%. This is only Hansel's third FEI competition and his first time competing at Grand Prix. Third place went to Katie Duerrhammer (USA) and Paxton, a 12-year-old Westphalian gelding by Dante Weltino OLD x Don Marco 3 owned by Kylee Lourie. They received a score of 70.522%.
Christian Simonson Does a 1-2 Again
Christian Simonson (USA) repeated his top-two performances from Thursday's Prix St Georges on Friday in the Intermediate I CDI1*.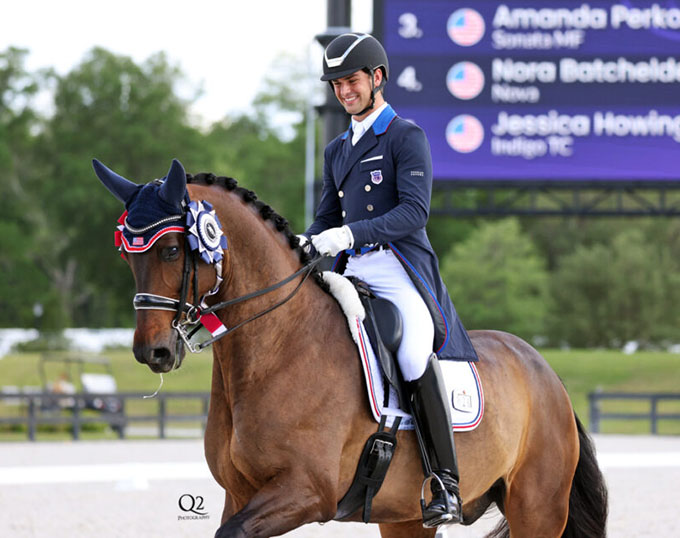 He and Son of a Lady, a 12-year-old Danish Warmblood gelding by Soreldo x Welt Hit II owned by Christina Morgan, won with a personal best score of 73.823%. With Zeaball Diawind, an 11-year-old Danish Warmblood gelding by Fürstenball OLD x Zardin Firfod also owned by Morgan, he was second on a score of 71.618%. Amanda Perkowski (USA) and Sonata MF placed third with 70.196%.
"I was so happy with Son of a Lady," said Simonson after the Prix St Georges, who rode both horses in the same class for the first time on Thursday. "He was such a star. We got poured on right before the test, but he just went in there like it was no big deal and delivered. I could not be more proud of him today. The trot work was lovely and well balanced. The fact that he came out there and had no problem while we were soaked from head-to-toe and head-to-hoof, makes him that much more incredible."
Citing his veteran partner, Zeaball Diawind, as "the team captain," Simonson noted his "incredible canter work." Simonson said that the entire team at River Grove Equestrian, led by trainer Adrienne Lyle, was what made the day successful.
"We had seven horses between the whole barn, and all the girls were running back and forth," he said. "My groom Monica [Stanke] isn't only taking care of my horses but their horses as well. It was a huge team effort today to make sure all the horses were getting from the barn to here. Everyone was on deck and helping."
At just 20 years old, Simonson is making his mark on the U.S. dressage scene. After winning three gold medals at the 2021 FEI North American Youth Championships with Zeaball Diawind, Simonson made the step up the Small Tour classes with both of his mounts. In 2022, he won 10 classes and in 2023, he has been in the top five – with four wins and a silver Nations Cup medal – in all of his classes in 2023. For his success in 2022, he was awarded the Lionel Guerrand-Hermès Trophy by the USET Foundation.
Simonson is aiming to represent the USA in his first championship at the Pan American Games this October in Santiago, Chile.
Photos by Q2 Photography.
Related Link
Scores: 2023 CDI Ocala