Canada
For the relaunch of Jill Irving Youth Equine Mentorship Program in 2023, Canadian Grand Prix rider Jill Irving brought four privileged Dutch youth riders to Florida, alongside 11 Canadian grass roots riders to savour, experience and learn from the professionals in Wellington. 
For 2023 the chosen Dutch riders were the seasoned, multiple medal winning and already highly established Dutch young and U25 riders Thalia Rockx, Marten Luiten, Evi van Rooij and Jessica Poelman. They were chaperoned by former Dutch youth team rider Chantal van Lanen.
They relished the experience during the Palm Beach Dressage Derby week on 1 - 6 March 2023.
Jill Irving Youth Equine Mentorship Program 
The Jill Irving Youth Equine Mentorship Program is a grass-roots initiative designed to provide young, up-and-coming dressage and hunter/jumper riders the invaluable opportunity to observe professional competition first-hand, and learn directly from experienced riders and coaches.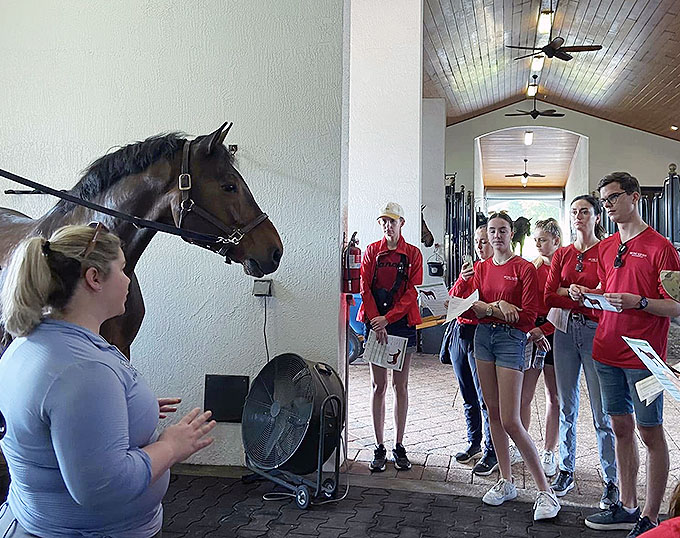 Operating in conjunction with Dressage4Kids, the Jill Irving Youth Equine Mentor Program opens the door to young Canadian riders who may otherwise lack the support for such an experience, encouraging the growth of the sport while making a difference in the lives of each recipient.
The program was founded in 2016, and has had six editions, and then there was a 2-year COVID break. The initiative is sponsored by Canadian dressage team rider Jill Irving, who rode at the 2018 World Equestrian Games and was part of the gold medal winning team at the 2019 Pan American Games.
Tour of Wellington 
Six Canadian dressage and six hunter/jumper riders are selected via lottery to travel to Wellington. Each discipline-specific group gets mentored by competitors and show grooms, and take part in educational discussions, barn tours, and networking activities.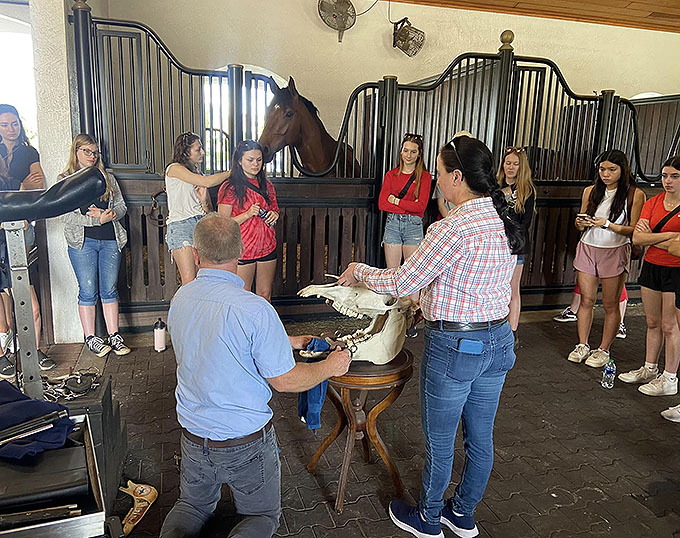 "We introduced them to the Wellington horse industry. They toured Palm Beach Equine, meet with various top riders, such as Ian Miller, Tiffiany Foster, Brittany Fraser, Chris von Martels," Jill Irving told Eurodressage. "They attended Gobal Friday night freestyle and the Nations Cup jumping night. Canadian jumping rider Tiffany Foster walked the course with them. They had sessions with a farrier and equine dentist.
Jill continued, "I tried to have them see all facets of the industry."
Canadian Group
The Canadian group consisted of 11 riders this year, four of them dressage riders from across the country. They were Kaity Mayberry (AB), Kamryn Loney (ON), Mya Young (NB) and Kayce Vaadeland (SK). They were joined by the four Dutch dressage riders.
"They are grass roots riders as the premise of the program is to allow them the opportunity to see the "big leagues"," Irving explained. "We had a party at the end of the week with all the volunteers and the young riders that are competing here in Florida. It was quite fun!"
The Canadian jumping "chef d'equipe" was Jackie Tattersol, a hunter/jumper trainer and competitor who has brought along many pony and junior riders over the years.  Lisa Shultz served as the chef for the Canadian dressage group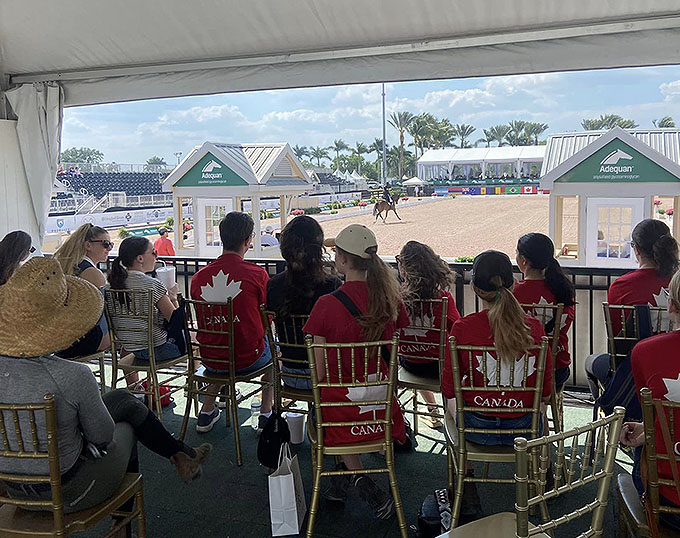 "Both these ladies have done this the entire time we have had the program," said Jill. "Everyone involved is a volunteer and always signs up to help every year. I decided to do this so our high performance riders had a platform to give back and they all say yes! As you can see I'm so proud of our team and am so happy we are back after Covid." 
Photos © Lisa Schultz
Related Links
Corona Times: Hit & Run with Jill Irving
Jill Irving's Arthur to Continue as Canadian Under 25 Horse
Arthur, New Grand Prix Hopeful for Jill Irving
Irving Makes it Two in First Show Week at 2020 Global Dressage Festival
Vincent van Gasselt's Delacroix Sold to Jill Irving
Tommie Visser's Genesis Sold to Canada