2023 CDI Wellington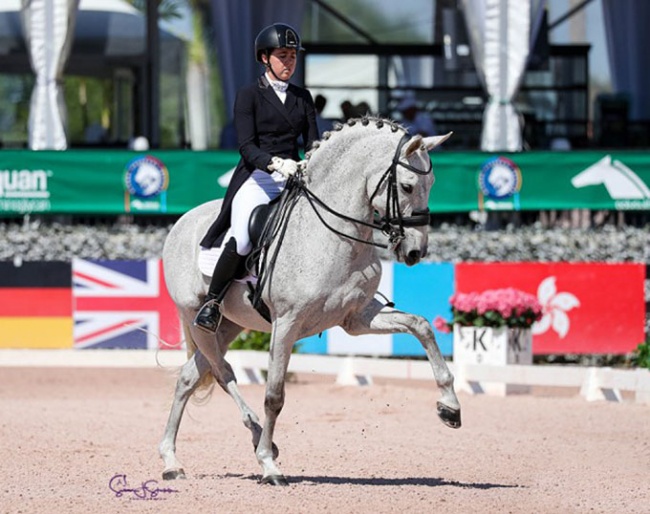 It was a long and nail-biting wait for Kerrigan Gluch (USA) to discover that she had won the 3* Grand Prix Special at the 2023 CDI Wellington on Saturday 18 March 2023. She was first to go, mid-morning. When the class finished, mid-afternoon, Gulch's name was still atop the leaderboard with Mejorano HGF and their score of 68.872%.
That included some big names, like Morgan Barbançon — winner of the qualifying Grand Prix on Thursday with Bolero — whose performances couldn't better Gluch's. Susan Dutta and Don Design DC, the Dutta Corp.'s 13-year-old gelding by Der Designer, finished second with 68.702%.
Korean rider Dong Sean Kim is still getting to know his new acquisition, Bohemian. The 13-year-old gelding by Bordeaux finished fourth in the freestyle final at the Tokyo Olympics under Denmark's Cathrine Laudrup-Dufour. This is just Kim's second CDI on Bohemian, and their first Grand Prix Special together. They scored 68.574% for the yellow ribbon.
"Focused on the Flow"
Mejorano was bred by his owners, Hampton Green Farm. Gluch began her career there as a working student 11 years ago, and then graduated into a sponsored rider. Having known Mejorano as a young horse, Gluch then picked up the ride full-time three years ago from Jose Daniel Martin Dockx (ESP), and their partnership is going from strength to strength.
"He's an extraordinary horse, super talented in all aspects of the grand prix," said the 26-year-old. "I've really been focused on the flow of everything – in and out of transitions – so everything had a lot of harmony and that was the main goal for this weekend, and I think I accomplished that. My piaffe/passage tour was quite smooth and I was happy with how the changes felt in the ring. It's a very long test, but I was able to settle in and enjoy it.
"Mejarano is a product of the breeding in the States that we strive for. It's special to be able to do it with him knowing that he was born here and show that off. He tries his heart out for me every time," added the Ocala-based Gluch, who has recently started training with fellow Ocala rider, Shelly Francis, after years training with Charlotte Bredahl.
"Mejorano has always had a talent for piaffe/passage," she added. "It's taken me a few years to tune that all up so it shows in the ring, where his rhythm and cadence and activity come together. He has a very expressive front end to be able to show off the half-passes along with the changes is very fun to do."
Wren-Russ Bests Inter II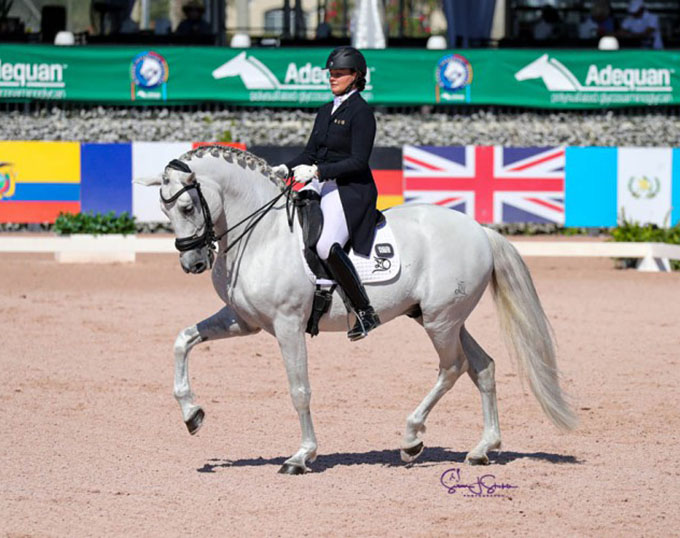 It was tight at the top in the Intermediate A  2* with the top two combinations scoring over 68% on the only two Iberian horses in the class. It was Georgia Wren-Russ (USA) whose 68.382% test on Coves Darden Farm's 13-year-old PRE stallion Guateque IV, by Layco, who came out on top. The 31-year-old rider's GW Dressage is based out of both Wellington, FL, and Lexington, KY.
She edged out Canadian rider Denielle Gallagher and Come Back De Massa, an 11-year-old Lusitano gelding by Galopin De La Font (68.029%). In a podium with flags from three different nations flying, it was the American-based Filipino rider and model Ellesse Gundersen who filled third. She rode her own home-bred Quintessential 4, a nine-year-old by Quaterback, to 64.794%.
Photos © Sue Stickle
Related Links
Scores: 2023 CDI Wellington
Bluetooth Emits Winning Signal to Carry Wandres to 5* Freestyle Glory at 2023 CDI Wellington
Barbancon and Kohmann Lead Robust Line-up at 2023 CDI Wellington