2023 CPEDI Wellington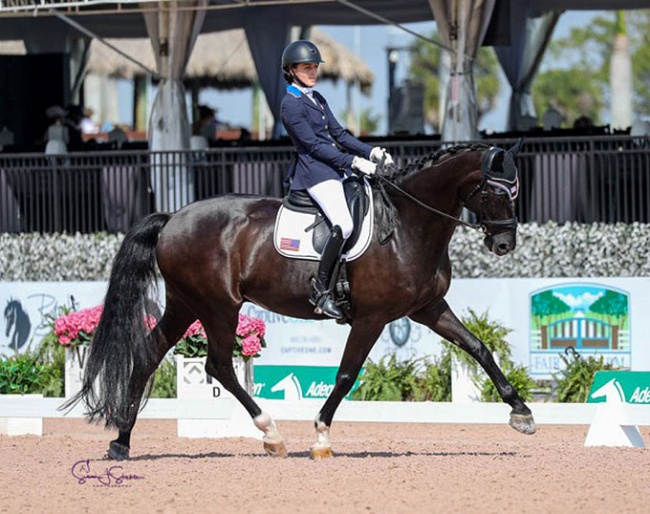 The new partnership - Fiona Howard and Kate Shoemaker's Solitaer - thrived at the 2023 CPEDI Wellington held during week 9 of th Global Dressage Festival in Wellington, Florida. 
Howard (USA) made it two blue ribbons from two Grade II starts on Shoemaker's 16-year-old gelding Solitaer 40 (by Sandro Hit x De Niro). The 24-year-old Howard scored 72.5%, with a high score of 74.167% from the judge at C, who awarded a nine for the mid-test halt at A. This is the pair's first international show together. Howard is also coached by Shoemaker, who enjoyed stellar success with the gelding since 2015, including team bronze at the Tokyo Paralympics.
"I went in the ring today wanting to improve on everything from yesterday and today he listened to me so well," said Howard, who suffers from dystonia, a neuromuscular disease, meaning that her muscles involuntarily contract and twist.
"'Soli' belongs to Kate and it's kind of a funny story," she added. "I rode 'Soli' a little bit last summer while she was at the European Championships and kind of as a joke she said, 'If you can ride him, you can show him,' and I thought, 'OK!'. At the time I needed a horse to ride and of course I said yes."
Howard only began competing in para dressage in 2022, and this year took her first competitive foray out of the country, contesting the CPEDI in Doha in February, where she finished first or second in all three tests on her own horse, Jagger.
"It's all been a whirlwind," she said. "Soli has such a big heart and he just wants to do everything right. He's got a huge personality, he's super loving but goofy at the same time. I just have a lot of fun on him and I'm really grateful that Kate allows me to ride him, and he's taught me so much; he's such a great teacher. Before I competed him, Kate said to go out there and have fun. He's a blast."
Shoemaker herself continued to make strides with her new horse, the 12-year-old Ghandi, securing her second Grade IV victory in as many days at the pair's first international outing. Shoemaker, 35, logged 71.442% on the Bojengel x Tuschinski gelding in the individual test.
Building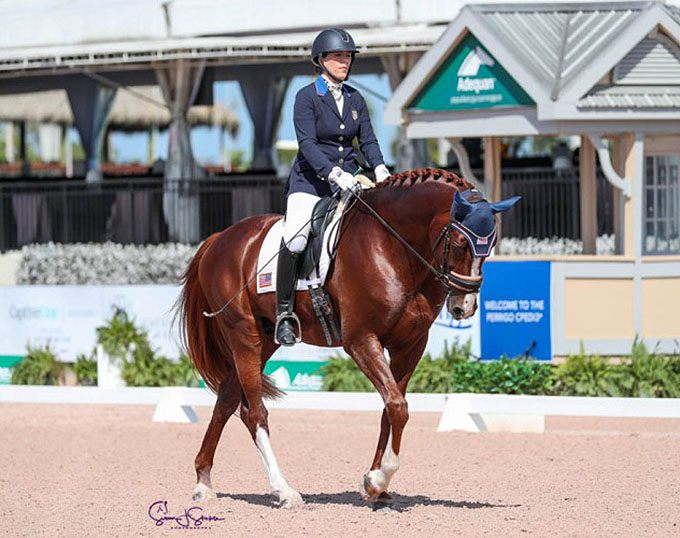 Grade I rider Roxanne Trunnell (USA) built on her previous day's good performance to produce yet another impressive test on Saturday. She rode Lehua Custer's seven-year-old stallion Fortunato H20, by Floriscount OLD x Rascalino, to 72.43%. The 37-year-old's test was peppered with eights, despite this being a relatively new horse for the Tokyo Paralympic gold medalist. Trunnell and Fortunato H20 are the sole competitors in the Grade I division.
"Being that he's a stallion, we are still working on keeping him more in and with me the whole ride and it seems to be working," said Trunnell, whose para journey started after she suffered swelling on the brain and a stroke following a suspected infected mosquito bite in 2009.
"I really liked the stretch down in my test," she added. "I've been working hard on getting him to accept that. Looking towards tomorrow's freestyle, I want to keep working on keeping him steady and calm and the same."
Trunnell only began competing the 7-year old Oldenburg gelding less than a year ago after Dolton (by Danone x Londonderry), her world record setting and Tokyo Olympic gold medal winning ride, got injured. The new pair has won eight out of their 12 international starts together. They helped the US team to bronze at the Para Championships in Herning, Denmark, in August 2022.
Stranglehold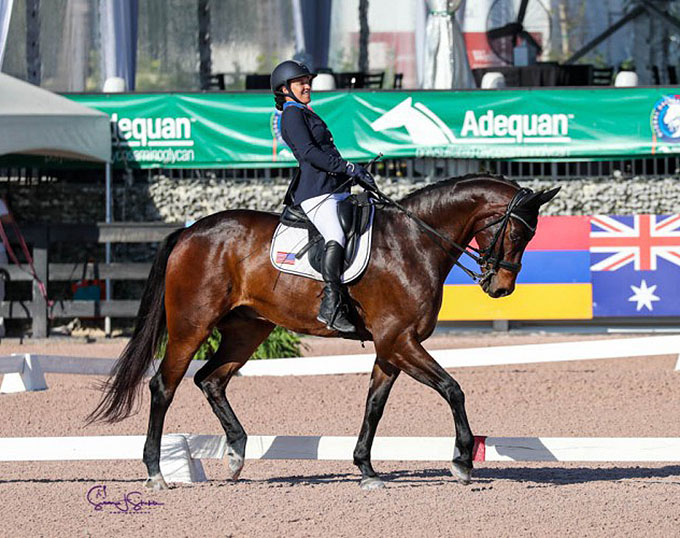 Rebecca Hart's stranglehold on the top two spots in the Grade III tussle was spliced on Saturday. On Friday the USA rider won the team test on Fortune 500, finishing second on El Corona Texel. On Saturday, in the individual test, she again dominated with Fortune 500, but Elle Woolley (USA) climbed a place to claim second and relegate El Corona Texel into third. Hart and Fortune 500, Rowan O'Riley's 13-year-old gelding by Fidertanz, put an unassailable 70.444% on the board.
Despite an error of course, 55-year-old Cynthia Screnci (USA) was the judges' unanimous winner in the Grade V individual test, adding another blue ribbon to their win in the team test this week. She rode her own and Volado Farms' 16-year-old Sir Donnerhall gelding Sir Chipoli to 68.579%.
--- GDF press release by Alice Collins, edited by Eurodressage
Related Link
Scores: 2023 CPEDI Wellington