France
Haras de Malleret, France's leading dressage breeding farm and stallion station, hosted its first stallion show on 3 February 2023.
This very well organized private show attracted an international audience which saw German Olympian Helen Langehanenberg and Spanish Grand Prix rider Manuel Dominguez Bernal ride and comment on the Malleret stallions.  
The evening was hosted in a warm, familiar atmosphere celebrating horse sport, classical dressage, and the French bon vivant lifestyle.
A Roster of Ten Top Stars
Malleret presented its ten top dressage stallions under saddle and honoured its German breeding associate Ekke Thaden.
The collection included the FEI level trained flagship Grand Prix stallion Danciano (by Dancier x Rotspon x Wolkenstein II), the FEI level trained Flinstone (by Fidertanz x Abanos), Stolzenberg de Malleret (by Sandro Hit x Lord Sinclair) and Golden Romance Malleret PS (by Governor x Sir Donnerhall).
The show also featured the young stars in the making: Faszination de Malleret (by Furst Belissaro x San Remo), Fänomen de Malleret (by Foundation x Sezuan), Esperanzo Malleret PS (by Escamillo x Zack), First Moon de Malleret (by Fürstenball x Diamond Hit), Royal de Malleret (by Rubin Royal x Fürst Wilhelm), and Fantom de Malleret (by Fair Game x Wochstern). 
Malleret Philosophy Celebrated
The evening celebrated horse power coupled to the stallion station's philosophy: careful training of the horses up the levels according to the classical principles of dressage with animal welfare as the number one priority.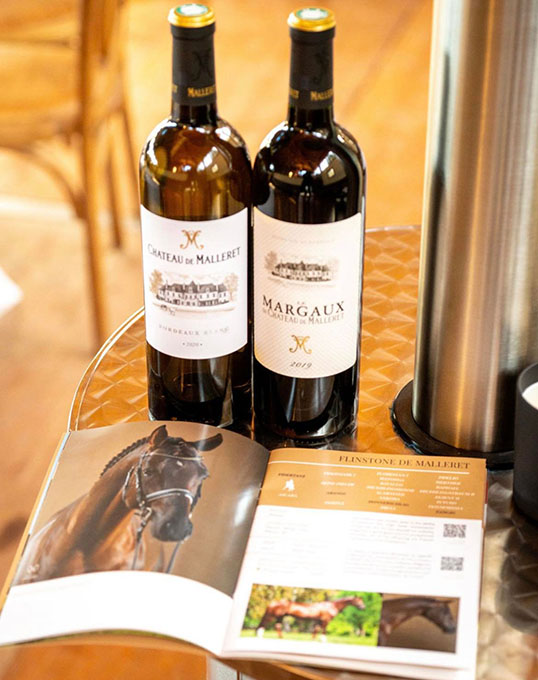 "We tried to do our best to present this first stallion show according to our philosophy," managing director Gérald Martinez explained. "The stallions, no matter their age, were worked as usual, without any particular pressure or preparation. I believe that breeders have the right to see stallions with their natural quality, that must necessarily reassure them. I want breeders to be convinced by the natural gaits that a stallion will transmit to his offspring rather than tampering with their movements by over-preparing."
The 10 stallions were presented by Malleret's home team riders Emma Jamieson and Alfonso de la Chica Parras, alongside Helen Langehanenberg and Manuel Dominguez. British trainer Nicky Pasco was the speaker addressing the international audience. 
"The horses all proved that they have a great mind," Gérald added. "Maybe two of them were a little impressed by what was happening and got a bit tight in the neck. Royal is very green but trusted his rider nonetheless. Dedicace (by Danciano x Sir Donnerhall) did her best and showed his rideability even though there was a tacking issue with his bridle."
Dominguez Debuts Danciano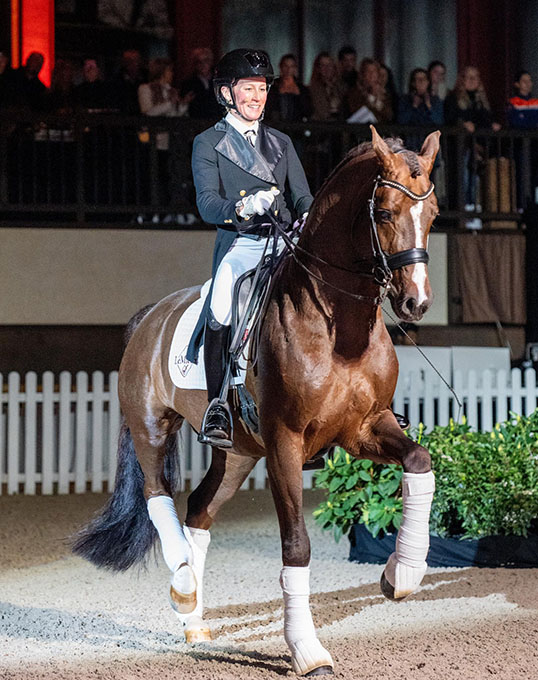 A new combination premiered at this stallion show: Spanish Grand Prix rider Manuel Dominguez has been allocated the ride on Malleret's number one breeding stallion Danciano. 
Purchased as a 4-year old in 2014, the now 13-year old Hanoverian (by Dancier x Rotspon) has been produced to FEI level by Martinez. In 2021 the stallion had his international show debut at the 2022 CDI Jardy in the medium tour and won the Intermediaire B. 
Dominguez began riding Danciano a few weeks ago and at the stallion show they presented themselves as a promising pair for the future. 
Danciano will shift to the next level of his training and competition career, while breeding was in the forefront before. The stallion will be campaigned as a Paris Olympic hopeful.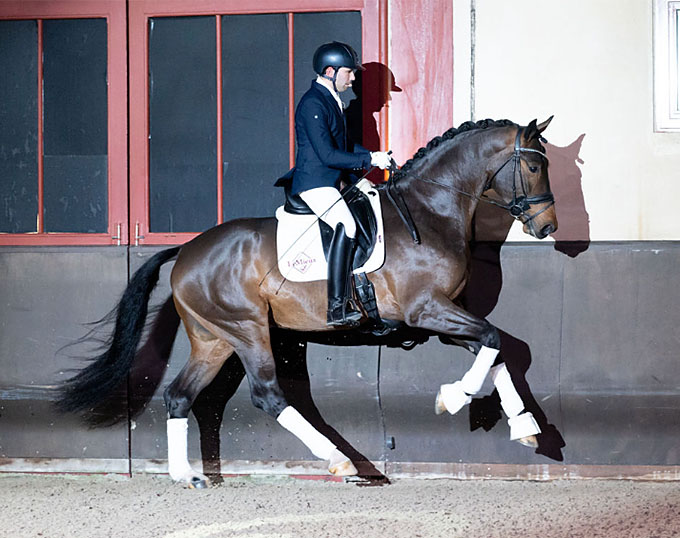 "I am so happy and relieved especially for Danciano, even though I no longer have him by my side on a daily basis, which is very difficult for me," Martinez commented.
"Manuel gets on well with him," he continued. "I want to prove that Danciano is not only an exceptional sire but also an extraordinary competitor. They will confirm this in the months to come. He is a horse with an incredible charisma that does not leave anyone indifferent at the stallion show."
Danciano is not the only stallion Manuel Dominguez took to Germany at the end of the show. He will also be producing the 4-year old Faszination de Malleret this year.
Collaboration with Langehanenberg Expanded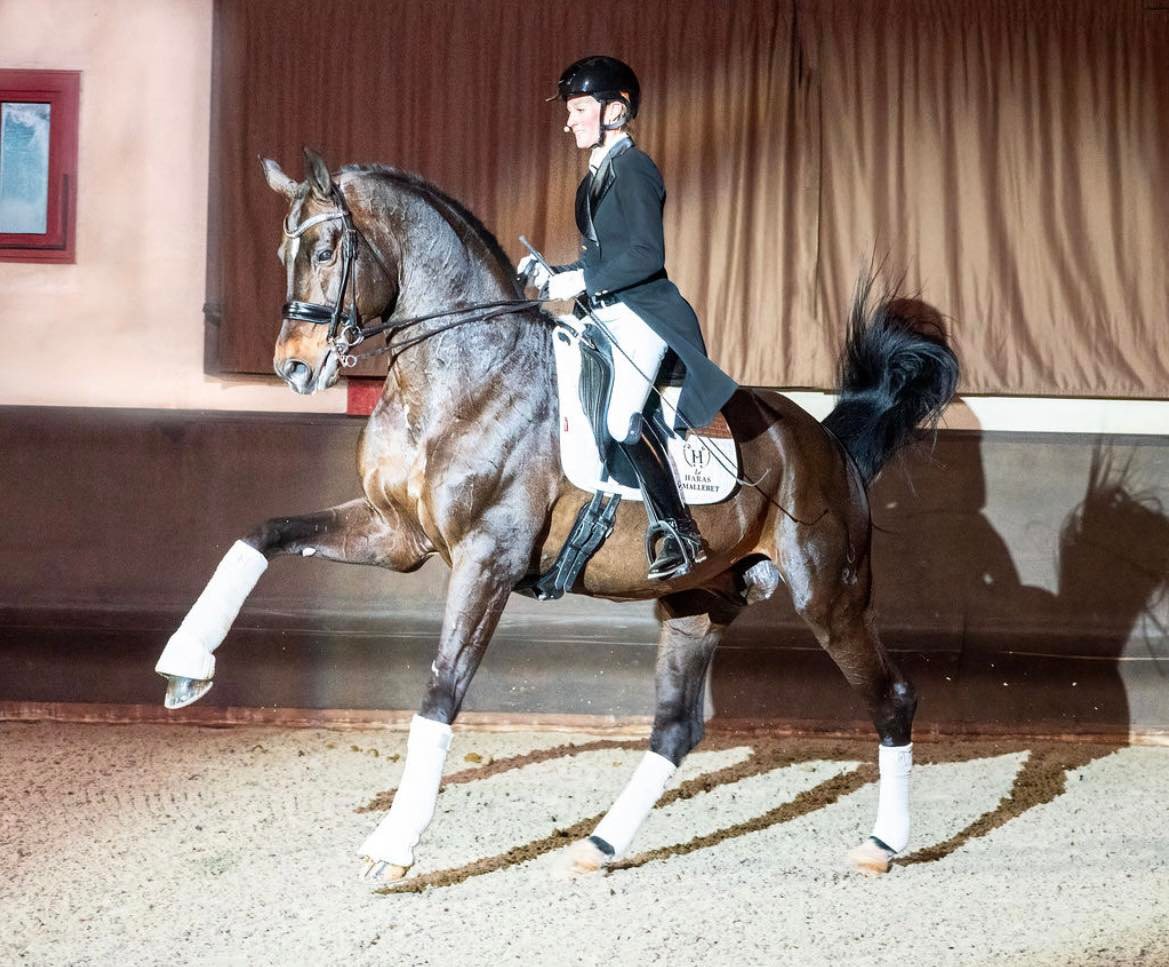 During the stallion show Malleret disclosed that they have expanded their collaboration with German Olympic Helen Langehanenberg
Langehanenberg began working with Malleret in 2021 and has been training Zaeta de Malleret (by Zonik) and Golden Romance Malleret PS (by Governor). A few weeks ago she welcomed the 13-year old licensed Oldenburg stallion and rising Grand Prix horse Stolzenberg (by Sandro Hit x Lord Sinclair) into her barn. 
After the show, she and Manuel returned to Germany with Danciano, Stolzenberg, Golden Romance, Faszination and Fänomen de Malleret in the lorry. They will be training them all in Germany in 2023.
Stage Fright Overcome by Rave Reviews
Although Martinez helms the big operation at Haras de Malleret he prefers to stand outside of the spotlight.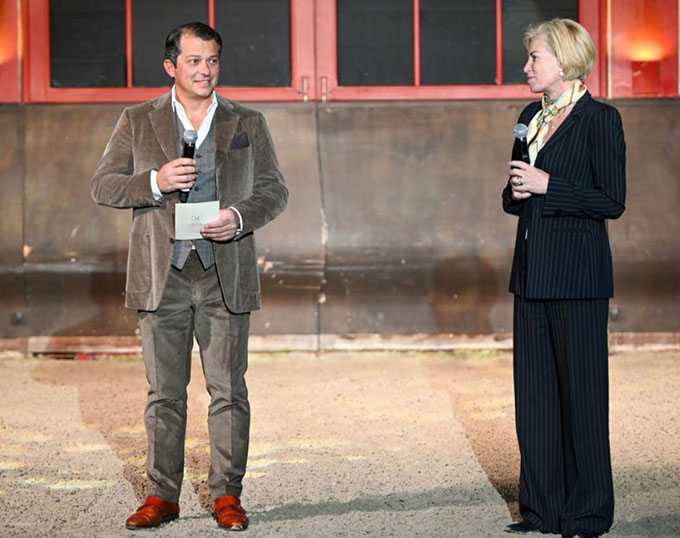 "I was quite stressed at the beginning to welcome the guests with the spotlight on me," he confessed. "I had prepared a text and I was not comfortable enough to speak without my text in front of their eyes. Then when it all started and all eyes were on the horses, I was more comfortable. really wanted to make a quality presentation, there were some mistakes, but overall it went well."
Gérald's nerves proved unwarranted as the stallion show was a major success and spectators raved about the presentation of the horses. 
"The guests really seemed to have had a good time, most of them wanted to come and see me to tell me and that really touched me," Gérald admitted. "The international guests praised the event, said the quality of the horses exceeded their expectations. Some, who are accustomed to stallion shows even said that it was the most beautiful show they had ever seen in their life!"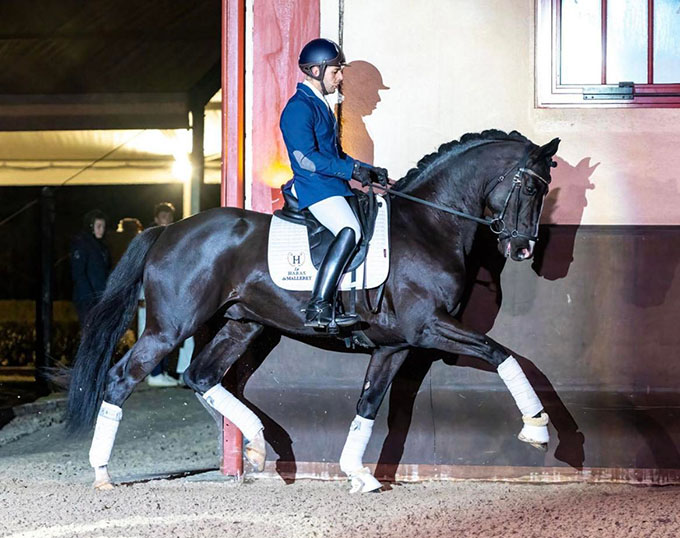 Martinez was most thrilled that his message of the value of a natural presentation of his stallions came across.
"I think the spectators understood my transparency  and saw that my horses were happy and content," he said. "For me that is most important. There are a lot of requests, the genetics are really very varied with always the same points that we find in all Malleret's horses: character and quality of hindlegs."
See the Video of the Stallion Show in Replay
You can watch the replay of the full stallion show on the official website.
A photo album can be viewed here.
For more information about the Malleret stallions, visit www.haras-malleret.com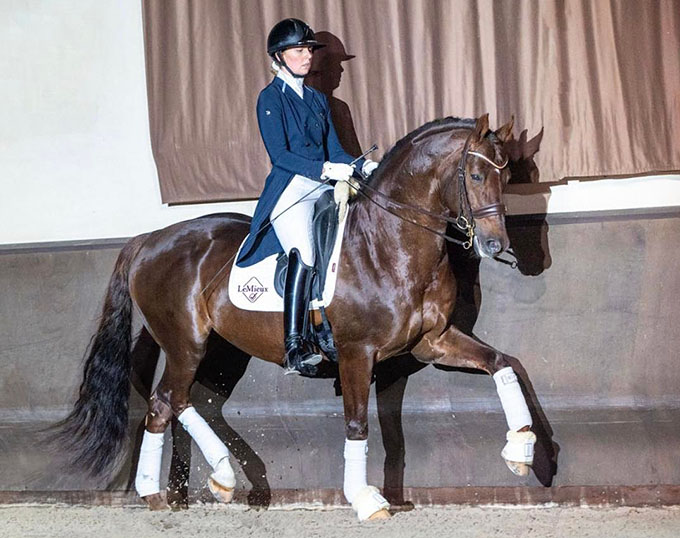 Emma Jamieson on Flinstone de Malleret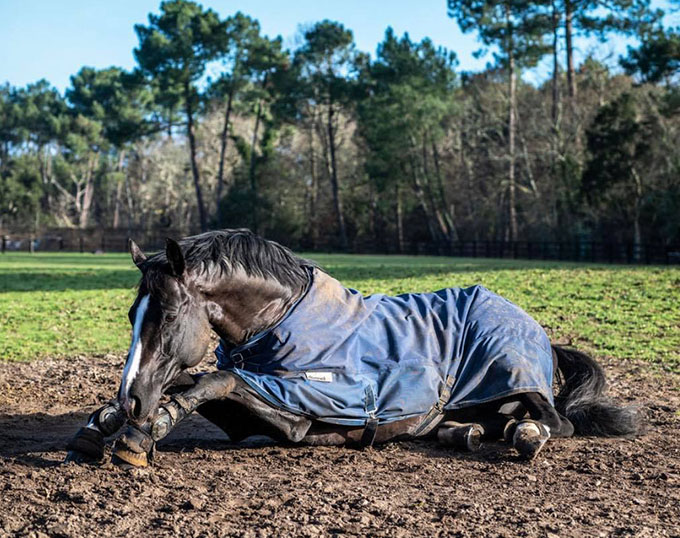 Danciano living the Malleret lifestyle
Photos © Karen Chaplin 
Related Links
Gerald Martinez: "Danciano de Malleret is Making his Mark as a Breeding Stallion"
Haras de Malleret Strengthens Stallion Roster with Six New AcquisitionsDanciano de Malleret Scores Hattrick at 2020 Bundeschampionate Finals for 5-year olds
Stolzenberg de Malleret, New Horse for French Pony Rider Alexandre Cheret
Golden Romance Malleret PS Joins Helen Langehanenberg, Nurnberger Burgpokal Planned for Zaeta de Malleret
Helen Langehanenberg to Develop Zaeta de Malleret