Ukraine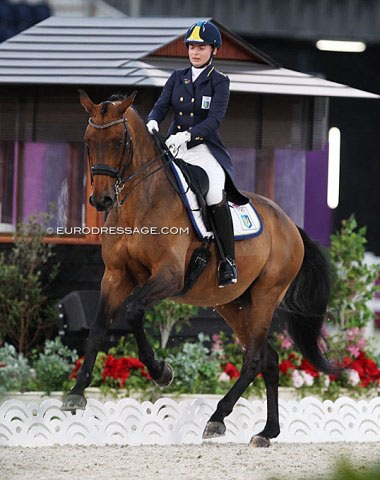 Ukrainian Grand Prix rider Inna Logutenkova said goodbye to her Tokyo Olympic ride, Fleraro. The 20-year old passed away on 31 January 2023. 
Fleraro was a Danish warmblood gelding by Flemmingh out of La Rozanta (by Royal Z). He was bred by Kirsten Christensen and Palle Nielsen.
Sponsored by VIAN Group
In 2013 Logutenkova's sponsor, VIAN Group from Kiev, Ukraine, led by Mykhaylo Parkhomchuk, acquired Fleraro as as a 2014 WEG and 2016 Rio Olympic hopeful.
Based in Westmalle, Belgium, Logutenkova was celebrating the haydays of her career in the mid 2010s, training and riding under the wings of Anky van Grunsven, Sjef Janssen and their team members.
Inna had began her international career in 2011 on Vian Stallone and Don Gregorius (by Don Cardinale x Placido), Diamond (by Hemmingway x Boreas) and Fleraro soon followed as her irons in the fire. 
From 2013 till 2021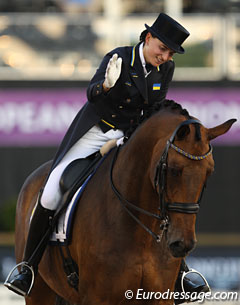 Inna and Fleraro made their international show debut at small tour level at the CDI Biarritz in October 2013. They stayed at that level in 2014 with starts in Saumur, Kapellen and Munich and in 2015 moved up to medium tour level at the CDI Barcelona. 
They ride their first CDI Grand Prix in Munich in May 2015 and scored 64.680% and a string of competitions followed that year: Mallorca, Deauville, Tallin, Siauliai, Lier, Roosendaal. In 2016 Don Gregorius was her number one and took her to the Olympics in Rio.
At the end of 2016 Vian parted ways with Van Grunsven/Janssen. She began training with Jan Bemelmans.
Fleraro was her ride for the 2017 European Championships in Gothenburg, where she scored 62.886%. At the 2018 World Equestrian Games in Tryon, they were 55th with 66.335%. 
In 2019 Logutenkova only showed Fleraro in CDI's in Ukraine (Zhashkiv, Kiev, Kharkiv) and returned to West Europe at the end of the year. As Fleraro was aging, the horse was only lightly competed at the end of his career with one CDI in 2020 (Doha) followed by the Tokyo Olympic Games in July 2021 where they scored 66.118% to finish 47th. 
Retirement and A New Life for Inna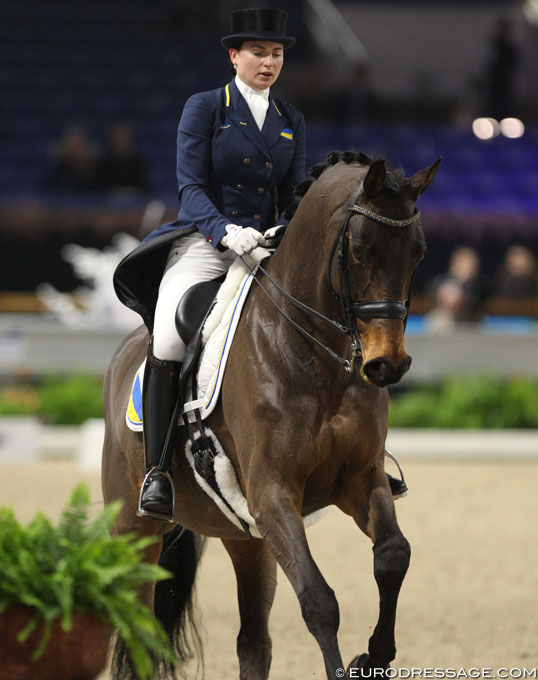 Fleraro was retired from competition sport after Tokyo at age 18.  The bay spent only two years in retirement. On 3 January 2023 he was put to sleep after he fractured his hip.
"Today I have to say goodbye to my dear friend," Inna posted. "To my partner to my superstar. My friend with big beautiful heart and soul. Amazing horse. My love. My Fleraro."
Inna has not competed internationally since Tokyo and as a Master in Psychology is now focusing on life coaching and (sport) psychology alongside riding and training. "After Tokyo I decide to take a long break," she told Eurodressage. "I lived in Ukraine in Kiev, but last January I came back and started to organise my life in Belgium."
Inna is no longer based in Westmalle but lives in Bree with the horses in Weert, The Netherlands. "I have my own horses and some students," she added. "Of course war in Ukraine destroyed a lot of lives. My mother and friends still live in Ukraine I try to help by donating money to different organisations and private people."
Photos © Astrid Appels
Related Links
Inna Logutenkova Wins Back-to-Back CDI's in Kiev
Vian Group Ends Co-Operation with Van Grunsven/Janssen After Six Years
World Dressage Masters Declared Bankrupt
World Dressage Masters Finds New Title Sponsor in Vian Group
Inna Logutenkova To Carry the Banner of Ukraine at 2013 World Cup Finals
Kiseliova on Top at 2011 CDI Indoor Show Circuit in Zhashkov, Ukraine