U.S.A.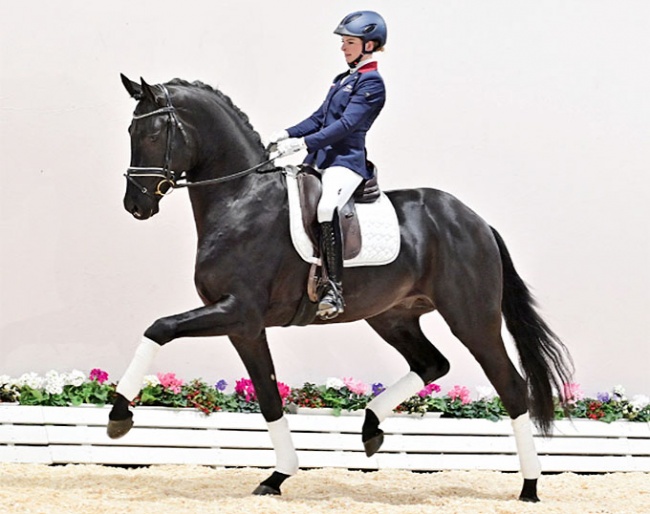 Splendid, the Oldenburg saddle licensing Champion of 2021, has been sold to the U.S.A. as an Olympic hopeful for American Olympic team silver medal winner Sabine Schut-Kery via the British based sales agent Bret Willson.
Splendid is a 2017 born stallion by San Amour out of N-Infinity (by Dream Boy x Friedensfürst/T). He is bred by Dutch horse dealer Rob Zandvoort who lives in Belgium. 
Licensing Champion
Splendid first came into the spotlight at the 2021 Oldenburg Saddle Licensing where he was proclaimed the Champion.
"A majestic appearance when he enters the ring: black, very swinging and long-legged with a lot of shoulder freedom and good mechanics," said Oldenburg's licensing committee member Bernhard Thoben. "We expect a lot from this stallion for the upper dressage sport, who is equipped with the necessary sensitivity and the right attitude" said Oldenburg's licensing commissioner Bernhard Thoben when describing the winner.
The test rider Charlott-Maria Schürmann enthused: "The feeling is mega, I have never ridden such a great stallion before."
Olympic Hopeful for America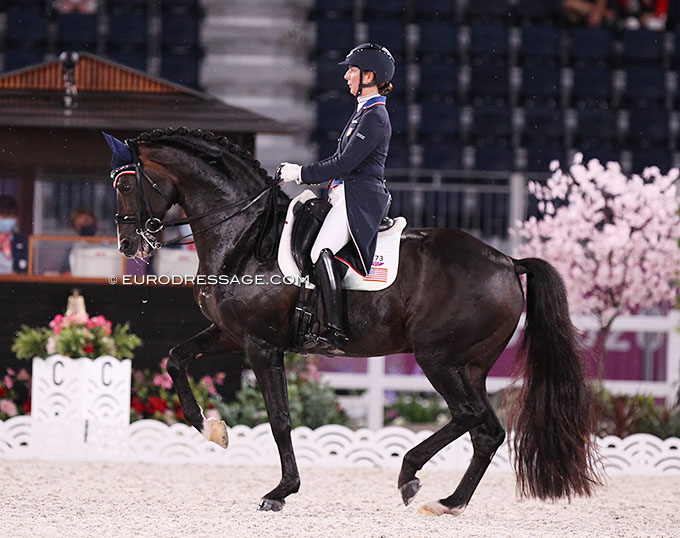 Splendid's international calibre for sport was never in question and the black stallion now sold as an Olympic prospect to the U.S.A.
"Splendid Partners," a syndicate consisting of Monica Garner, Heidi Flood and one other anonymous dressage enthusiast, secured the rising 6-year old as a 2028 Los Angeles Olympic hopeful for Sabine Schut-Kery.
The San Diego based rider, who won team silver in Tokyo in July 2021, has welcomed the horse with open arms.
A New Journey
"We are so excited to embark on this journey together with this wonderful horse and our fabulous Splendid Partners," said Sabine. "From the first moment I sat on him he reminded me of Sanceo in his spirit, talent and sensitivity. Splendid Partners and are so excited to embark on this journey together with this talented horse. I am beyond grateful to the wonderful people that came together to support me, alongside my long time coach Christine Traurig!"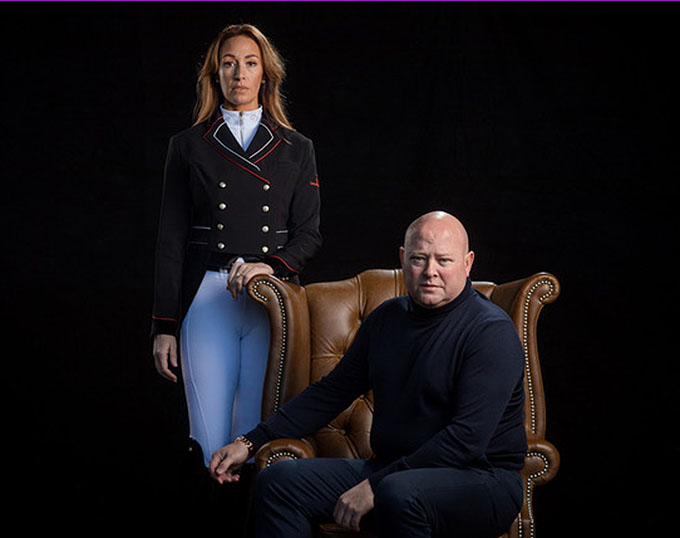 Bret Willson commented, "I loved the horse as soon as I first saw him. Splendid is an outstanding horse with great talent. He has been beautifully and carefully produced. Rob and his team have done a fantastic job and he's a super match for Sabine!!"
Photo © 
Related Links
Bret Willson Sells Igeral D to U.S.A. as Team Hopeful for Olivia Lagoy-Weltz
Bret Willson Dressage to Sponsor HOYS Future Elite Championship
Bret Willson Scouts Anna Zibrandtsen's Shakira for American Jennifer Huber
Bret Willson Dressage and Ballinger & Co. Announce Strategic Partnership
Bret Willson, Making Quality Horse Shopping Easy
2021 Oldenburg Saddle Licensing Champion Splendid Gets Break from Breeding
Record Price for 2021 Oldenburg Saddle Licensing Champion Splendid
Splendid, Champion of the 2021 Oldenburg Saddle Licensing