The Netherlands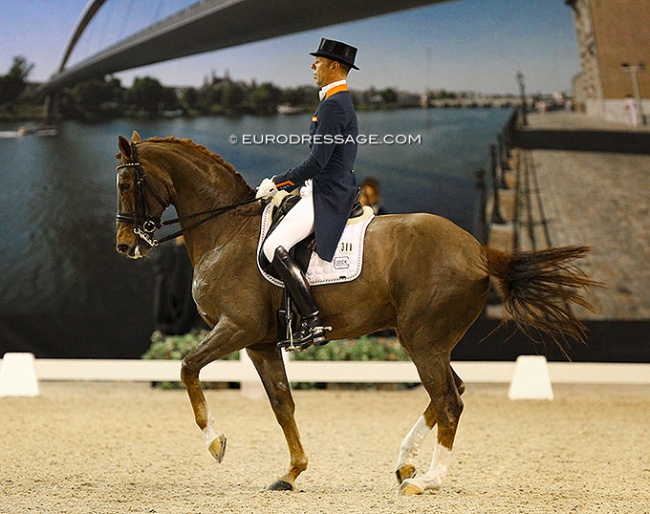 Flirt, the winner of the 2016 World Cup Finals under Hans Peter Minderhoud, has passed away. He was 21 years old. 
Flirt was a Swiss warmblood gelding by Florestan out of Envie de Lully (by Gauguin de Lully x Dream Dancer xx). He was bred by Hans-Jakob Fünfschilling.
Flirt de Lully
Originally named Flirt de Lully, the chestnut was known as a rambunctious youngster who was talented and beautiful, but did not allow his rider to tack and mount him, at first when he got broken in.
As a 4-year old he was trained by Jasmine Sanche.
In 2007 he moved to Germany to the stables of Hartwig Burfeind, where Juliane Brunkhorst took on the ride and developed the horse to Grand Prix level. 
Juliane first competed Flirt in May 2007 in an L-level dressage horse test at the CDN Verden. By 2008 he reached small tour level and in March 2010 he did his first Inter II. Two months later Brunkhorst rode Flirt in his first Grand Prix test at the CDN Aulendorf. 
Marcel Schoenmakers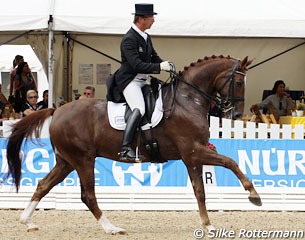 At the end of 2010 the horse sold as a 9-year old to Austrian Gaston Glock.
Flirt made his international show debut under Glock's Austrian resident rider at the time, Marcel Schoenmakers (NED), at the 2011 CDI Stadl Paura where they posted 65.090% in the Grand Prix
Schoenmakers campaigned Flirt through 2012 at CDI shows such as Mannheim, Achleiten, Munich, Fritzens, Verden, Kaposvar, Treffen, and Caselle di Sommacampagna. 
2016 World Cup Winner
In 2014 Glock decided to send Flirt to Hans Peter Minderhoud in The Netherlands.
The pair made its show debut at the CDI Arnheim in June 2014 with a 73.260%.
Minderhoud focused Flirt mainly on the World Cup circuit as he also had Johnson to ride at the time as his number one in the barn. With Flirt he qualified for the 2015 World Cup Final in Las Vegas (USA) where they finished fifth.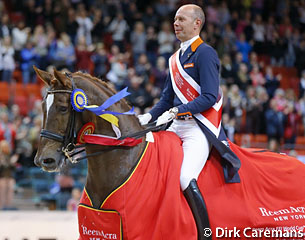 After a successful Western European League world cup season in 2015-2016 they qualified for their second World Cup Finals. At these 2016 Finals in Gothenburg all the pieces came together for the pair. Minderhoud rode his The Mask of Zorro freestyle and posted 82.357%, the high score which earned them the title. 
Unfortunately shortly after Gothenburg the chestnut sustained an injury and was out for the season, missing Dutch Olympic team selection for Rio.
He returned to the arena at the CDI Maastricht in November 2016 and then competed on the 2016-2017 world cup circuit with rides in London, Amsterdam and Den Bosch, qualifying for their third, consecutive World Cup Finals.  
Right before the flight to Omaha (USA) for the 2017 Finals, Flirt was withdrawn because of a tendon injury. He never fully recovered and the 2017 CDI-W 's Hertogenbosch turned out to be the horse's last show.
Retirement
Flirt was retired from competition sport and spent another five years in the field at the Glock Horse Performance Center in Holland.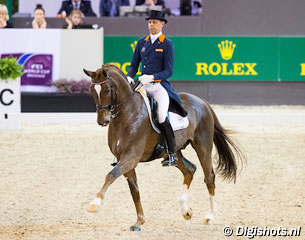 Flirt passed away already in September 2022, but owner Glock only announced the news on 12 January 2023.
"In the last weeks of September 2022 he was in pain, it was difficult for him to get up and he could not eat anymore. We waited and hoped that the vets could still help him, but unfortunately this was not possible," Glock stated. 
Minderhoud remembers the gelding as "the dearest and most loyal horse I ever had the honor to ride. A true friend at home and a real fighter at tournaments."
Photos © Astrid Appels - Silke Rottermann - Dirk Caremans - Digishots
Related Links
Eurodressage Photo Database: Flirt
Minderhoud Out of Senior Squad, to Come Back with Dream Boy and Casper
Hans Peter Minderhoud's Flirt Injured
Minderhoud and Von Bredow-Werndl Withdraw from the 2017 World Cup Finals
Minderhoud Ends Werth's World Cup Winning Streak at 2017 CDI-W 's Hertogenbosch
Hans Peter Minderhoud Wins Uneventful 2016 World Cup Finals in Gothenburg
Minderhoud Wins Coveted World Cup Title, at Last, at 2016 World Cup Finals
Minderhoud On Target after Grand Prix Victory at 2016 World Cup Finals
Minderhoud Steers Flirt to Stylish Victory in 2016 CDI-W 's Hertogenbosch Kur to Music
Minderhoud and Flirt Win World Cup Qualifier at 2015 CDI-W Stockholm