Hanoverian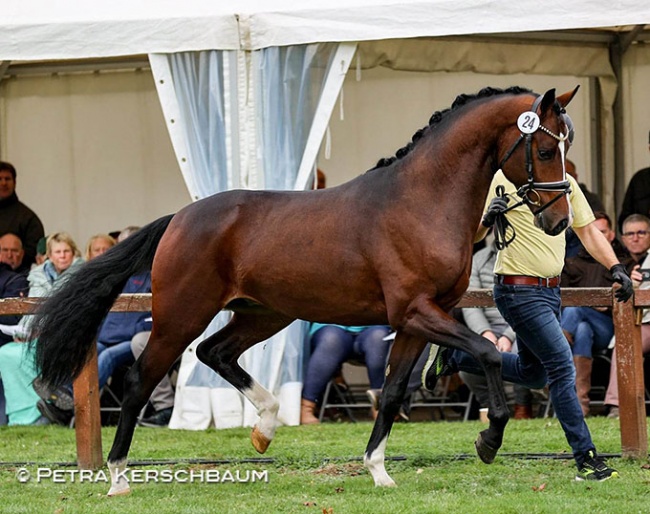 A bay Escamillo x Vivaldi who was licensed at the 2022 Hanoverian Stallion Licensing in Verden at the beginning of November has tested positive to doping. He loses his licensed status and the buyer who purchased him at auction has returned the stallion.
The Escamillo x Vivaldi x Lauries Crusador xx was presented at the licensing by breeders Gudrun and Udo Strecker and it sold for 58,000 euro at auction.
Statement
The Hanoverian society issued a press release about the positive test: 
Since 2021, a routine medication check has been carried out on all licensed stallions of the Hanoverian licensing. As a result, at the 2022 autumn licensing, a positive detection of the active substance was provided in a stallion.
The blood sample analysis of the stallion with the head number 24 by Escamillo/Vivaldi at the Hanoverian dressage licensing of November 5th, 2022 is affected. The antibiotic active ingredient sulfadimethoxine was detected. The finding was confirmed by the analysis of the B sample.
In accordance with the statutes, the licensing judgment for the above-mentioned stallion is revoked. The stallion's medication also constitutes a violation of the Hannoveraner Verband's Good Governance guidelines, within the framework of which further measures are decided. The buyer has withdrawn from the purchase of the stallion.
A new presentation of the stallion for the licensing is possible after three months at the earliest.
Contamination Through Soybeans
The German breeding magazine Zuchterforum interviewed Strecker, who claimed the horse got contaminated by a batch of "dirty or moldy soybeans."
Zuchterforum posted, "the feed was already fed before the contamination was noticed. Since the stallion was healthy during the preparation, he was not given any medication. Strecker showed understanding for the buyer who withdrewn from the purchase. The Escamillo son will definitely be presented again at the licensing by the Strecker family."
Photo © Petra Kerschbaum
Related Links
Nine Premium Stallions, Thirty-One Licensed at 2022 Hanoverian Stallion Licensing
Bon Courage Offspring Dominates Pre-Selection for 2022 Hanoverian Stallion Licensing
German Studbooks Divided on 2022 Stallion Suitability Test Format, United Against Doping
Vaderland Tests Positive to Sedative at 2018 Westfalian Stallion Licensing
Dynamic Dream, 2019 Westfalian Licensing Champion and 1.9 Million Auction Horse, Tests Positive to Medication
Darling's Dream, 2020 Westfalian Reserve Licensing Champion, Tests Positive to Prohibited Substance
Ferrari Superfast and Darling's Dream Positive to Caffeine at 2020 Westfalian Stallion Licensing
Two Positive Drug Cases at German Stallion Licensing and Sport Test
Escaneno Tests Positive to Fluphenazine at 2021 Westfalian Stallion Licensing
Danzador x Likoto xx Tested Positive to Medication at 2022 Hanoverian Stallion Approval