Oldenburg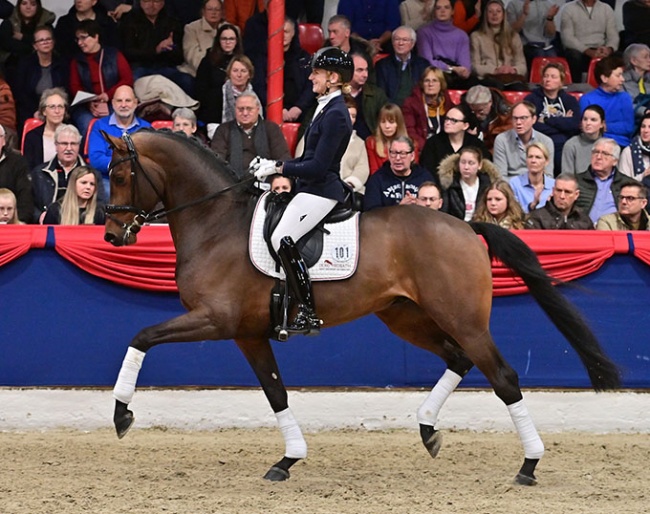 Federer became the 2022 Oldenburg Main Premium winner at the annual Oldenburg stallion licensing in Vechta on Saturday 14 January 2023.
To decide the main premium winner, the development of the stallion, the result of the stallion performance test and, above all, the quality of the first foal crop at the offspring inspection are taken into account when deciding on the award of the main premium.
This year three dressage stallions were in the running for the main premium title: Federer, Fair Deal, and Total Diamond. Unlike previous years, the stallions were presented under saddle instead of in-hand before the winner was announced. Interestingly only the winner, Federer, produced a good walk under saddle!
The main premium winner of the Oldenburg Horse Breeders' Association (OL) is called Federer, born 2018, by Farrell out of Lillyfee by Livaldon - Canstakko, breeder: Wienke Winkelmann, Wurster Nordseeküste, bred by Gerd Sosath, Lemwerder. In 2021, the dark bay with strong movements completed his 50-day test with a final score of 8.12, receiving an 8.25 for his interior and an 8.50 for his willingness to perform as well as for his walk. Sire Blue Hors Farrell was a premium stallion in his time and could show international victories up to Intermediaire I under Nanna Skodborg Merrald, Denmark. Numerous licensed stallions, Grand Prix successful dressage horses, as well as international show jumpers originate from the mare line.
Total Diamond PS, born in 2018, by Totilas out of Special Diva by Sir Donnerhall I, won silver among the dressage stallions. Sir Donnerhall I - Diamond Hit - Landro L, breeder: Lewitz Stud, b.: Paul Schockemöhle. The black bay stallion completed his 50-day test in 2021 with a dressage-oriented final score of 8.05 in Schlieckau. Interior, character, willingness to perform and overall impression were rated with an 8.00. Total Diamond PS received an 8.50 for canter and an 8.75 for rideability, judged by an extern rider. Total Diamond PS already sired five foals of his first crop for the Vechta auction, including his two sons Tizian and Titanium, who were secured for top prices at the 7th Oldenburg Special Edition. 
Dam Special Diva OLD was Bundeschampioness of the three-year-old riding horses under Heiko Klausing. Besides Total Diamond PS, the dam Special Diva OLD also sires the Oldenburg premium stallion of 2018 Monterey by Morricone I. She is also sister to Fürst Diamond by Fürst Romancier, successful in Intermediaire I under Zina Facklam and Siebenstein by Sir Donnerhall, successful in Grand Prix with Mirelle Kemenade-Witlox, Netherlands.
The bronze medal was awarded to Fair Deal OLD, born in 2018, by Franklin out of Fairytale PS by Fürstenball - Totilas - Londonderry, breeder: Lewitz Stud, owner: Saxonian Stud Administration Moritzburg State Stud. In 2021, Fair Deal OLD took bronze at the Oldenburg State Championships. At the end of the same year, he took his 50-day test and completed it with a dressage-emphasised final score of 8.52. Three times he was awarded with the phenomenal score of 9.00 in the categories character, trot and canter. The extern rider rated the rideability with an unbelievable score of 9.25. Under Linda Casper, Fair Deal proves his talent for the arena with victories in novice class dressage tests for young horses. Besides Fair Deal OLD, dam Fairytale also sires the licensed Escanto PS by Escamillo. The mare line also includes the licensed stallions Fürst Toto by Fürstenball and Donier by De Niro and the successful advanced-level dressage horses Disney's Dory by Desperando and Gallery by Governor.
Related Links
Total McLaren Wins 2021 Oldenburg Main Premium Title
Vivaldos Wins 2020 Oldenburg Main Premium Title
Follow Him's Schönweide Wins 2019 Oldenburg Main Premium Title
Blue Hors Zackerey Wins 2018 Oldenburg Main Premium Title
Ibiza Wins 2017 Oldenburg Main Premium Title
Morricone Wins 2016 Oldenburg Main Premium Title 
Fursten-Look Named 2015 Oldenburg Hauptpremium Winner
Grey Flanell Wins 2014 Oldenburg Main Premium 
Destano, 2011 Oldenburg Hauptpremium Winner
Althengst Parade and Hauptpremium Winners End 2003 Oldenburg Stallion Licensing