Opinions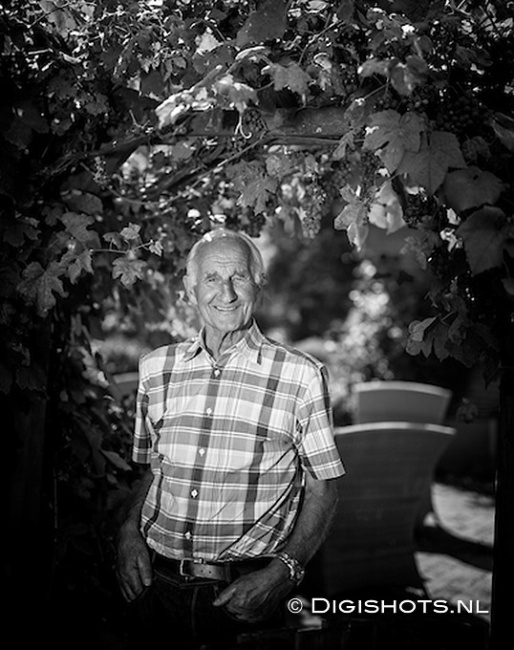 Renowned KWPN horse breeder and owner Adri Zekveld posted the following column in Dutch on his Facebook page. Eurodressage translated it to English. Zekveld (77) is owned of the well known Dutch warmblood dressage horse brood farm Sollenburg. He bred KWPN licensed stallion Electron and internationally competed dressage horses Harrold S (Claire Darnell), Colt Sollenburg (Bo Oudhof), Baltimore (Vincent Bol), Well Done Sollenburg (Joyce van Schaick) and many more. 
What's in a Name?
What's in a name?
Horses and name giving, a lot can be said about that. Often name giving is bound by rules. Traditions or regulations often determine which name our noble equine will carry through life. Creative imaginations are often in the minority. And even then they honour the above saying. Sometimes I see a name of which I think, one has really thought that one through. At least if the next owners hasn't changed it, or if he has. 
A Name to Honour the Horse
To honour one's name. 
Look, for instance, at Ferro, which means as much as metal. It says something about strength.  Or Jazz, which refers to dance and movement, although his birth name was in fact Jacob, named after the well known Dutch equestrian journalist Jacob Melissen. Krack C also a became a crack, he himself and many of his offspring. And what about Vivaldi. You can almost hear the Four Seasons of master composer Antonio Vivaldi. You can see and hear a beautiful kur to music. Also his son Vitalis, but more about him later. He has made a name for himself.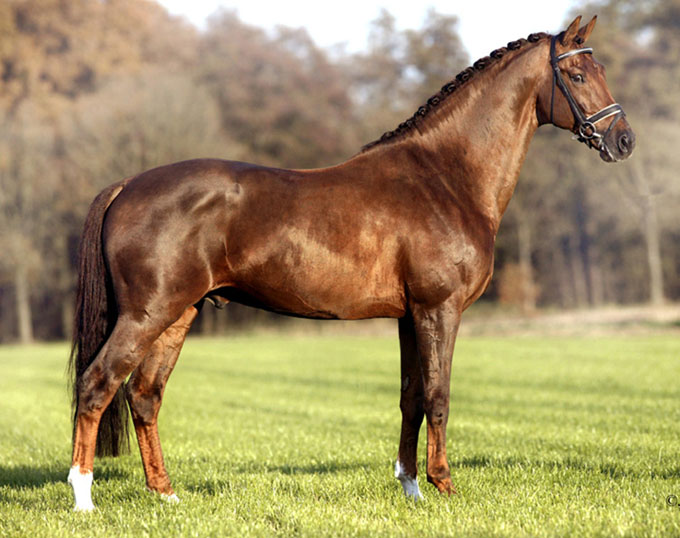 I just referred to Jacob Melissen. I remember a funny column by him, written around 2005 for In De Strengen (KWPN magazine). It was about name giving. Such traditional name people gave and still give. The tradition of the name giving through the dam line. (In The Netherlands), the line started for instance with Jopie, the foal would be called Popie, and then you had Zopie, Dopie, and Hopie. I remember that Melissen used as an example "Lantern Post" and then you had "Pantern Post" and "Santern Post".  
In Germany they have a different systemics. The name of the colt foals start with the first letter of the sire. Like that you can see the entire sire line at a glance. However you do sometimes get a foundation stallion with the same starting letter, bred by those darned Dutch, who is now making his mark in other studbooks. The F-line for instance, it used to be based on Furioso xx, but once in a while "our" Ferro can come across.
Catchy Names
You get your money's worth for a good name!
Stallion owners realize that. The names of future licensed stallions are scrutinised by their owners and the KWPN studbook. It has to be "catchy". A quick discussion with the owners of those in charge follows and the name gets change. Sometimes it's a pretty chance, but often I get the feeling that the original name was much more creative and meaningful!
"My name is Hase". 
For God's Sake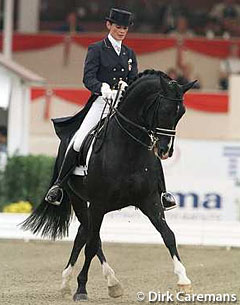 I always search carefully for names. Sometimes a name of a very old girlfriend pops up. I better not pick that one. I had too few girlfriends in my younger years, so I don't have enough names to build a mare line from that. For god's sake. 
Astrid means divine beauty. And there were plenty of Egyptian, Roman and Greek gods, so you can go far with that. 
To Make a Name (Genesis 4)
It's a skill to be creative. Sometimes you find nice new names, somethings full English sentences, something like "Tip of the Iceberg" and we'll nickname the foal "tit".
Two more weeks to go. A problem can arise. Is there going to be a late foal, dan the name has to start with an S, or will it be a very early foal. The pop of the champagne bottle on New Year's eve is the referee and we'll all go from the letter S to T. Shouldn't be too difficult a letter. 
I well remember that 16 to 17 years ago there was a mare owned by Lauw van Vliet in a show named "Tante Truus". You see, that name stuck. 
To have a ringing name
Vitalis or Capriool
By the way, Vitalis, I wanted to say something about him. A genius discovery by his name giver. His birth name was Capriool.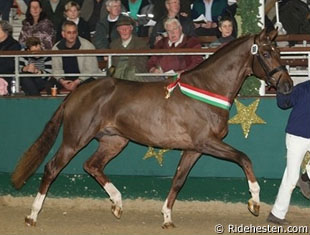 What many without a doubt know is that Vitalis (French, pronounced Vee-ta-lee) is the main subject in a historical bestseller Nobody's Boy (Sans Famille, 1878). A children's book fro the 19th century which made me cry a lot. It's not just for children. 
Why I think Vitalis is a fitting name for the stallion. Vitalis in the book was a travelling artist who amused people with his circus acts with animals and through singing and dance. The stallion Vitalis also travelled the world in his younger years. 
What in fact surprises me is that, as far as I know, not one foal by Vitalis is named after Hector, the author of the book. And neither to a principal character, Remi, or to the animals that were accompanying Vitalis and Remi: the money Joli Coeur and the dogs Capi, Dolce, and Zerbino.
I wish you a lof of creativity in coming up with beautiful, fitting and touching names.
-- by Adri Zekveld, translated by Eurodressage
Photos © Digishots - Dirk Caremans - Ridehesten
Related Links
Ruby, Most Popular KWPN Foal Name of 2021
Belgian Equestrian Federation to Respect Breeder's Choice of Horse Name
Nashville Star, High Scorer of the 2021-2022 KWPN Winter Stallion Performance Testing
Jen Vanover: "Semen Fraud, the Rest of the Story"