Bits 'n Pieces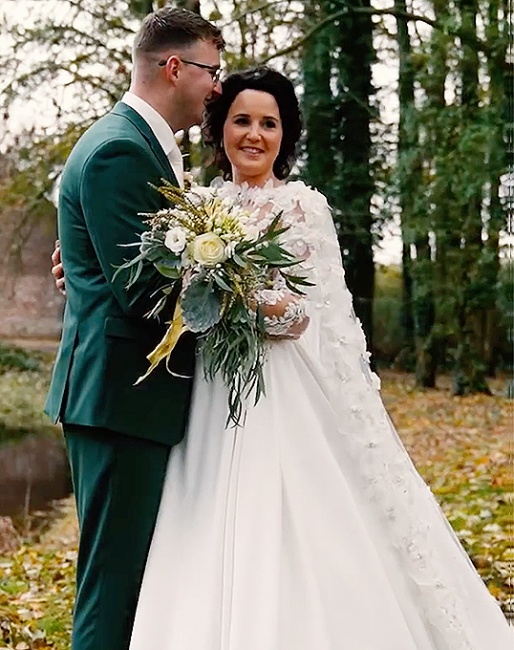 Former European Under 25 champion Jeanine Nieuwenhuis married her partner Jeffrey Den Hollander in an autumny winter wonderland wedding on 22 November 2022.  Den Hollander proposed to Nieuwenhuis in the stable on 22 January 2022 on their two-year anniversary. 
Charlotte Dujardin has said yes to Dean Golding's proposal for marriage. At a baby shower, hosted by Toni Terry and Marsha Webb, the upcoming birth of their first child was celebrated. The private event included a surprise proposal from her partner Dean. On social media, Charlotte shared "to top off this beautiful evening, Dean  surprised me with asking me to be his wife, and of course I said yes! We look forward to all that comes next." The couple was previously engaged in 2012 but never got married. They briefly split up in 2019, but reunited soon after. Their baby, a girl, is due early 2023.
British paralympian Natasha Baker announced her pregnancy with her first child in the British tabloid magazine Hello!. At the 2021 Paralympics in Tokyo, Baker and Keystone Dawn Chorus (by Dimaggio x Escuado) won team and two individual silver medals. In March 2022 she married Marc Jaconelli and the couple honeymooned in the Maldives. In August Baker scored bronze at the 2022 World Para Dressage Championships. She found out that she was pregnant shortly after Herning. Aside from being a competitor, Baker also moonlights as a commentator for the FEI live stream of dressage competitions.
Austrian Nicola Ahorner, who now rides for Israel, made her show debut on Marshall Bell (by Don Romantic x Michellino) at the national show in Weikersdorf, Austria. The pair posted 72.4% for the victory in the Intermediaire II in a class of three combinations.. Ahorner purchased the Danish warmblood in May 2022 but gave the ride to Daniel Bachmann for the summer so he could ride him to team gold at the 2022 World Championships in Herning.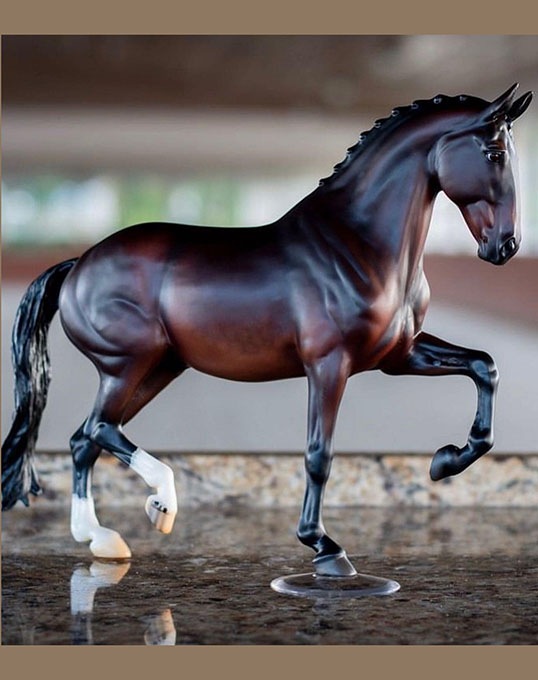 Look who became a Breyer: Salvino! Adrienne Lyle's 2022 World Championship and 2021 Tokyo Olympic ride by Sandro Hit x Donnerhall. The launch of the Salvino Breyer model was celebrated at a Collector Club event "Ponies & Palm Trees" at TYL Dressage in Wellington, Florida, on 11 - 13 November. 
Dutch Under 25 Grand Prix rider Zoe Kuintjes is sidelined for a while after falling off a young horse. She had planned on competing Cupido (by Rhodium x San Remo)  at the CDI Kronenberg at the start of December but will have to wait until the next year to show again.
Austrian Grand Prix team rider Florian Bacher is one the move again. The former Spanish Riding School rider quit the SRS in 2018 to begin his own dressage training business. He has been based on several stables already. He was at the riding sport centre Im Schlosspark, then at Pia Gabriel's yard and has now moved to Gut Fabricius. 
Stable Hexagon has lost its 4-year old KWPN stallion Dutch Newman to colic. The bay stallion suffered from a colic attack on 30 November and was operated on, but could not be saved. The bay was by Diamond Hit and out of one of Hexagon's top broodmares Roumanda (by Rubiquil x Matador II x Sultan). He was NRPS licensed in 2021 and competed at national level in young horse classes.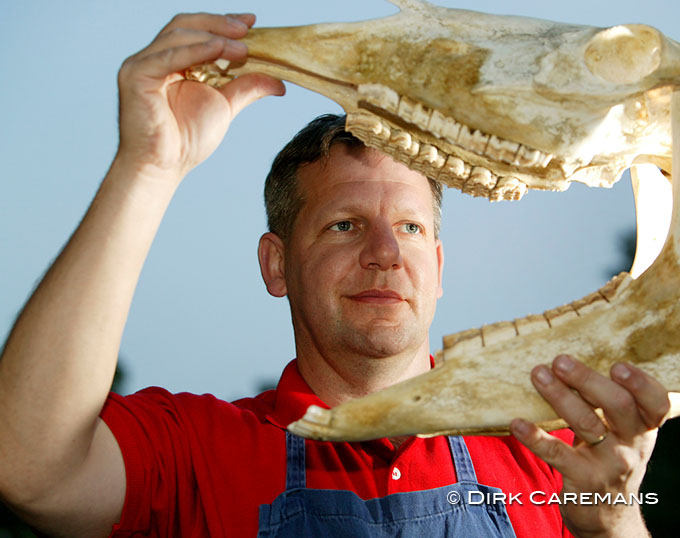 Renowned Belgian equine dentist Dany Welter died from a heart attack on 27 November 2022. Even though he was rushed to Liege hospital by helicopter doctors were unable to save him. Dany was 59 years old. Welter was first married to Dutch dressage rider Christiane Appel, but got divorced and found new love with international reining rider Cira Baeck. The couple moved to the Geneva area in Switzerland and later on to Italy. In 2016 the Belgian equestrian federation appointed Welter chef d'équipe of the reining team.  At the beginning of this year Welter and Baeck returned to Belgium to their "CS ranch" as they wanted their first child to be born on home turf. Cira gave birth to their son Archy only six weeks ago. The funeral was held on 3 December 2022.
American dressage Sharon Poulin, wife of U.S. Grand Prix rider Michael Poulin, has passed away. Originally from Norway, Maine, Sharon went to Michigan university and ended up dedicating her life to her family and horses. She called Deleon Springs, Florida her home and was a well respected dressage rider in her own right. She helped develop U.S. team horse Graf George who went on to become one of America's top Grand prix horses under Michael Poulin and Guenter Seidel. A mother to four children, Sharon was the backbone of Poulin Dressage. Daughters Gwen and Kate have followed in their parents' footsteps and are professional dressage trainers and riders. Belinda Nairn wrote the following words in memory of Sharon: "she was one of the finest people who ever drew a breath. Her loyalty to her family and students was beyond measure, as was her dedication and love of horses. Her matter-of-fact way of accepting whatever was thrown at her and just dealing with it, was as real as it gets. She was truly one of the most beautiful people you could ever want to know, inside and out."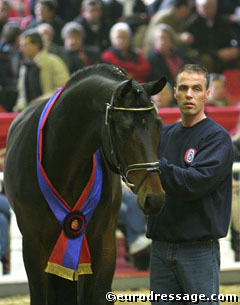 Ger Visser, brother of Totilas' former owner Cees Visser, has been convicted to four years and three months in jail for for fraud against the bankruptcy of his property chain Eurocommerce. The former CEO falsified rental agreements in order to obtain financing for Eurocommerce. He also transferred assets to his private account just before the company went bankrupt with a debt of several hundred million euros. Visser's wife has been convicted to 18 months in jail as she tried to hide money by selling their multi-million euro house for 1 euro to a foundation. Also Visser Jr has been convicted for money laundering as he sold the show jumping barn for an artificially low amount. The bankruptcy of Eurocommerce in 2012 was one of the largest in the Dutch real estate world. Ger Visser and his son Ger Visser Jr were heavily involved in the show jumping world. Their entry into dressage came into 2004 when they bought the dressage bred Oldenburg licensing champion Van the Man, who died 6 years later.