KWPN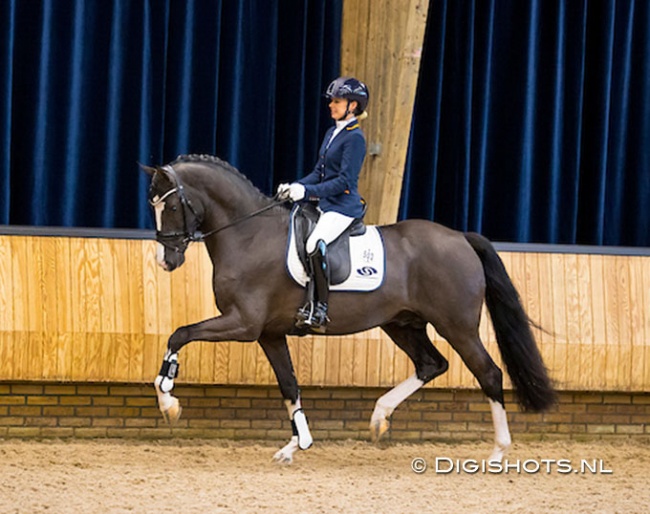 The KWPN bred stallion Next Level has failed his second attempt at completing a mandatory Stallion Performance Test. Despite being highly popular with breeders, the black has not fulfilled the requirements to obtain full licensing, neither with KWPN, nor with NRPS. 
The black stallion is by Jarville x Prestige VDL and bred by Mr. van der Aa. 
Hot with the Breeders
Next Level became a KWPN premium licensed stallion but never passed the KWPN performance test. In the autumn of 2021 he was withdrawn due to "veterinary reasons" and invited to the 2022 KWPN Spring testing, but he didn't go. 
Despite that, Next Level covered many mares in 2021 and there are no less than 135 foals were registered with the KWPN society in 2022. They get "register B" papers and are not allowed to participate in licensings, but can partake in the Pavo Cup competition. 
Performance Test Lacking
In order to ensure register A paperwork for the foals, Next Level was presented and accepted by the NRPS studbook. He was allowed to breed for NRPS but had to do the performance test in the autumn for definite approval. 
According to Horses.nl, Next Level was twice presented for the NRPS performance test and after his second assesment on 12 October, he was sent home and allowed to re-do the testing in 2023.
Korean Owned
Next Level is based at Peter van de Sande's yard in The Netherlands. In March 2022 he sold to the German-Korean company Galleria Sportpferde and it was announced for the horse to move to Helen Langehanenberg, but he never did.
"Galleria's Next Level is a special one for us," the owner communicated on Instagram. "It was love at first sight and even though he is still young he acts like a real pro. Next Level has covered 216 mares in 2021 and 253 this year. In 2023, he will start receiving full-time professional training and we cannot wait to see what he has to offer."
Photo © Digishots
Related Links
KWPN Stallion Next Level Sold to Korea, to Move to Helen Langehanenberg