KWPN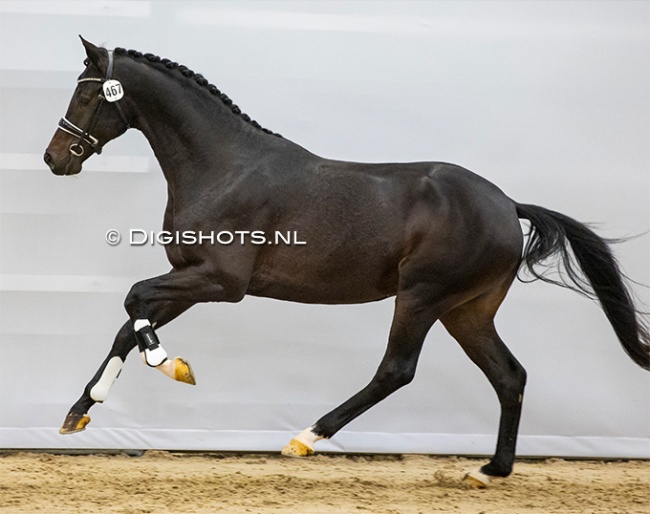 On the fifth and final day of pre-selection for the 2023 KWPN Stallion Licensing, seventeen colts were accepted to move on to the second phase. 
The KWPN Stallion Licensing Committee consists of Bert Rutten (chair), Johan Hamminga, and Wouter Plaizier. German Sönke Rothenberger assists as a new "apprentice judge."
The fifth pre-selection day on Saturday 3 December marked the presentation of the crops of young licensed KWPN stallions Le Formidable and Kjento. The latter was the most used stallion in 2019 with no less than 303 foals born in 2020, but it was the former stallion, the second most used one in 2019, who got the most offspring selected for the second round.
No less than 23 colts by Le Formidable (by Bordeaux x Ferro) were entered for the pre-selection and nine of them passed, making him the most "successful" sire at the pre-selection. Five sons of Kjento will re-appear in Den Bosch in February. 
"The Le Formidable colts were generally speaking large framed and well developed and showed a good way of moving," said Bert Rutten. "We selected strongly built sons by Kjento who moved with power."
On an interesting note, the most expensive KWPN foal of 2020, Pascoe (by Le Formidable x Wynton) -- who sold at the Borculo foal auction for 105,000 euro to Eric Koele, Witte Scholtens while a share remained with the breeder -- did not get accepted. 
A total of 75 colts have now been selected for Den Bosch. There will be one more pre-selection moment on 15 December for those who couldn't make it this time for various reasons. 
Selected on the last pre-selection day are:
Playboy (by Le Formidable X Sir Sinclair) - Breeder & Owner: Fam. Andeweg 
Pitch Perfect (by Le Formidable X Vivaldi) - Breeder: H. Veurink - Owners: Stal Laarakkers and H. Veurink 
Pirelli (by Le Formidable X Charmeur) - Breeder & Owner: F.a. Boxelaar & D.v. Veenstra
Private Dancer (by Le Formidable X Johnson) - Breeder:  R Scheepstra - Owners: N. Van Noord
Padre (by Le Formidable X San Amour) - Breeder: Olthof - Owners: Egbert Schep, Olthof Horses  
Puccini (by Le Formidable X Lord Sinclair) - Breeder & Owner: W Busser 
Piet-k (by Le Formidable X Goodtimes) - Breeder: P. Kuijpers - Owners: K. Gerrits and Saskia Poel 
Prosperite (by Le Formidable X Johnson) - Breeder: Dirk Kösters - Owner : Taizo Shiohara 
L' Avenir (by Le Formidable X Sir Donnerhall Ii) - Breeder: Arns-krogmann - Owners: K. Gerrits, Saskia Poel 
Princeville Jt (by Kjento X Lord Leatherdale) - Breeder: J. Timmermans - Owner : Van Olst Horses 
Picasso (by Lennox U.s. X Zhivago) - Breeder: J. Haak - Owner : L V. Dueren Den Hollander-reijns 
Pjento Naomie (by Kjento X Desperado) - Breeder: A Beerens - Owner : Van Olst Horses 
Perle (by Kjento X Tuschinski) - Breeder: L. Heida - Owners: Van Olst Horses and L. Heida 
Palermo E (by Kjento X Bordeaux) - Breeder: H. Ebbers - Owners: H. Ebbers & Jan Anker's Anchor Excellent Horses
Phoenix (by Kjento X Krack C) - Breeder & Owner: I.p.s. Horse Group 
Party Edition a. (by Livius X Florencio) - Breeder: Y. Ackermans - Owners: R Korevaart , S. Van Suchtelen V/d Haere 
Platinum L (by Livius X Charmeur) - Breeder & Owner: J. Lamers
Photo © Digishots
Related Links
Thirteen Colts Pass on Fourth Pre-Selection Day for 2023 KWPN Stallion Licensing
Fourteen Colts Pass on Third Pre-Selection Day for 2023 KWPN Stallion Licensing
Seventeen Colts Pass on Second Pre-Selection Day for 2023 KWPN Stallion Licensing
Fifteen Colts Pass on First Pre-Selection Day for 2023 KWPN Stallion Licensing