Japan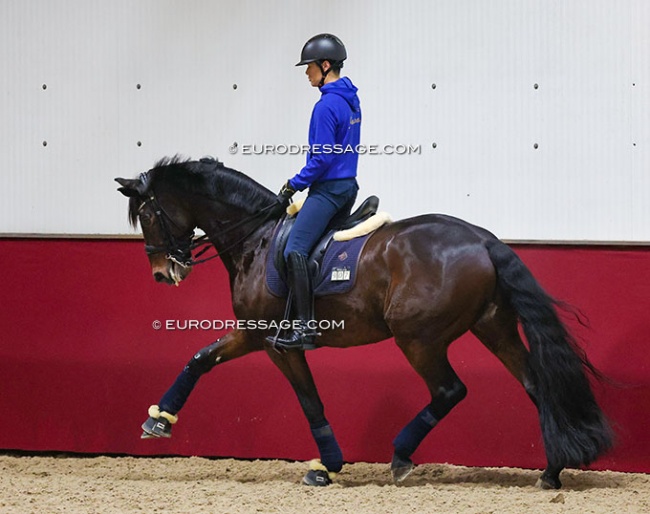 Japanese Olympian Kazuki Sado has premiered a new Grand Prix horse, Furst William HC, in public at the 2022 CDI Kronenberg.
The troubling times around the acquisition of Hesselhoj Donkey Boy did not steer Sado's sponsor off course. The Japan Racing Association has  secure another Paris Olympic hopeful instead for the Dutch based, motivated rider.
Sado brought his newest boy in the barn to the indoor competition in Kronenberg on Friday 2 December 2022: the Oldenburg gelding Furst William HC. 
Licensed Stallion
Furst William  is a 10-year old Oldenburg bred gelding by Fürst Wilhelm out of La Bonita (by Lord Sinclair x Ferragamo). He is bred by Monika Stärk.
He was first licensed in 2014 in Mecklenburg and appoved for the Hanoverian and Oldenburg society in 2016. He did his 30-day stallion performance test in 2015 in Schlieckau and scored 8.83 for dressage and 7.28 for show jumping. At the February 2016 Sport Test in Munster he got a 9.11 score.
In 2019 he tested positive to the WFFS gene.
BuCha Gold and Silver, While Moving Between Belgium, Germany and Denmark
In July 2015, the affluent Belgian Anemone Samyn, owner of HC Stables, purchased Furst Wiliam at Andreas Helgstrand's yard in Denmark in the year she also bought stallions Bonds (500,000 euro), Dow Jones HC (220,000 euro) and Fuchsberger (142,000 euro) at auctions in Germany.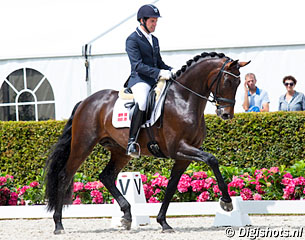 The stallion was sent into training with Anna Sophie Fiebelkorn in Germany, who the 2015 Bundeschampionate with him.
In 2016, Samyn ended her collaboration with Fiebelkorn and briefly moved the horse back to Helgstrand in Denmark and sold a half ownership share to the Dane. Severo Jurado Lopez competed the horse in two shows in Denmark and a 4-year old class held in Verden during the 2016 World Young Horse Championships.
Furst William then moved to Belgium, as Samyn decided to show Furst William. They were 7th in the 2016 Belgian Young Horse Championships in Geves and in April 2017 she rode him in two Belgian qualifiers for the 2017 World Young Horse Championships/ 
A month later, in May 2017, Samyn moved Fürst William to Beatrice Buchwald, who first competing him in Germany in May 2017. The pair did not make final German team selection for the World Championships but won silver in the 5-year old finals at the 2017 Bundeschampionate. A year later they were fourth in the 6-year old finals at the 2018 Bundeschampionate. 
Buchwald's last show on Furst William was in July 2019 in Langenfeld.
Germany  - Denmark
By 2020 it became known that Furst William had returned to Helgstrand in Denmark to be sold. He was gelded after having stood his last season at stud in 2019 at station Rohmann.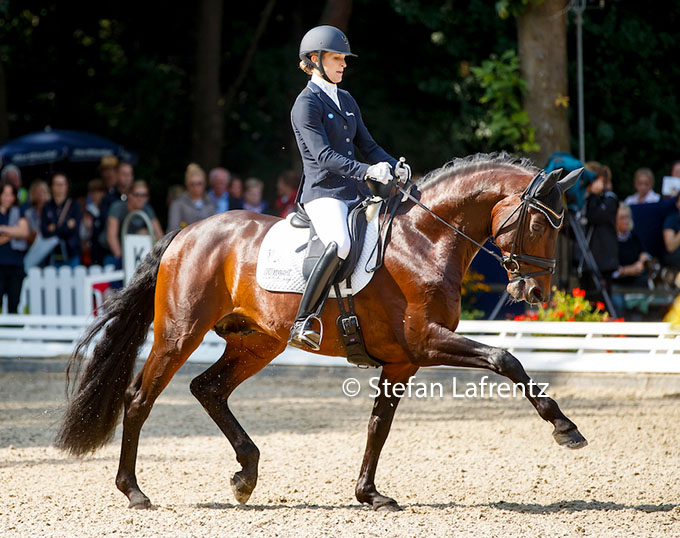 In Denmark the bay made his national show debut with Betina Jaeger in July 2020 at small tour level. He competed in one more show in August 2020.
Sold to Sweden
Furst William sold to Swedish Beata Söderberg in the spring of 2021.
Söderberg is a long-time customer of Helgstrand having already purchased and sold horses there such as Fiontini, Heuberger, and Harmony's Fiorano.
Trained by Helgstrand associate Patrik Kittel, she made her show debut on Fürst William in October 2021 in Ankum at Intermediaire II level. Beata showed him four more times in Germany in 2022 before Malin Wahlkamp-Nilsson competed him once in a Grand Prix in Kierspe-Hohenholten in June 2022, the month that Sado was in the process of buying Donkey Boy. 
Kazuki Sado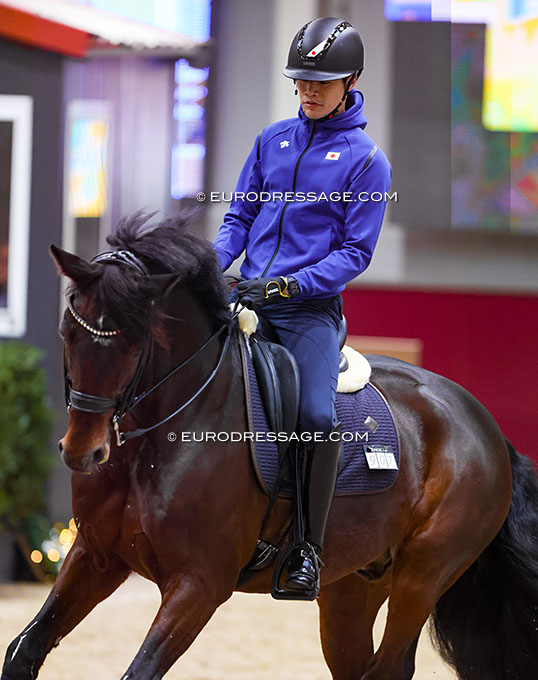 Helgstrand has now been able to match Furst William to a third rider in the horse's career, this time Kazuki Sado
He trains with Imke Schellekens-Bartels in Hooge Mierde, The Netherlands.
His other Grand Prix horse is Barolo, which he bought in the U.K. in February 2018. For the 2021 Tokyo Olympics he had leased Ludwig der Sönnenkonig from Helgstrand. That stallion sold to Austria right after the Olympics, but unfortunately passed away in December 2021 from colic.
Photos © Astrid Appels - 
Related Links
Furst William Tests Positive to WFFS 
Furst William HC in Training with Beatrice Buchwald
Zucchero and Furst William, Hot Favourites for 2018 Bundeschampion's Title
Dominy Wins the 5-year old Final at the 2017 Bundeschampionate
HC Stables Relocates Stallions to Andreas Helgstrand, Collaboration with Fiebelkorn Continues
Furst William Sold to Belgium