Products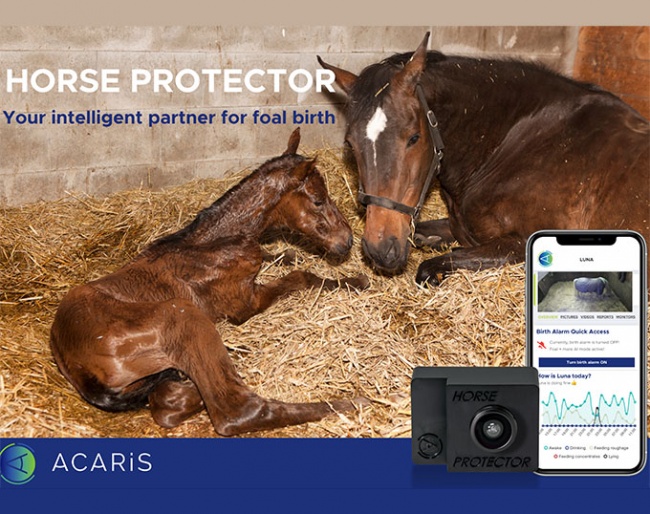 Every pregnancy is unique and every foal birth is different. Most of the time, both are going smoothly, yet a "risk" remains. This makes it all the more important to be as well prepared as possible for the worst case scenario.
The innovative Hamburg based company ACARiS, which was founded in 2019 by physicist Dr. Arne-Rasmus Draeger, offers a intelligent solution for health and safety monitoring of horses with HORSE PROTECTOR. This is an artificial intelligence (AI) based system that consists of a camera, an infrared light and the ACARiS app. After simple installation, the AI continuously analyses the individual behaviour of the horse in the field of view.
As a result, the unique guard does not only detect complications during pregnancy early on as well as the time of foaling, but also alerts users at the first signs of colic and other abnormal behaviour that may indicate health problems. In addition, the system sends out an alarm as soon as it notices a deviation from "normal" horse behaviour in the field of view - for example, when someone enters the horses' box. Furthermore, new functions are already being developed. These include the unique feature of the world's only foal aftercare system, which monitors the drinking behaviour as well as the activities of the foal and mare in the sensitive first weeks after birth.
Every horse should have a protector!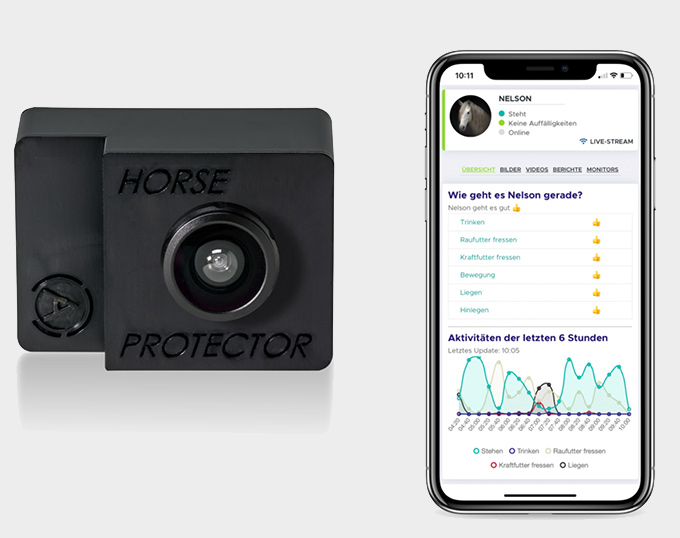 How reliably the HORSE PROTECTOR works in practice is proven by both many successes and by ACARiS satisfied customers themselves. For instance, in the last 250 monitored pregnant mares - without exception - all incipient births were detected and reported in time: "Thanks to HORSE PROTECTOR, the sleepless nights with false alarms are finally over. During numerous births, the intelligent camera was able to alert us reliably and without any problems in time. The overview in the app gives you the feeling of never being far away. The system really lives up to the name, Guardian'. We are thrilled and give a clear purchase recommendation," says Markus Rump, Rump Breeding & Training Stables.
Also Mrs. Dr. Anna Rötting specialized veterinary surgeon of the horse hospital Nindorf is enthusiastic: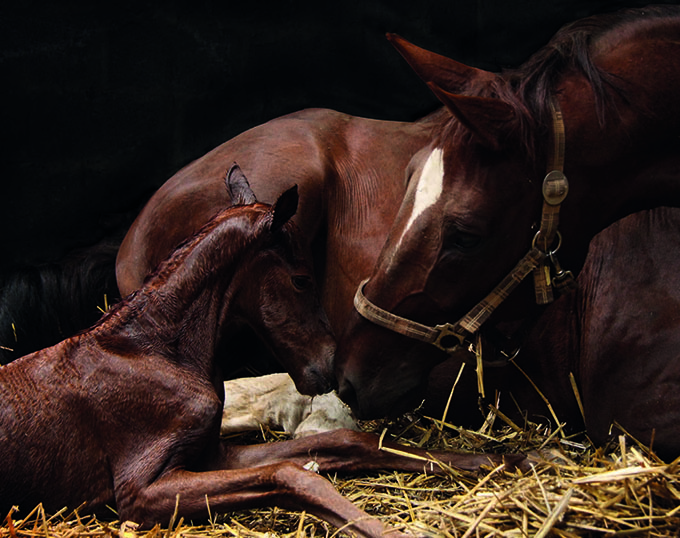 "For us the HORSE PROTECTOR is a very meaningful acquisition. We have two guards successfully in use - one for birth monitoring and one in an intensive care box. The ACARiS AI has already alerted us absolutely reliably and in time during several births - and without any false alarms! In addition to the birth alarm, the reports, the livestream and the monitoring function add a lot of value to our daily business. The system fully convinces us."
Starting the 2023 foaling season safely
To ensure that the HORSE PROTECTOR will continue to reliably accompany many breeders - from hobby breeders to professionals - with dozens of births per season, we are offering all readers a 10 percent discount on their first order with the code "Fohlensaison_2023".
For more information visit our website ACARiS HORSE PROTECTOR | ACARiS