Austria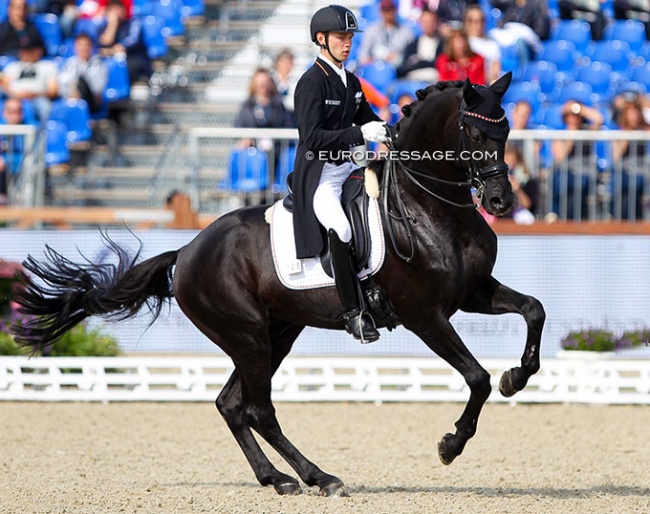 Elastico, the 2021 European Under 25 Champion horse, has sold to Austria. The Grand Prix horse will continue its sport career under Austrian young rider team member Paul Jöbstl. 
Elastico is a 13-year old KWPN stallion by Johnson out of Pubertha (by Concorde x Michelangelo). He is bred by Johan Frencken and Sophie Textor. 
Saskia van Es
The black is an AES licensed stallion who has been trained from novice to Grand Prix level by Saskia van Es. 
In the summer of 2019 Van Es made her international Grand Prix debut on Elastico at the CDI Leudelange, where they scored 67.891% in the Grand Prix and 68.532% in the Special. One month later they rode at the CDI Verden. 
Sold to Japan
In September 2019 Elastico sold to Japanese Grand Prix team rider Akane Kuroki, who had made the move from Bartels Academy to the Werndl's yard in Aubenhausen, Germany. 
The black stallion was meant as Akane's 2020 Tokyo Olympic hopeful and travelled to Wellington, Florida with the Japanese team under supervision of Japanese team trainer Christoph Koschel, but it turned out the pair needed more time to gell at Grand Prix level.
Akane then got stuck in Japan due to the corona pandemic, so Aubenhausen assistant rider Raphael Netz took over the ride.
Raphael Netz
Netz first competed Elastico since the sale to Kuroki at the CDN Gut Ising in September 2020 . Then they went to the CDI Oldenburg in October 2020 and to the CDI Mannheim in April 2021. Akane gave it a try in the spring of 2021, but she had to retire in the Grand Prix at the CDI Munich. 
Akane decided to focus on her second Grand Prix horse, Zuidenwind, for the 2021 Tokyo Olympics, and gave Netz the opportunity to further compete Elastico.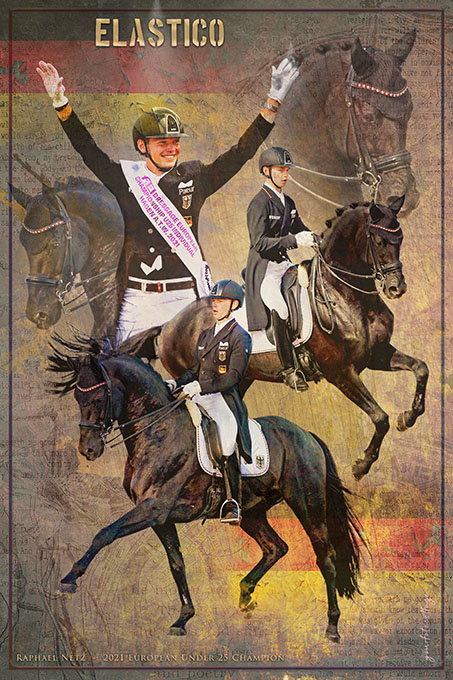 After winning silver at the inaugural German Under 25 Championships in June 2016 Netz and Elastico were nominated on the German team for the 2021 European Under 25 Championships in Hagen, where they won team and individual gold and Kur silver.
Akane Kuroki
In 2022 Kuroki made a new attempt of making the Japanese team for the 2022 World Championships in Herning and campaigned Elastico at the start of the year at the CDI's in Ornago, Stadl Paura, St. Margarethen and Munich. Her results were not high enough to clinch a spot on the team.
Kuroki sent Elastico to Helgstrand to be sold, while she moved back to Japan and took Zuidenwind with her. He is now a schoolmaster for one of Akane's students in Japan.  Kuroki will shortly be hosting a clinic in Japan with Benjamin Werndl
Move to Austria
Elastico has now found a new rider in Austrian Young Rider Paul Jöbstl. 
"I am more than proud to have you (Elastico) by my side and can't wait for our future together," Jöbstl wrote. "I can't thank my father enough for giving me this big opportunity."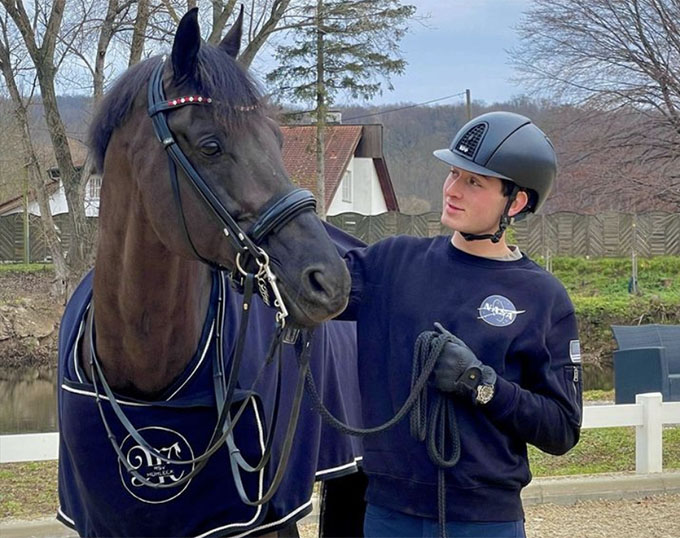 The 19-year old Paul has ridden at four European Championships so far. He competed Coco Procol Harum (by Cheenook x Carprilli) at the 2019 European Junior Riders Championships and  Dunkelbunt, (by Don Corazon x Fair Play) at the 2020 Europeans.
In February 2021 the Jöbstl family started to lease the Hanoverian stallion Bodyguard (by Burlington x Pik L) and with the liver chestnut Paul had a real match. He won double bronze at the 2021 European Junior Riders Championships and this year bronze and silver at the 2022 European Young Riders Championships. At last weekend's CDI-YR Aachen, Jöbstl and Bodyguard placed third, eighth, and second in the Young Riders division. 
With Elastico he can now slowly prepare for the transition to Under 25 level. 
Photos © Astrid Appels
Related Links
Raphael Netz Wins Individual Gold at the 2021 European Under 25 Championships
Netz and Elastico Withdraw from 2021 German U25 Championship, Fever in Balve
Akane Kuroki Withdraws from Japanese Olympic Team Contention
Akane Kuroki Buys Zuidenwind as Tokyo Olympics Team Hopeful
Elastico, Second Iron in the Fire for Akane Kuroki
Akane Kuroki Relocates to the Werndls in Aubenhausen
Kuroki Returns Bordeaux, Schoolmaster for Renate van Uytert
Hanoverian Stallion Bodyguard New Junior Ride for Paul Jöbstl