KWPN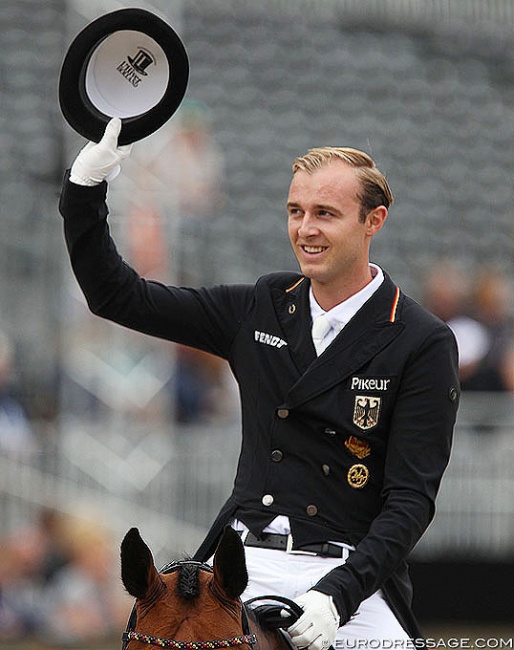 Former German dressage team rider Sönke Rothenberger has been added to the KWPN Licensing Committee for dressage as an "apprentice". 
In 2021 the KWPN society started a pilot project to invite an "apprentice" judge on the KWPN stallion licensing committee for show jumping. Michel Priemis was this apprentice and he followed the jumping committee for a year.
"Because the pilot was very liked, it will be continued with the stallion licensing committee for dressage. Sönke Rothenberger will begin next week as apprentice during the first phase/pre-selection for the licensing," the KWPN stated. 
Rothenberger is thrilled. "I find it an honour that I have been asked. The KWPN is the biggest dressage horse studbook in the world and in my experience Dutch breeding has seriously stamped top sport in the last few years. My biggest successes were on the KWPN bred Cosmo."
Stallion Pre-Selection
Sönke is looking forward to the KWPN stallion pre-selection next week.
"It is very interesting for me to assess the youngest generation of stallions with a number of experts," he said. "The majority of the audience will be able to pick the spectacular horses, but the question is which traits do you give the most weight to as a stallion licensing committee. I expect from my end as an intermediary to share my view on modern dressage sport."
Adri Gordijn
Rothenberger said that he inherited his interest in horse breeding from his grand father Adri Gordijn.
"As a chuld I would join him at licensings in Germany and Holland and we visited a lot of foal auctions together. During the licensings and auctions he would take notes of all the horses. After he died I inherited all these booklets. I still go through his notes to see his opinion on a stallion or sport horse."
Photo © Astrid Appels
Related Links
Adri Gordijn Passed Away
Move Over Cosmo, Fendi is in Town - Rothenberger Back in Business
New Young Star for Sönke Rothenberger; Hope After the Fire
Sönke Rothenberger Wins Individual Gold in Avenches
Ralph Westhoff Acquires Half Ownership of Sonke Rothenberger's Cosmo