2022 CDI Ocala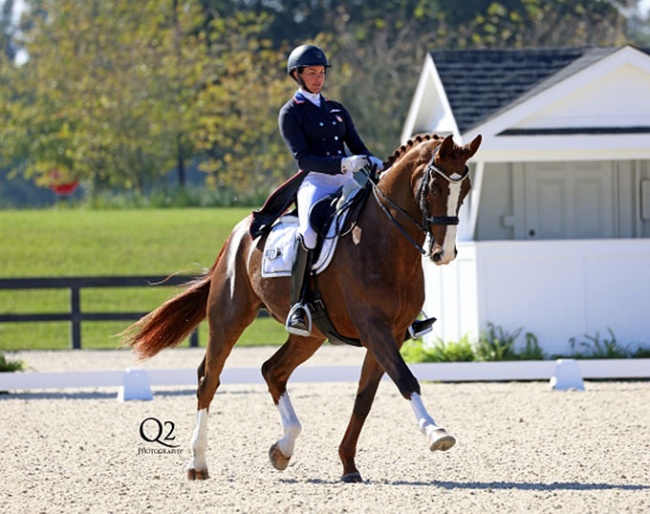 Anna Marek rounded out the weekend's international competition at the World Equestrian Center November Dressage CDI3 with a third straight small tour victory aboard Duvel on Sunday, November 20, 2022.
Unbeaten in Nine CDI Classes
This result caps a tremendous week for Marek and Cynthia Davila's Duvel, and their 75.485% marks a new career-high score for them in the Intermediate I Freestyle test. Their score was bolstered by a high of 77.7% from the Canadian judge, Cara Whitham. The all-American, all-female podium was filled by Nora Batchelder, who finished second with 72.365% on Fashion Week, and Stephanie Pair-Kavitz filling third on I Crack De La Vigne (69.325%).
There were unseasonably chilly and rainy conditions in Florida for the final day of a show that offers $40,000 in prize money for the CDI classes.
"This is a personal best for us, and it feels great," enthused Marek of the 17.3hh 14-year-old by Florencio x Metall. "It was so cold that he had more energy. He's solid in the Prix St. Georges and the I1 movements, so then he adds a little bit more power in the freestyle and it's just that much better. He's really trustworthy."
Duvel is unbeaten in all nine CDI small tour classes he has contested in 2022. One of his particular strengths are his canter pirouettes.
"He is so easy to ride pirouettes on," explained Marek, who rode to a freestyle made by Karen Robinson. "Riding them in the ring is the best feeling of a pirouette of any horse I ride. He's very serious about his job. The best way I can describe him is that he's like a professional. He's ginormous but when he and I are together, you can't tell how big he is because I'm so tall [6ft]."
The show was particularly special as Duvel's Dutch breeder Nicole de Leeuw — who trained the horse up to Grand Prix level herself — flew in to watch him perform. Marek plans to stick with small tour for now, with a view to boosting her scores even higher before making the step up to competing at Grand Prix.
Davila Tops Amateur Big Tour Classes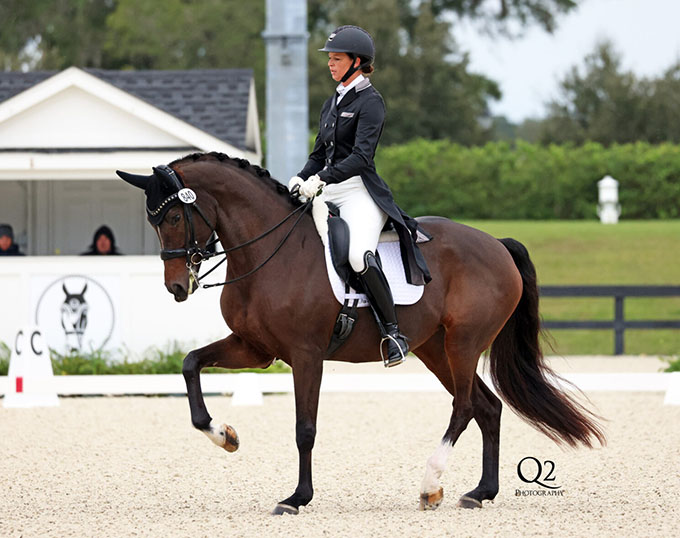 Cynthia Davila was not only an owner at this show: she rode her own KWPN Fayvel to a new personal best of 65.804% in the Amateur Grand Prix. She and the 12-year-old gelding by Zizi Top stepped up to CDI Grand Prix level in April 2022 and this was their third show together at this level.
Eline Eckroth claimed the winner's sash in the CDI3* Intermediate II, riding Daphne, an Oldenburg mare by Diamond Stud, to 64.589%. Originally from the Netherlands, Eckroth has lived in the U.S. since 2004.
Konyot, Howington, Harrison-Antell Win 1* Small Tour Classes
Former U.S. Grand Prix team rider Tina Konyot (USA) returned to the international stage with J Everdale, owned by Konyot and Earle I. Mack LLC, to win the Prix St. Georges CDI1* with 68.676%.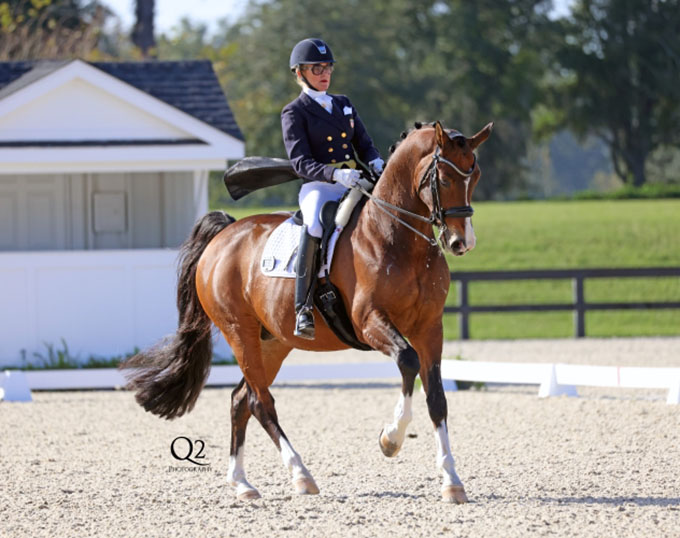 In the Intermediaire I 1* Jessica Howington topped the class with 70.059% over Anna Marek (USA) on her own Donauwelle P, who scored 69.882%. Tina Konyot (USA) and J Everdale finished third on 68.471%.
It was a satisfying win for Howington, who was third in Friday's Prix St. Georges CDI1* class. "Yesterday there was a lot of tension, and we were a firecracker, for sure," she said of the nine-year-old KWPN gelding by Dream Boy x Kennedy. "I'm really happy with him today because he improved mentally. That was my goal for today, to see if we could get a little more calmness in the test.
"He was really spicy today and still wanted to be pretty up, but a least he let me ride him through it," she continued. "That's all I wanted, was for him to actually let me touch him with my leg and have some adjustability. That was my goal, and it was good. The moments that he was on felt amazing. I'm over the moon with him."
Howington only brought Indigo TC over from Denmark two months ago after seeing him on video earlier. "I loved him from the start," she recalled. "It turned out that it was meant to happen, and I got him. I really like the fire. He's super sensitive and really forward. That is also something that we have to learn to deal with and tone down at times. He's super sweet."
While this is their first CDI together and only their second competition, Howington has hope for the future with the talented horse.
"We will take it slow, but that is the ultimate goal for him, to be my grand prix horse over the next couple of years or however long it takes," she concluded.
Only one rider competed in the Intermediaire I Kur to Music 1* so it was an automatic win for Kristina Harrison-Antell on I Felix with 73.583%.
Photos by Q2 Photography
Text WEC press release, edited by Eurodressage
Related Links
Scores: 2022 CDI Ocala