Hanoverian Auction News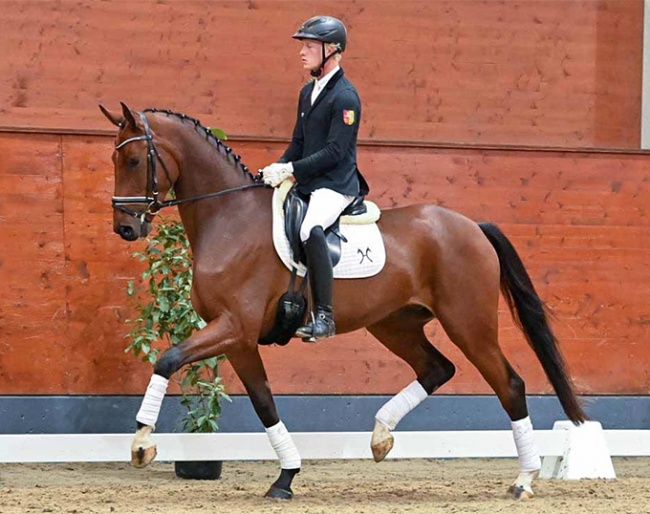 The 4-year old gelding Silence became the best selling horse in the 2022 Hanoverian November Online Auction for which the bidding concluded on 19 November 2022. 
A collection of 55 highly interesting dressage and show jumping horses were offered for sale and they achieved an average price of 19,755 euro. The collection was completed by eleven two and a half year olds, which found a new owner for an average of 15,364 euro. 
Silence (by Secret x Florencio) sold for the highest price of 59,500 euro. Bred and owned by Hans-Jürgen Bredemeier, the gelding has found a new home in the very north of Germany. An investor from Schleswig-Holstein will send him in a training stable in Flensburg.
The second most expensive horse was the 4-year old San Serai ZK (by Secret x Don Marcello), bred by Torben zur Kammer. He sold to Great Britain for 45,500 euro. Also moving to the U.K. is Baricella S (by Bon Coeur x Don Frederico) for 37,500 euro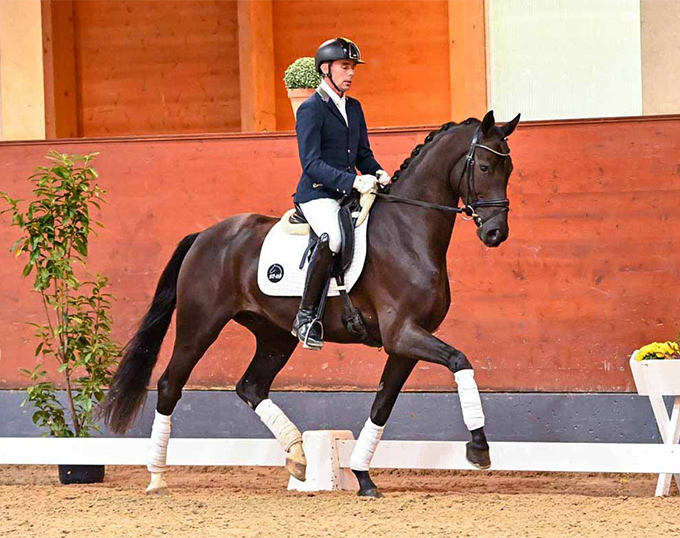 Bauer Schmidt (by Birmingham x Gluckspilz) sold for 40,500 euro to a German buyer.  Ballentines (by Borsalino x Hochadel) will stay in Germany for 31,000 euro. 
French customers bought Voltreffer (by Vitalis x De Niro) for 32,000 euro, Denver (by Don Martillo x Edward) for 22,000 euro, Delacour (by Dancier x Rotspon) for 20,500 euro, and Elbchaussee (by Emilio Sanchez x Ampere) for 17,000 euro.
Baccara H (by Bel Amour x Rotspon) moves to Spain for 29,000 euro. A Belgian bought Don Rolex (by Don Darius x Watermill Rolex xx) for 25,500 euro. 
Signature (by Secret x Sarkozy) will cross the Atlantic and move to the U.S.A. for 25,000 euro, just like Missy (by Morricone x Lauries Crusador xx) for 21,000 euro, and Feinliner (by Feinrich x De Niro) for 19,000 euro. A South African bought Livallo (by Livaldon x Donnerhall) for 24,500 euro.
The best paid show jumper was the Colman x Escudo son Camelot PJ. A renowned trainer from North Rhine-Westphalia bought him for 33,000 euro.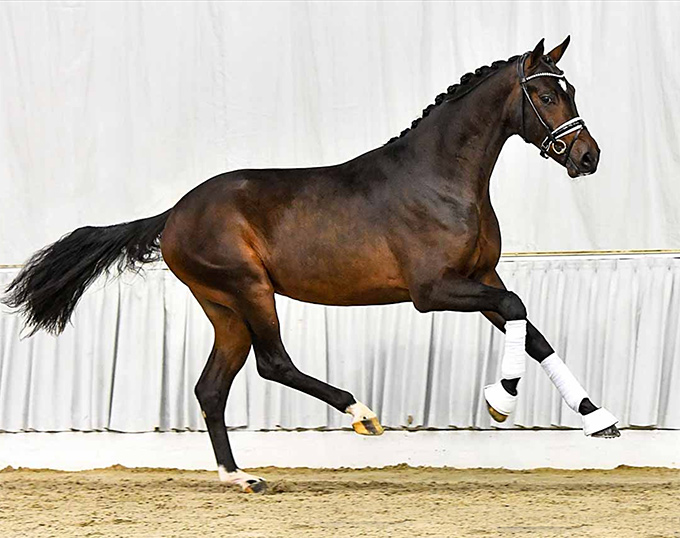 Among the two-year-old stallions, the Bon Courage x Honour Prize son Bon Prix (breeder: Willy Lenzen) was ahead in the race for the top price. He was auctioned off for 30,500 euro to a Spanish customer who has already discovered numerous talents in Verden and brought them into the Grand Prix arena.
It was the final event of the riding horse auctions this year. From December 1 to 3, however, it will be exciting once again in the Niedersachsenhalle. Then the ring for the licensing and stallion sales belongs to the young jumping stallions. In addition, the Hannoveraner Show Jumping Masters for four to eight-year-olds will be held.