U.S.A.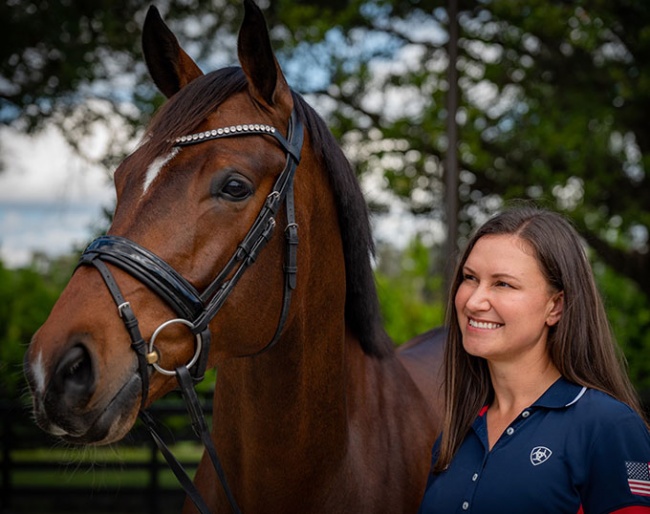 In Zen, there is a teacher, sensei, and a student, oshō.  In dressage at Zen Elite Equestrian Center there is a new sensei, Adrienne Lyle, and a new oshō horse, named Top Gun, known as Maverick.
Together, this two-time (2012, 2020) Olympic veteran and dressage Team Silver Medalist and six-year-old son of Totilas are beginning a journey– of the show ring and of the spirit - and learning from one another.
Philosophical Alignments
"I always loved watching Adrienne compete. She has an undeniable connection with every horse she rides. She had already trained at our facility with Endel [Ots] and Kati [Dagge], and I loved her goals and work ethic," said Heidi Humphries, the visionary behind Zen Elite's state-of-the art equestrian center. "After hearing that she was looking for a young horse to train and compete, I agreed to be introduced to her."
"Heidi [Humphries) reached out to me through a mutual acquaintance," said Lyle, "We began talking and she shared her passion for dressage and dream of someday having a horse in top international sport."
"As I got to know her, I could tell her philosophies in life aligned with mine. She is, first and foremost, an animal lover and a believer in training where a horse's wellbeing and happiness are always the priority."
Maverick
Those philosophical alignments led to a question. Humphries asked Lyle to look for a horse "that I thought could achieve those dreams."
Next stop, Maverick. "As it usually goes, nothing happens quickly," recalls Lyle about the search to find Zen Elite its next show ring star. "I set about trying to find just the right horse to make those dreams come true."
It took a year of proverbially kissing frogs before a call from two-time Swedish Olympic dressage team veteran, Patrik Kittel, produced a prince.
He said a "very special" young horse (by Totilas x Bellisimo M) had arrived at his barn and he was not exaggerating.
"I instantly fell in love with his power, sensitivity, scope, and suppleness. He seemed to have a great brain in addition to physical talent. He could be incredibly energetic and sensitive while ridden, and a totally laid-back sweetheart on the ground."
Maverick was both talented and… very Zen.
The Perfect Horse
Humphries says the excitement in Adrienne's voice was palpable when she got the message that the rider had found their "perfect" horse.  "I watched video after video of them and the rest is history."
Echoing that shared enthusiasm, "I will follow Adrienne's lead and support them  for the entire journey. The sky's the limit with this pair! Adrienne happens to be one of the most down-to-earth people I have ever met and is an incredible role model for women in sports.
"She is aligned with the goals of Zen Elite and all its riders. No matter what level you ride, reach for the stars," Humphries says. Summing it up simply, "Adrienne is the definition of Zen."
A Blast
For now, Lyle is working on building a bond with the talented young horse. "The most important thing is that he [Maverick] gets the time he needs to learn a new training system and feel confident in his work. I will let him dictate his progress as we go. We are in the getting-to-know-each-other phase, but he is already a blast to work with!"
The long-range goal is to bring Maverick along to Grand Prix and "see how far we can take him." For now, Lyle plans to train with her longtime coach and fellow Olympian, Debbie McDonald.  And – hopefully -- compete Maverick next spring if he is ready, maybe in the 7-Year-Old division. But I don't like to place definite timelines on new horses."
For the Greater Good
What she will say is how much she loves the philosophy and mission of Heidi and her Zen Elite Equestrian Center. "I love that everything done at the farm is for the greater good of animals and people. It's really great how Heidi has aspirations to own top horses at the international level, but also works hard to foster grass-roots riding programs that share the joy of horses with everyone."
Zen Elite Equestrian Center, Humphries promises, will share the ride. "I have trust in this journey. We have some incredible horse and rider combinations at Zen Elite, and we will go places with all of them. Dreams really do come true. We will be reaching for the stars, for sure!"
Related Links
More From the USA On Zen Elite Equestrian Center's Kati Dagge Taking Over the Ride On Sai Baba Plus
Furst Dream, Valor, Møllegårdens Fashion, King's Pleasure, Jane Make Winning Start at 2022 U.S. Young and Developing Horse Championship