Hanoverian Auction News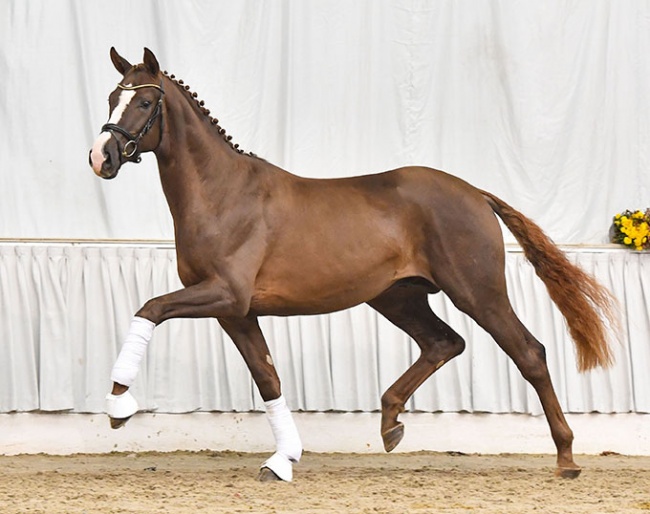 One day after the riding horses were auctions in the 139th Hanoverian Elite Auction, a collection of foals and 2.5 year old colts were sold for the last time this year. The best-paid foal was Segantino while the most expensive stallion was Broadway M.
Young Stallions
The liver chestnut Broadway M (by Bon Courage x Royal Classic) was the best seller of the 25 two-and-a-half year old young stallions. A local German dressage rider acquired the colt for 42,000 euro.
Bon Cru (by Bon Courage x Lauries Crusador xx) and Suppenkasper (by Sir Donnerhall x Florenciano) will both stay in Germany for 26,000 and 22,500 euro. 
Dutch horse dealers Diederik van Silfhout and  Nikay van Duren bought Impresario (by Imposantos x Detrot) for 22,000 euro.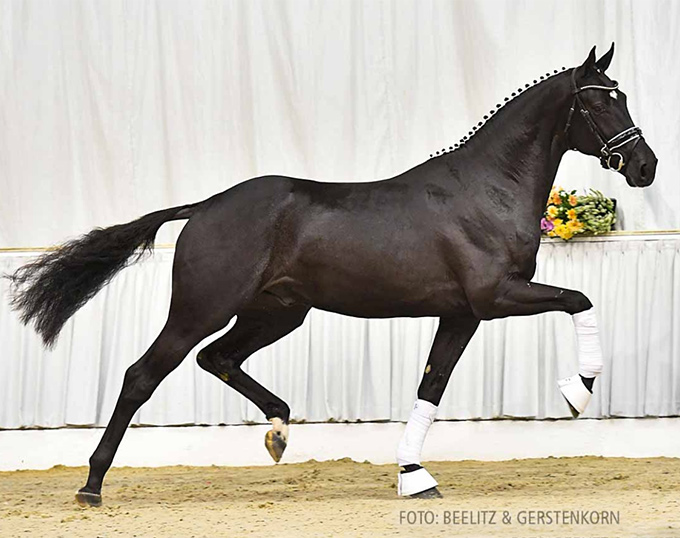 Six of the 25 two and a half-year-old stallions with top dressage pedigrees will leave Germany. An average price of 16,380 euro was achieved. The collection had been put together during the pre-selection for the Verden stallion licensing.
The Hungarian Arie Yom Tov bought Davao (by Danciero x Sir Savoy) for 18,500 euro, while a Swiss secured Favorit (by Fusionist x Lauries Crusador xx) for 18,500 euro. The buckskin Qreme de la Creme (by Qaside MD x Rohdiamant) moves to the U.S.A. for 16,500 euro.
Spanish clients bought Saint James (by So Unique x Donnerschwee) and Dark Label (by Despacito x Bequia) for 10,000 euro.
Foal Collection
Nine bidders showed interest in the beautiful Segantini x De Niro son colt foal Segantino (breeder and exhibitor: Franz Sassen) from the renowned dam line of Juggema. He promises the very best genetics: The foundation dam also can be found in the pedigree of none other than the team Olympic Champion Desperados FRH. A new customer from the Odenwald area secured the colt for 16,000 euro.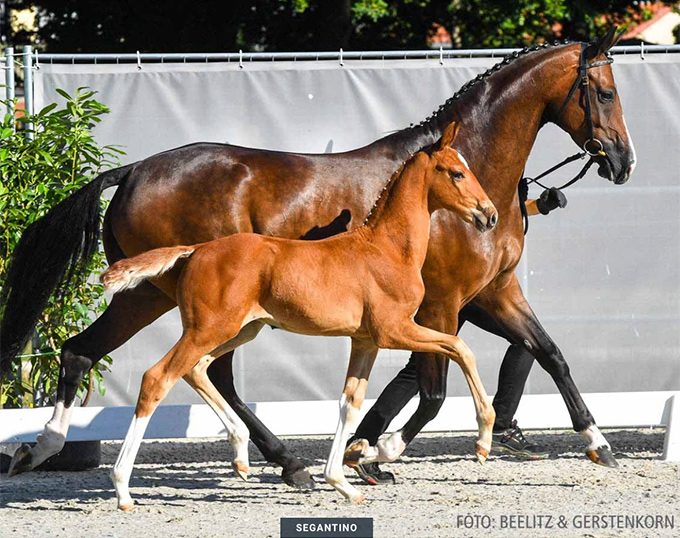 British clients secured Ballantines (by Bonds x Totilas) for 10,500 euro.
French customers secured Vinzenta (by Vitalis x Totilas) for 9,500 euro, Buon Giorno (by Bonjour x Furst Romancier) for 8,750 euro, and Djamina (by Despacito x Don Romanov) for 6,250 euro.
Bon Chance LL (by Bon Vivaldi x Quaterback) stays in Germany for 8,000 euro, just like Ben Bonds (by Bonds x Soliman de Hus) for 7,250 euro.
Vitoria (by Vitalis x Hotline) and My Lady (by Morricone x Dancier) move to Holland for 6,750 and 6,250 euro, Dynamit (by Dynamic Dream x Zack) and Fiete (by Fusionist x Floriscount) to Spain for 6,500 and 5,000 euro.
The average price of the 23 representatives of the 2022 vintage was 7,457 euro.