Hanoverian Auction News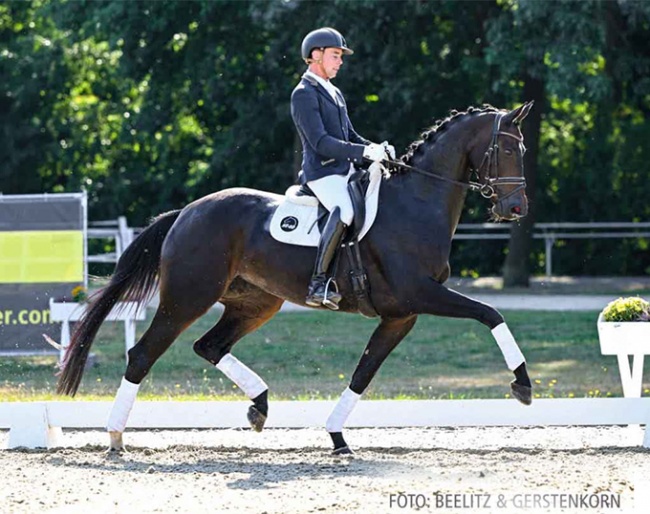 Show jumper Domingo and dressage horse Donnamita became the top selling horses in the 2022 Hanoverian Autumn Elite Auction for which the bidding concluded on 22 October 2022. 
In the year of the 100th anniversary of the Hannoveraner Verband, the Elite Auction is a celebration. The price leader of the 66 exquisite riding horses was Domingo, who was auctioned "OnLive" for 103,000 euro. The quality of the auction lot was rewarded because an average price of 35.992 euro was achieved for a top-class young talent.
Top Sellers
The online bids, which had been submitted online for a week, already indicated that the Diacontinus x Grey Top son Domingo (breeder and exhibitor: Eduard Voss) would be a hot contender for the top price. With head number 62, the spectators had to wait a long time for the appearance of the powerful jumper in the Niedersachsenhalle, who had not been shown in public before. Then a total of 118 bids pushed the price up to 103,000 euro. Regular customers from Canada bought this top class talent.
Donnamita (breeder and owner: Nicole and Friedrich Sievers) danced to the top price of the dressage horses. The pedigree of the fourth placed horse at this year's Bundeschampionate includes two World Champions of young dressage horses: Don Martillo x Dimaggio. The dark bay Hanoverian premium candidate sold for 91,500 euro to Dr. Michael und Jana Alpers and will mive in training with Anna Mitter. 
Young Dressage Talent Wanted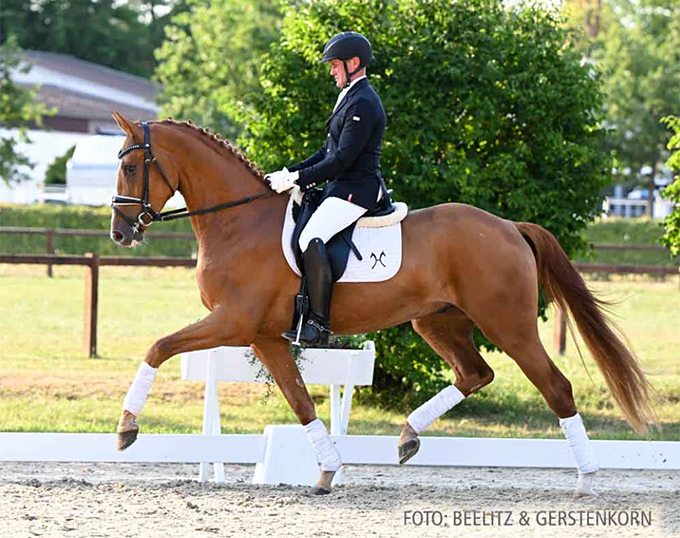 Another top price on Saturday afternoon was achieved by the Secret x Sir Donnerhall son Sound of Music (breeder and exhibitor: Günther Blöthe). After an exciting bidding duel and the applause of the audience, the chestnut with great movement left the Niedersachsenhalle for Austria for 87,000 euro. There he will be prepared for a great career in master hands.
Only 2,000 Euros less was the price for Ben Amour by Bon Benicio x San Amour (breeder: Thomas Kaufels), who is owned by the State Stud Celle. The licensed and performance tested stallion will continue his still young career in France after buyers paid 85,000 euro for him. 
Joining Ben Amour in France is the 3-year old grey stallion Mister Grey HE (by Morricone x Desert Moon) who sold for 74,500 euro. The stallion sold to Franck Prazan, who also bought Fiadora at the start of the year.
Scatman GS (by Secret x Totilas) sold for 65,000 euro to a bidder at the live event, just like Indio B (by Ibiza x Ampere) for 65,000 euro.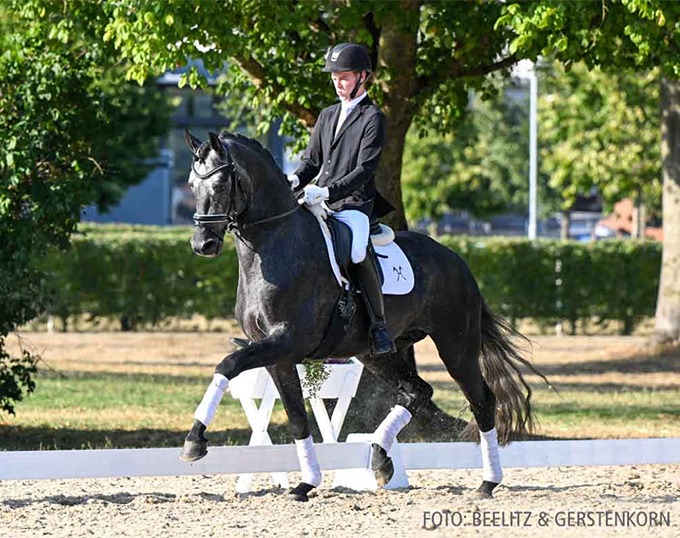 German bidders secured Fio HM (by For Romance x Worldly) and La Mancha (by La Vie x Don Frederico) for 65,000 euro. Donatella (by Don Martillo x Desperados) fetched 61,500 euro, and Dodge Durango (by Desperados x Westernhagen) sold for 54,500 euro.
The 5-year old black mare Fabula (by Fursten-Look x Dancier) found a new owner for 46,500 euro, while Bonfire Heart M (by Bon Coeur x Wolkenstein II) went for 45,000 euro and Elite (by Escamillo x De Niro) for 43,000 euro. Eminem (by Escolar x Don Frederico) fetched 40,000 euro.
Lillifee F (by Livaldon x Florencio) stays in Germany for 39,500 euro, just like Faberge (by Foundation x Lauries Crusador xx) for 39,000 euro.
Global Interest
About 50 percent of the collection of the 139th Elite Auction will leave Germany. The USA (five horses) and France, Great Britain and Switzerland (four horses each) were the most eager buyers. 37 auction horses found new owners in Germany. 15 future hopes "cracked" the 50,000 Euro mark.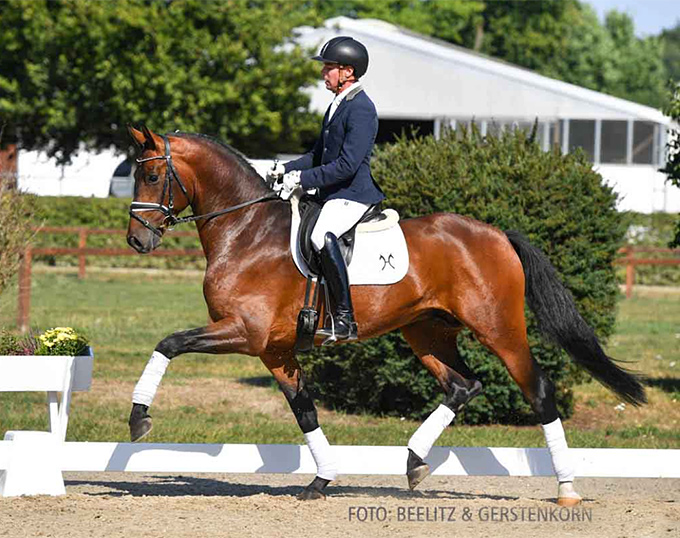 Spaniards bought Drakar Noir (by De Beau x Sandro Classic) for 26,000 euro, while Sydney (by Secret x Don Crusador) moves to Holland for 25,500 euro. An American secured Bon Brioni (by Bon Coeur x San Remo) for 25,000 euro and a Brit got Franz Eberhofer (by Franziskus x Waikiki) for 22,500 euro. Also moving to France is Dantotila (by Danone x Totilas) for 19,000 euro. An Italian scooped up Filara (by Furst Belissaro x Worldlys As) for just 11,500 euro.
The Verden auctions continue on Sunday 23 October. Highly interesting foals and promising two-and a half year-old stallions will be auctioned online.