Klosterhof Medingen
The chestnut Quanto Fino became the best selling horse of the annual auction held by the Wahler family at its Klosterhof Medingen stable in Germany. 
With a fixed network of clients based in the affluent Hamburg area, as well as from across Germany and over the borders, Wahler is always able to achieve big sales prices at his auction. 
Quanto Fino, Best Seller
Twenty sport horses were on sale and five of them sold for more than 100,000 euro. The average price for a horse in this auction was 83,400 euro.
The top seller this year was the 5-year old Quanto Fino (by Quantensprung x Laurentio) who sold for 220,000 euro to Hamburg. 
German Grand Prix rider Andrea Timpe acquired the mare High Fashion (by Helium x De Niro) for 200,000 euro.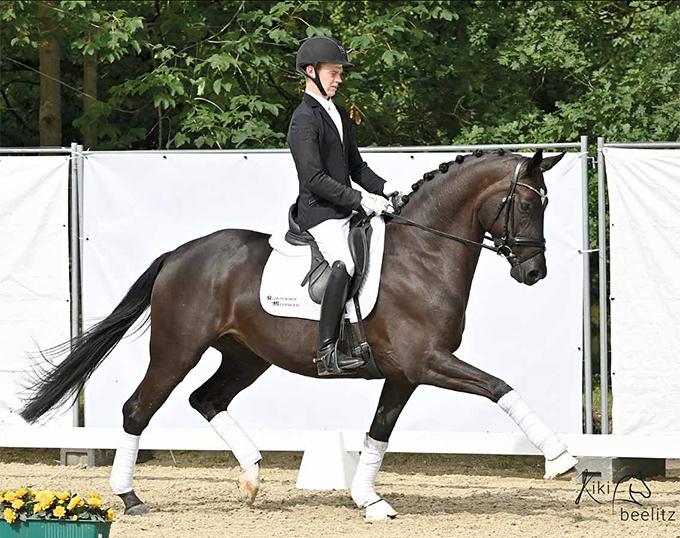 Canadian Christilot Boylen has been a steady customer at Klosterhof Medingen and she brought a Canadian influx of clientele to the auction years ago. The mare Blue Moon (by Borsalino x Quantensprung) sold to Canada for 130,000 euro.
Be Dschinni (by Bernay x Breitling W) fetched 115,000 euro, Viniro (by Vitalis x De Niro) 110,000 euro.
Dohna (by De Niro x Belissimo M) went for 90,000 euro, Diamond White (by Diamond Hit x Danone) for 89,000 euro. Versailles (by Vidar x Deveraux) fetched 85,000 euro, Quillian (by Quantensprung x Laurentio) 80,000 euro, Felicita (by Furst Samarant x Bretton Woods) 75,000 euro.
A Belgian bought Bon Jovi (by Borsalino x Quaterback) for 60,000 euro through online bidding. 
For the first time a pony was included in the collection. The S-level competed, 9-year old Nelson (by Nemax x unknown) sold for 90,000 euro.
Diolinor, Top Foal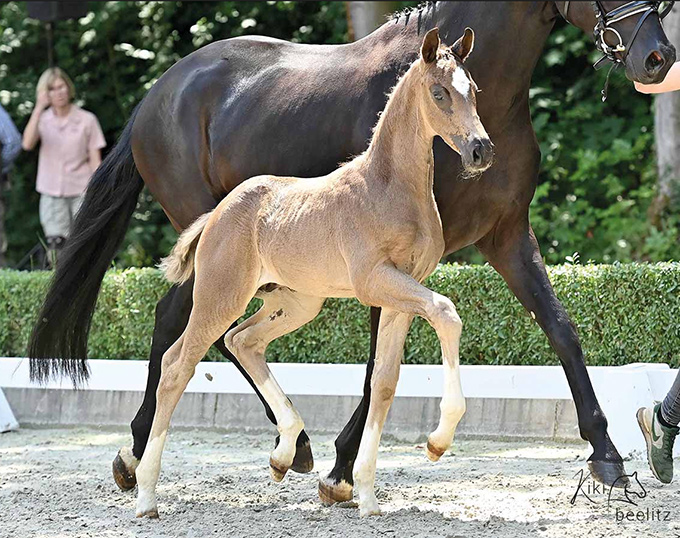 Twenty-seven foals were auctioned and the price highlight was colt Diolinor (by Danone x Bon Coeur). Bred by Silvia Zeyn, he sold for 75,000 euro to American dressage rider Betsy Rebar-Sells.
Filly Dalmatina (by Damaschino x Furstenball) and colt Va Fiero (by Va'Pensiero x Quantensprung) both sold for 36,000 euro. Va Fiero will join Diolinor in the U.S.A.
Colt Dunhill (by Damaschino x Londontime) went for 27,000 euro, Quinley (by Q-Sieben x Borsalino) for 19,000 euro.
A British customer bought Beccare (by Borsalino x Imhotep) through online bidding for 18,000 euro. 
Related Links
Premier Cru, Best Seller of the 2021 Klosterhof Medingen Auction
Donnybrook, Best Seller of the 2020 Klosterhof Medingen Auction
Bellissima, Top Seller of the 2019 Klosterhof Medingen Auction
Dance with Me, Price Highlight of the 2018 Klosterhof Medingen Auction
Amazing Boy, Price Highlight of the 2017 Klosterhof Medingen Auction
Dexter, Price Highlight of the 2016 Klosterhof Medingen Auction
Descadero, Top Seller at 2015 Klosterhof Medingen Auction
Honduras, Top Seller at the 2014 Klosterhof Medingen Auction
Sommelier, Price Highlight of the 2013 Klosterhof Medingen Auction
Donatella Versace, Top Seller at 2012 Klosterhof Medingen Auction
Denino, Price Highlight of the 2011 Klosterhof Medingen Auction
Denina, Top Seller at the 2010 Klosterhof Medingen Auction
Duke of Oldenburg, Price Highlight of the 2009 Klosterhof Medingen Auction
Let's Talk About, Price Highlight at 2007 Klosterhof Medingen Auction
Du Commerce Price Highlight at the 2004 Klosterhof Medingen Auction
Dick Tracy, Price Highlight at 2003 Klosterhof Medingen Auction
Distelzar, Highlight of the 2001 Elite Trakehner Auction at Klosterhof Medingen