Oldenburg Auctions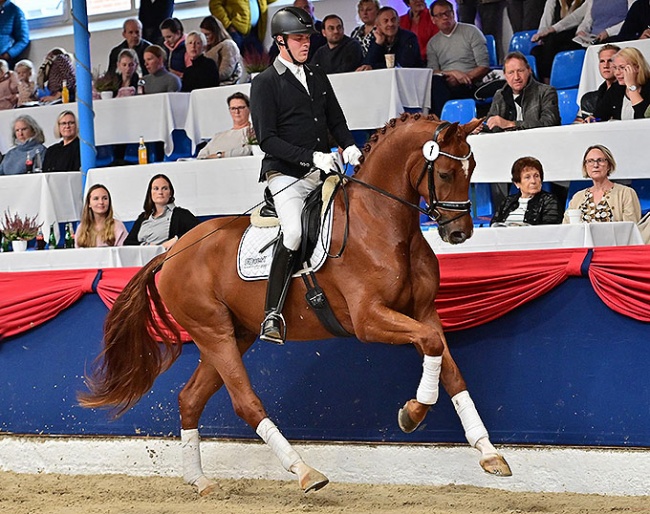 Frontman OLD, the 2022 Oldenburg regional young horse champion, became the price highlight of the 2022 Oldenburg Autumn Elite Auction on 1 October 2022. 
A six hour auction marathon took place in Vechta, Germany, where clients could bid live and online on outstanding Oldenburg bred horses.  
Frontman OLD (by For Romance I out of Cantaletta by Don Romantic - Rubinstein I,) bred by Otto Langemeyer, was the most wanted horse in the collection. The strong moving chestnut sold for 220,000 euro to Prof. Dr. Nienstedt and will go in training with Heiner Schiergen in Germany. 
The most expensive show jumper was the 5-year old Casper (by Chacoon Blue x Christian). He sold to the Tebbel jumping stable for 125,000 euro. 
The second most expensive dressage horse was Special Souvenir (by Secret x Sunny Boy), who fetched 107,000 euro and was bought by Bernadette Brune. 
The Swiss Doris and Max Matti obtained Inflagranti (by Ibiza x Sandro Hit) for 96,000 euro. Secret Game (by Secret x Furst Wilhelm x Ron William) sold for 91,500 euro to a German buyer.
Swedish clients bought Dark Dance (by Desperado x Diamond Hit) for 66,000 euro and Fellini (by For Romance II x San Amour) for 46,000 euro.
Feinsinn (by Feinrich x Johnson) goes to Luxembourg for 53,000 euro. He has been renamed Forte Village by his new owner and Fir Skarsoe received the ride.
A Portuguese purchased Sorbonne (by Secret x His Highness) for 36,000 euro and Brooklyn (by Bon Coeur x Just Perfect) for 28,000 euro. Vida Loca (by Vitalis x De Niro) found a new home in Colombia for 35,000 euro.
The Canadian Grand Prix rider Evi Strasser acquired Song of Joy (by Sandro Hit x Don Schufro) for 28,000 euro, while Very Well (by Vitalis x Sandro Hit) moves to the U.S.A. for the same price. Also going to the U.S.A. is Zuckerpuppe (by Zack x Quattro B) for 39,000 euro, who sold to Mark Farndale.
Belgians bought Beauty Queen (by Benefit x Governor) for 18,000 euro, while an Austrian got Desperanto (by Desperado x Sir Donnerhall) for 22,500 euro and Vagabund (by Vitalis x Sir Donnerhall) for 32,000 euro.
Verano, Top Selling Foal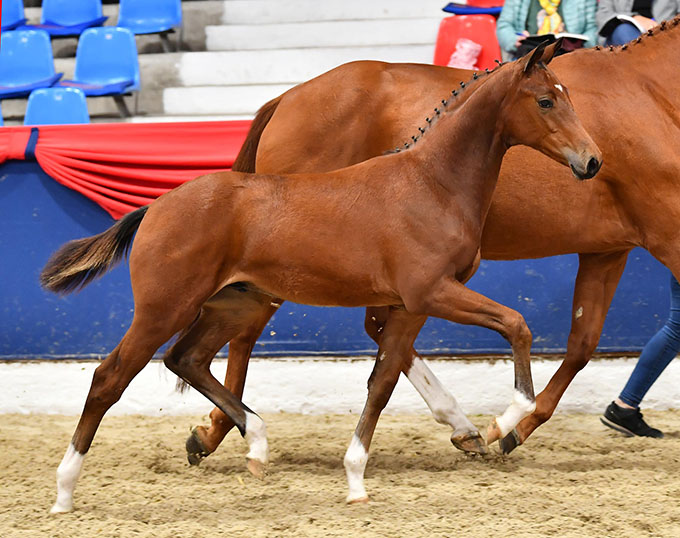 The top price of the elite foals with 24,000 euro. The charming Verano (by Valdiviani out of Weniga's Queen by Quattro B - Andiamo), bred by Gerd Pigge sold to a renowned stud in Germany. 
The black filly Feine Dame (by Fynch Hatton x San Amour) moves to Lone Boegh Henriksen in Denmark for 17,500 euro. Her filly name is Escahatton. 
Firedance (by Fire Jazz x de Niro) and Graceful (by Global Player x San Amour) both sold for 16,500 euro and will stay in Germany. Total Hit (by Total Diamond x Diamond Hit) went for 15,500 euro
Belgians bought Tenderness (by Total McLaren x De Niro) for 11,000 euro. The Dutch horse dealer Rom Vermunt bought Veltins (by Valdiviani x Fidertanz) for 9,000 euro, and an American got Bon Amour (by Bonds x San Amour) for 8,500 euro.
The Vechta Feeling
"The 97th Fall Elite Auction celebrated a successful premiere with the new Oldenburg auction manager Roland Metz. And what makes me particularly happy: The Vechta feeling is back with an auction hall filled to the last seat and the best atmosphere," reports auctioneer Thorsten Castle.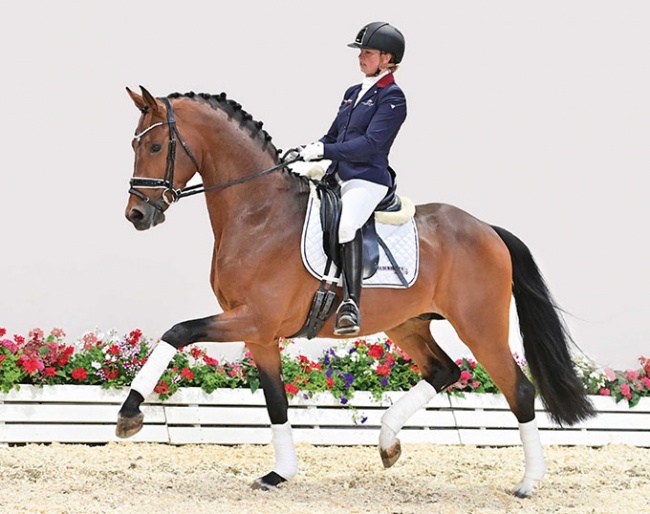 Euphoria and enthusiasm – these were the first words of auction director Roland Metz after the 97th Fall Elite Auction. "My expectations have been far exceeded with the great auction days I was able to experience in Vechta. The top result at the auction rounds off my first days in Vechta excellently. I would especially like to thank the breeders and exhibitors for their trust, as well as our customers and our highly motivated auction team, who made this success possible in the first place," said Roland Metz.
The 37 riding horses cost around 44,000 euro on average.   Almost half of all riding horses will give pleasure to Oldenburg friends abroad in the future. In detail, these quality horses will cause a sensation in the USA (4), Sweden (3), Austria (2), Portugal (2), Belgium (1), Canada (1), Colombia (1), Luxembourg (1), the Netherlands (1) and in Switzerland (1).
In the foal collection, six of the young Oldenburg talents were auctioned off to Belgium (2), Denmark (1), the Netherlands (1), the Czech Republic (1) and the USA (1). The foals achieved an average price of approx. 11,400 euro.
Complete results: horses - foals
Related Links
Oldenburg's Top "Secrets" in 2022 Autumn Elite Auction in Vechta
Presentation of Top Foals and Dressage Horses for 2022 Oldenburg Autumn Elite Auction
Try out Your Dance Master in the 2022 Oldenburg Autumn Elite Auction