2022 Irish Dressage Championships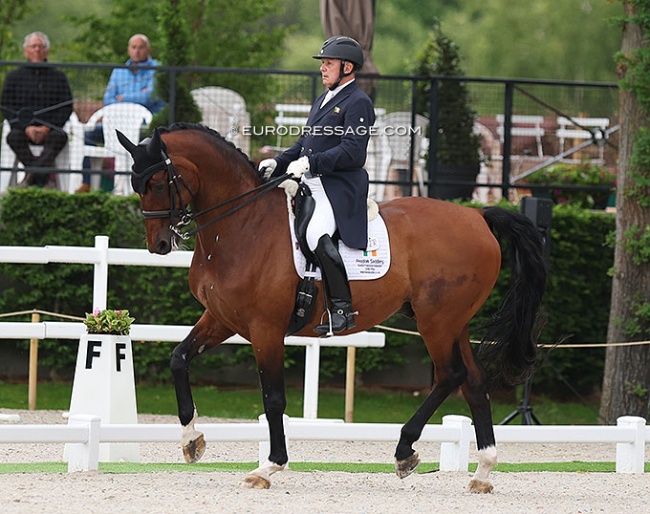 Dane Rawlins won the Grand Prix Championship and retain the title of Irish national champion at the 2022 Dressage Ireland National Championships in Barnadown Equestrian, County Wexford on Saturday, September 24, 2022.
Aboard the 13-year-old Westfalian gelding Espoire he scored 69.13% and bested a small field of three combinations for the highlight championship class of the weekend. 
Dane is only the sixth rider to win back-to-back national dressage titles since the inaugural Irish championships in 1977. Team Ireland rider at the 2022 World Championships, Sorrell Klatzko and the 9-year-old  Turbo (by Totilas) scored 64.89% tying with Tara Oliver Donohue on Furst Romance. 
Klatzko edging ahead for second place on a higher collective score. 
Results - 2022 Irish Dressage Championships
Pony Riders - Team Test
1. Jessica Grogan - Klein Roderijs Gold Fee  - 68.785
2. Sophia Doheny - Llanidan Fiesta -  68.145
3. Lilly Larkin - Blokland's Hoeve's Amor -  68.07
4. Sophia Doheny - Newoak Gold Rush - 67.14
Ellen Mc donald Dante Alighieri - DNS
Pony Riders - Individual Test
1 Lilly Larkin - Blokland's Hoeve's Amor - 70.27
2 Jessica Grogan - Klein Roderijs Gold Fee - 69.8
3 Sophia Doheny - Newoak Gold Rush- 69.39
4 Sophia Doheny - Llanidan Fiesta  - 63.985
Prix St Georges
1 Jenny Heffernan - De Keizer KN  - 66.835
2 Laragh O'Grady Mullentine - Emerald Wolfe Tone - 65.955
3 Sean Burgess - Imperioso WW  -  63.75
4 Sue Smallman - Gloriant H  -  63.31
5 Tabitha Millar Hagerty - Aquiro  - 62.795
6 Marguerite Kavanagh -  Fidette - 60.88
7 Emily Kate Robinson - Edvaard  - 60.295
8 Colm Fitzpatrick - Hadrian C De Jeu - 57.94
9 Tara Oliver Donohoe - Senators Rhonaldo - DNS
Josephine Delahoyde - Cashmere  - DNS
Intermediaire I
1 Belinda Brereton - Galaxy Moone - 70.22
2 Jenny Heffernan - De Keizer KN - 69.04
3. Laragh O'Grady Mullentine - Emerald Wolfe Tone  - 67.795
4 Sue Smallman-  Gloriant H - 65.365
5 Sean Burgess - Imperioso WW - 64.635
6 Emily Kate Robinson - Edvaard  -  62.21
7 Simone Hession - Beezies Double Diamond - 61.615
8 Sean Burgess - Mount St John Valencia - 61.53
9 Marguerite Kavanagh - Fidette  - 59.18
10 Tara Oliver Donohoe - Senators Rhonaldo - DNS
Tabitha Millar Hagerty - Aquiro  - DNS
Inter A/B + Grand Prix Kur to Music
1 Sorrell Klatzko - Turbo - 74.815 
2 Dane Rawlins - Espoire  - 73.005
3 Tara Oliver Donohoe - Furst Romance - 69.25
4 Belinda Brereton - Deco  - 66.38
5 Sean Burgess - Mount St John Valencia - 63.5
Intermediaire II
1 Tara Oliver Donohoe - Furst Romance -  66.4
2 Belinda Brereton-  Deco  - 66.4
3 Sean Burgess - Mount St John Valencia - 63.9
Grand Prix
1 6 Dane Rawlins - Espoire - 69.13
2 Sorrell Klatzko - Turbo - 64.89
3 Tara Oliver Donohoe - Furst Romance - 64.89
Related Links
Carr, O'Grady, Acres, Oliver, Klatzko, Rawlins and Mellor Win FEI Titles at 2021 Irish Dressage Championship
Heike Holstein Wins 2018 Irish Grand Prix Championship, Scores Title for 12th Time
O'Neill, Holstein, Dunphy, Blake Farrell Win 2017 Irish Dressage Championships
Stuart, Dowley, Dunphy Win 2016 Irish Dressage Championships 
Cazabon-Sullivan, Reynolds, Tong Win 2015 Irish Dressage Championships
Judy Reynolds Wins 2014 Irish Dressage Championship
Roland Tong Wins the 2013 Irish Dressage Championships
Hamilton Dominates Star-Studded 2011 Irish Dressage Championships 
Sarah Mellor Wins 2010 Irish Grand Prix Championship
Truesdale Wins 2009 Irish Dressage Championships
Heike Holstein, 2007 Irish Dressage Champion