2022 CDI Brisbane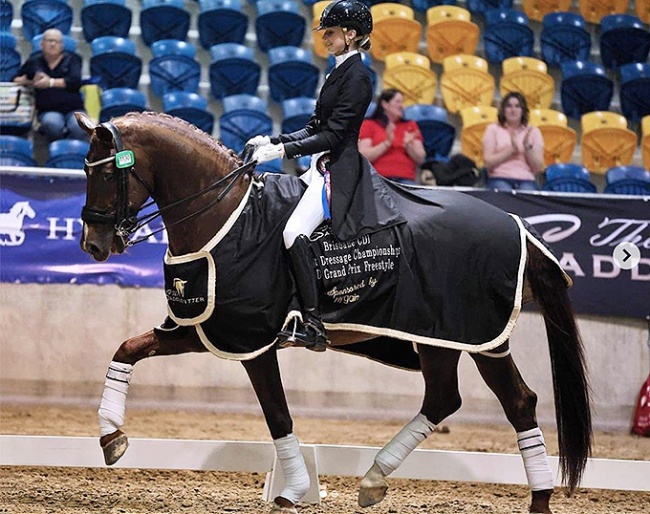 Australian junior rider Jessica Dertell pulled an impressive stunt at the 2022 CDI Brisbane on 15 - 18 September 2022, where she won nine classes over four days, ruling the roost in no less than four divisions from junior level to Grand Prix. 
The Brisbane CDI & Queensland State Dressage Championships were held at Queensland State Equestrian Centre (QSEC), where 175 riders and 226 horses completed 415 tests showing off their hard work and training. 
Dertell Rules the Roost in Four Divisions!
It was a very successful event for 18-year old Jessica Dertell, who travelled up from Victoria with her team of horses. Although officially still aged a junior rider, Dertell showed off her skill all the way to Grand prix level. She is trained by her mother Kate Dertell and by Austrian team Olympian Mary Hanna.
In the Junior division she scored a double aboard the 7-year old KWPN bred Kilimanjaro (by Bordeaux x Westpoint), which her family purchased from KWPN Breeder of the Year Willeke Bos in The Netherlands two years ago. Dertell won the team test with 69.293% and the individual test with 68.353%. Only in the Kur to Music she was bested by Kate Kyros on the 13-year old Courtlands Cadman (by Bj Kaneto Casanova X Donegal Double Take), who won the freestyle with 72.135%, while Jessica was second with 69.715%.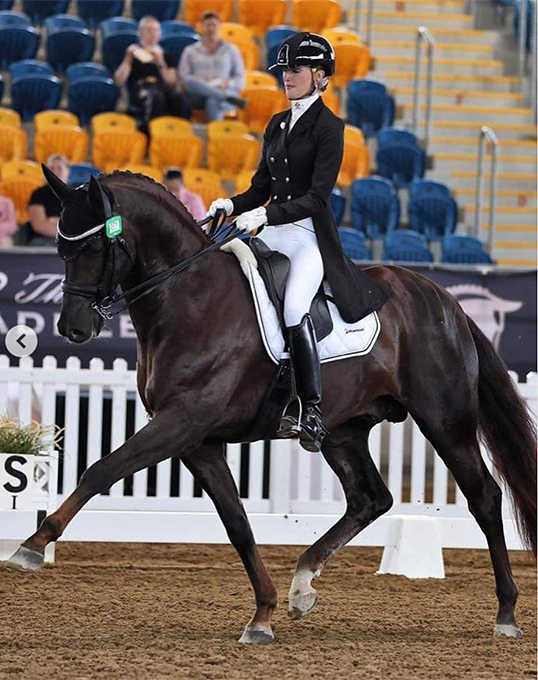 In the Young Riders category, Danielle Mcmahon and the 11-year old Australian Hanoverian Remi Lauries Joy (by Lauries As x Fabriano) kicked off the competition, winning  the team test with 66.029%. Dertell and the 11-year old KWPN bred Gladstone M.H. (by Bordeaux x Montecristo) were the runners-up with 65.245%. In the individual test and kur to music, Dertell and Gladstone pushed for power and won with 66.765 and 72.055%, each time having Mcmahon behind her. 
Under 25 Action
Six pairs competed in the Under 25 category and it became a duel between Dertell and Mary Nitschke on the 18-year old schoolmaster Utopian Cardinal (by Regardez Moi x Lanthan), previously shown by Heath Ryan.  Nitschke won the Intermediaire II with 65.735, while Dertell and her 13-year old KWPN mare Eskara de Jeu (by Jazz x Jetset D) were second with 64.882%. The tables were turned in the Short Grand Prix with Dertell winning on 67.513%. In the freestyle Dertell took home another trophy with 69.710%, just a fraction ahead of Nitschke on 69.090%. 
The Kid in Charge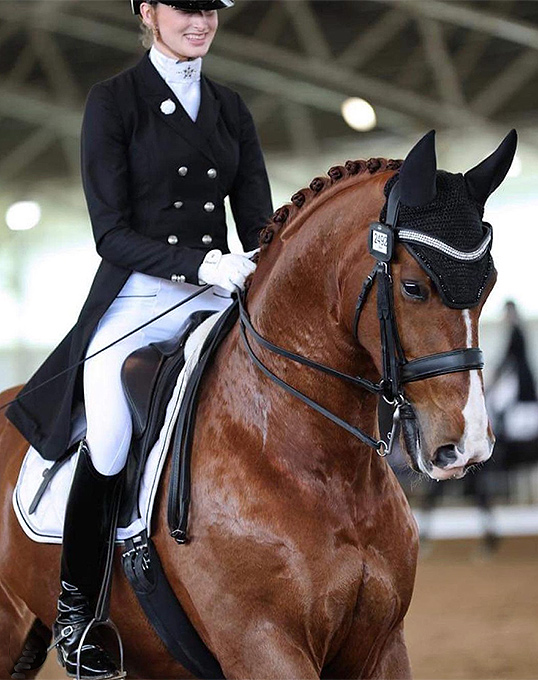 The senior Grand Prix division was rather small with just five pairs competing, but that did not diminish the amazing feat Jessica Dertell accomplished last weekend. Aboard Grand Prix schoolmaster Cennin (by Vivaldi x Donnerhall) she won the Grand Prix with 67.652%, the Special with 70.043%, and the Kur to Music with 71.485%.
"It's such an amazing feeling to gain the wins at a big competition such as a CDI, I'm so glad with how all my horses performed and the outcome of all tests," Dertell told Eurodressage.  "There is always lots to improve on and I'm happy to be home after an amazing competition to continue my training with my own and sabble farm's amazing horses."
The 15-year old licensed stallion Cennin was imported earlier this year by Brett and Samantha Thomas of Sabble Farm after the stallion was a Dutch team horse at the 2018 World Equestrian Games and represented Holland at the 2018 World Cup Finals under Madeleine Witte-Vrees.  
"The most challenging part of rising a Grand Prix horse such as Cennin is probably not the horse but myself. He's amazing and try's hard every time we ride, we are just starting to work more as a team," Jessica told Eurodressage when asked what she considers most taxing in her new partnership on a "famous" horse. "I can get quite hard on myself as I always want to be the best I can be on every horse. At times it can make it challenging on myself as I pick apart my tests to see where I could have gained the extra marks. I believe being a little hard on yourself at times is what makes riders better as they notice everything they need to improve on! Cennin is amazing and does everything when I ask and he definitely loves to show off!"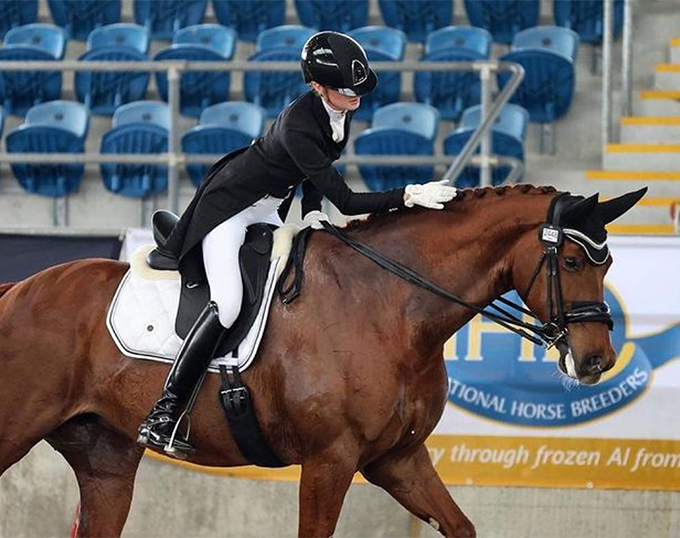 The 18-year old is just out of high school and will not be going to college, but instead focus on her riding.
"I am pursuing my career in riding as it is a passion of mine," she said. "I love that there's always so much room to grow and gain experience even in the top levels. As a rider everyday we are just working hard and striving to do the best we can and I really love that."
Dertell felt the most competition from Sheridyn Ashwood on the 16-year old Australian Hanoverian Ferrero Chocolate Box (by Ferrero Rocher x Lander) and Emma Flavelle-Watts on Kim Tenkate's 15-year old Holsteiner mare Cabaret C (by Contender x Canturo).  Ashwood placed second in the Grand Prix with 65.587%, second in the Special with 65.532%, and third in the freestyle with 70.485%
Cabaret C Retired
Emma Flavelle and Cabaret C were third in the Grand Prix (64.848%) and second in the Grand Prix Freestyle with 71.035%. The 2022 CDI Brisbane had special meaning for Flavelle, who announced the retirement of Cabaret C after the completion of this show.
The mare, who is bred by Hermann Gloy in Siezbüttel (GER), began her sport career in Germany in 2011 under Rieke Schnieder before she sold to Kim Tenkate in 2012 as a 4-year old out of Hannes Bruning's yard. Emma took on the ride immediately when she was imported into Australia. Kim's daughter Caitlin Cullen was first listed as owner of the horse, before the ownership on the FEI passport changed to Kim Tenkate in 2019.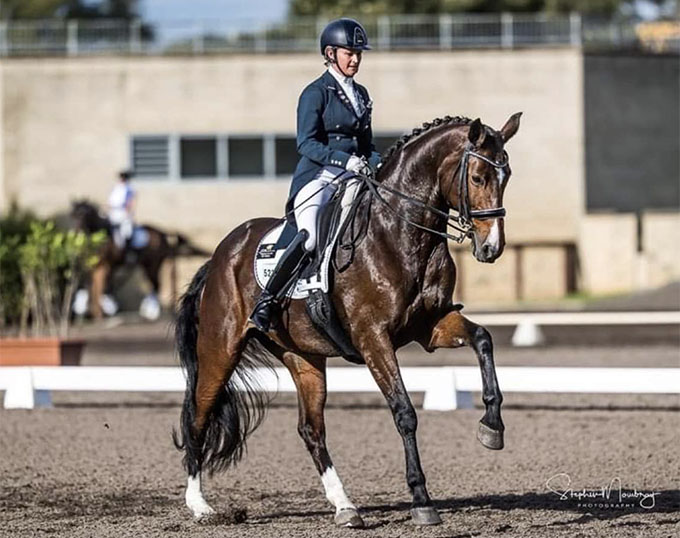 "She's an alpha mare, so I've got to be tactful in terms of how I get her through a test," Flavelle once told Equestrian Life. "The journey to Grand Prix has been challenging, all horses have their weaknesses and strengths. As Emma (Cabaret C) is an alpha mare, there have been compromises along the way. Our first competition together I was led around the arena in hand, and then just hoped for the best!"
Flavelle and Cabaret C made their international show debut at Grand Prix level in July 2019 at the CDI Brisbane and came full circle last weekend.  Cabaret C has already served as a broodmare for Tenkate's breeding programme. By 2019 she already had four embryo transfer foals on the ground, three of them are ridden by Eliza Tenkate-Cullen, including D'Artagnan TPH (by Dante Weltino), while Sinatra TPH (by Sezuan) sold in August.
Flavelle and Tenkate have now retired Cabaret C from sport. 
"The journey, as I'm sure we have all witnessed, has been what could only be described as a roller coaster; but one that our whole team would do all over again in a heartbeat," said owner Tenkate. "This mare stole all of our hearts and took our breath away every time she stepped into the arena, where we were all left perching on the edge of our seats."
Remi Stud Young Rider Scholarship
For the 10th year, the annual 2022 Remi Stud Young Rider Scholarship presentation was also made on Saturday with the hanoverian weanling 'Remi Valdemar S' by Remi Vigneron and supporting prizes (total package value of over $30,000) being presented to the winner Georgia Creed.
Photos © Derek O'Leary - Stephen Mowbray
Related Links
Scores: 2022 CDI Brisbane
KWPN Stallion Kilimanjaro Sold to Australian Young Rider Jessica Dertell
Cennin Sold to Australia, Young Riders' Horse for Jessica Dertell