F.O.C.U.S.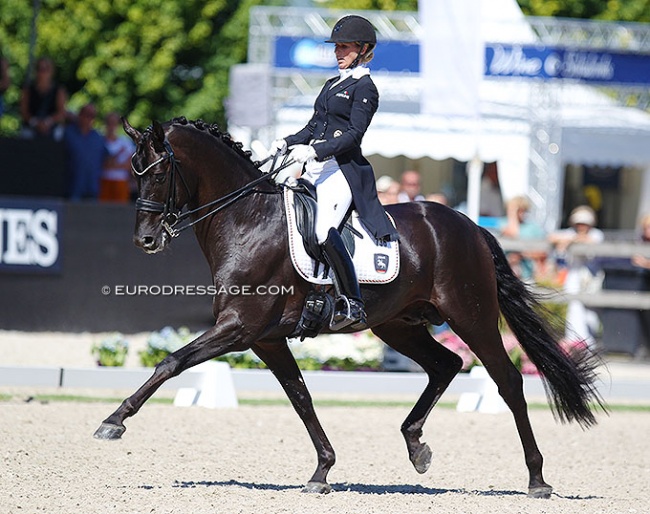 At the 2018 World Young Horse Championships in Ermelo Glamourdale took the spotlight as the winner of the 7-year old division. However, another black star shone on the firmament and captured bronze there: Fürsten-Look. Under Isabel Freese the Hanoverian licensed stallion were the surprise winners of the preliminary test and then finished third in the finals. 
While his rivals at the 2018 WCYH - Glamourdale, Heiline's Danciera, and Governor - all moved on to represent their national teams at European and World Championships, for Fürsten-Look Ermelo was his first and last international show of this stunning breeding stallion. Where is he now?
Hanoverian Bred, Oldenburg Licensing Champion
Fürsten-Look is bred by Johannes Sabel and is by Fürstenball out of Lady Diamond (by Londonderry x Weltmeyer x Airport).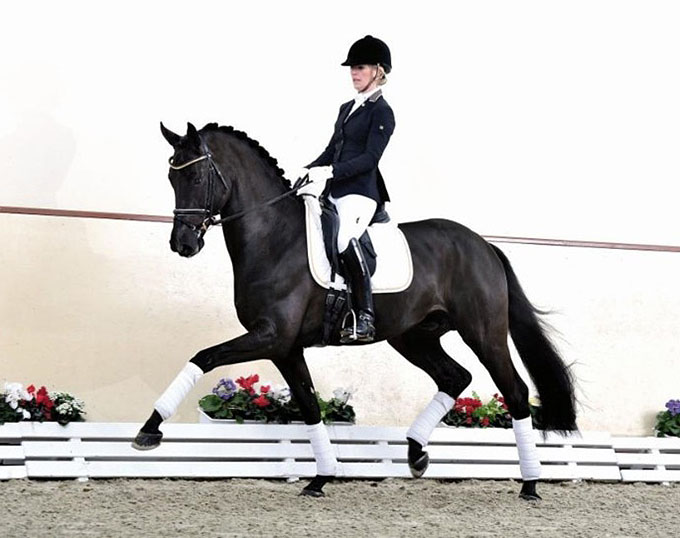 Presented by Andrea Müller-Kersten, the black became the champion of the 2014 Oldenburg Saddle Licensing  in Vechta, Germany on 4 April 2014 and sold at auction the next day for 350,000 euro to the stallion keepers' duo Lone Boegh Henriksen and Paul Schockemöhle. The Danish Lone Boegh Henriksen co-owns Schockemohle's most used popular breeding stallions, Vitalis and Furstenball. 
Fürsten-Look did his 30-day stallion suitability test in Schlieckau in December 2014 and scored 9.41 for dressage and 7.75 for show jumping. He totalled 8.67 points. 
A month later in January 2015, the Hanoverian society approved him for their studbook and in March he got accepted for Danish Warmblood. 
At the end of that year he was the Main premium winner at the 2015 Oldenburg Stallion Licensing in Vechta, achieved with his outstanding first crop of foals and own achievements in the performance test. 
In 2019 he was one of four stallions at Schockemöhle's station that tested positive to WFFS. 
Bundeschampion and WCYH Bronze
From the start, the stallion was trained by Schockemöhle's head dressage rider, Norwegian Isabel Freese (née Bache). She took a flying start with the stallion winning the 2015 Hanoverian Young Horse Championships in Verden and the 2015 Bundeschampionate with him when he was four 
In 2016 he was shown only sparingly, winning the Bundeschampionate qualifier in Redefin, but he did not go to Warendorf. He was also selected on the German team for the 2016 World Young Horse Championships in Ermelo, but had to pull out from that show too.
In 2017 he did no competitions, but his year of glory was in 2018. He kicked off the season with some M-level competitions in Zeutern and then qualified to represent Germany at the 2018 World Young Horse Championships in Ermelo. 
With the 5-month pregnant Isabel Freese, Fürsten-Look won the preliminary test in Ermelo with 86.60% and was third in the finals for bronze with 84.036%
Nurnberger Burgpokal Bronze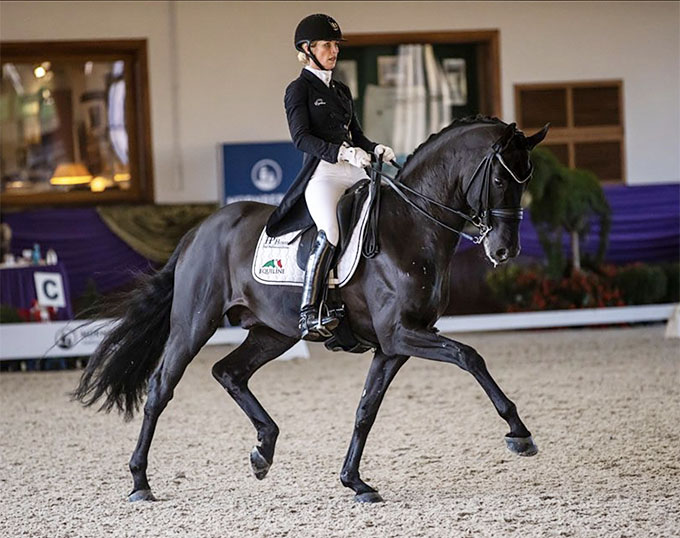 Of Fursten-Look it was expected he would be prepared for the Nurnberger Burgpokal series for Developing Prix St Georges horses in Germany, but the stallion disappeared from the show scene for almost two years. 
In 2020 he made a sudden come back at the national show in Herbergen in June 2020, where he won the Nurnberger Burgpokal warm-up round (72,049%) and reigned in the qualifier for the finals with 74.585%. There he earned his ticket to the Finals in Kronberg in December 2020, and successfully motored on to finish third for bronze with 75.683%
It was the stallion's last competition in his career. 
Where is He Now? 
Eurodressage inquired with owner Lone Boegh Henriksen, who confirmed that the stallion is happy and breeding at Schockemöhle's in Mühlen, Germany, and still being cared of by Freese. However, Fürsten-Look's sport career has come to an end.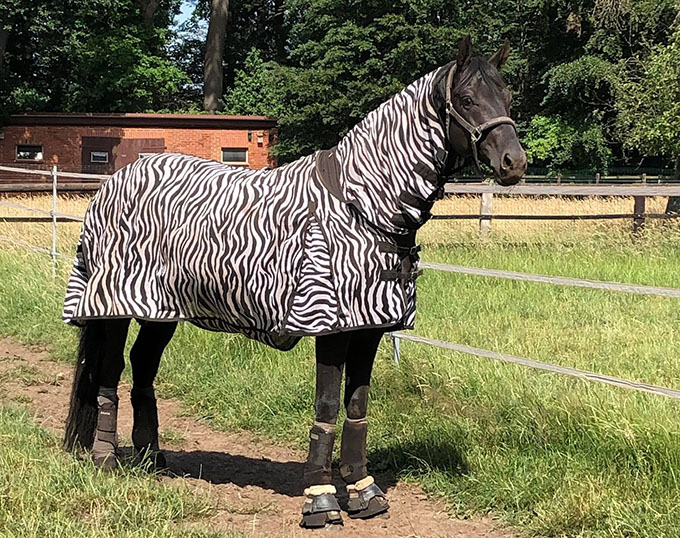 "Unfortunately he had an injury which comes back every time we start him up again," Lone told eurodressage. "He always starts up very well, but after some months he gets his old injury back on the one front leg. So we decided only to let him be on the grass field in the day and also in the walker."
Fursten-Look leads a happy life retired from sport.  So far, he has sired five licensed sons and 27 state premium daughters. 
His offspring is achieving its first successes in the international arena with son Furst Kennedy (by Fursten-Look x Don Kennedy) as the show stopper. Under Portuguese Joao Moreira he placed fourth at the 2022 World Young Horse Championships in Ermelo two weeks ago. 
Other offspring successful in the show ring are Parodie ter Dolen, who represented France at the 2021 World Young Horse Championships under Charlotte Chalvignac,  Emma Jonsson's Flow won silver at the 2020 Swedish Warmblood Young Horse Championships,  Csaba Szokola's First Look won silver at the 2019 Hungarian Young Horse Championships, and Laura Tomlinson's Forest Hill (ridden by Sarah Rogers) was short-listed for the 2022 World Young Horse Championships.
At the 2017 Belgian Warmblood Mare Championship, two Fursten-Look fillies became reserve champion and Mike Hodel's Fellini M was the reserve champion at the 2017 Swiss Warmblood foal Championship. His offspring has been selling well at auctions, such as Furstenerbe selling for 126,000 euro and Friedemann selling for 62,000 euro, and a colt by Fursten-Look x Ray Ban fetched 16,500 euro.
Photos © Astrid Appels - Stefan Lafrentz - private
Love this series? See all our articles in the "Where are They Now?" series
Related Links
Eurodressage Photo Database: Fursten-Look
Matthias Rath and Destacado FRH Win 2020 Nurnberger Burgpokal Finals on Home Turf
Freese and Kittel Put Scandinavian Stamp on 2020 CDN Essen-Herbergen
Glamourdale Shining Star of 7-YO Final at 2018 World Young Horse Championships
Fursten-Look and Bluetooth Win 2016 Redefin Bundeschampionate Qualifier
Skovens Rafael, Most Popular Breeding Stallion in Sweden in 2016
German Horses Selected for 2016 World Young Horse Championships
Eleven Older Dressage Stallions Approved at 2015 Danish Warmblood Licensing
Fursten-Look Named 2015 Oldenburg Hauptpremium Winner
Fursten-Look, Price Highlight of the 2014 Oldenburg Spring Elite Auction
Fursten-Look, Champion of the 2014 Oldenburg Saddle Licensing