2022 German Professional Dressage Riders Championships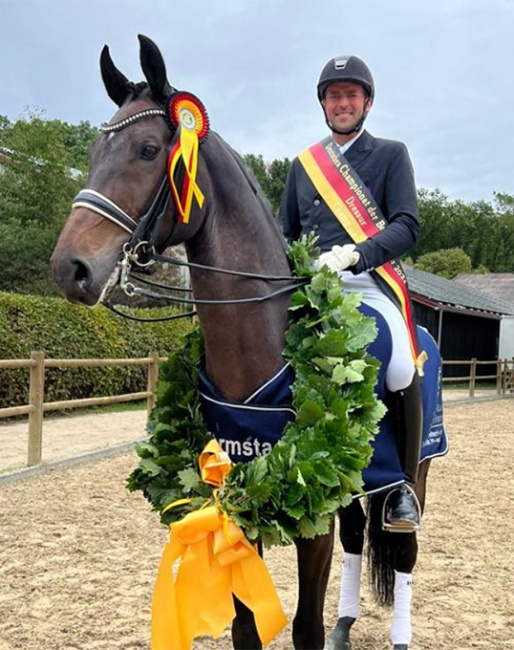 Heiner Schiergen made a come back at the German Professional Dressage Riders Championships and reclaimed the title for the seventh time in his career.  The 2022 version of the German Professional Dressage Riders Championships took place at Hof Kranichstein in Darmstadt, Germany, on 15 - 18 September 2022.
The event was in its 28th edition, but unfortunately a very small turnout of just seven riders took away the lustre from the occasion.
The German Professional Dressage Riders Championships consists of three rounds: the Grand Prix on Thursday and the Special on Friday after which the three best scoring riders move to a Finals with horse change and ride a short Grand Prix test on each other's horses on Sunday.
The Krefeld based Heiner Schiergen brought PSI auction horse, the 9-year old Westfalian gelding Semias (by Sir Donnerhall x Fidermark), for the occasion. Schiergen and Heinz Bellens' Semias were finished second in the first round, receiving a 68.233% for their Grand Prix test, and second in the second round. The Grand Prix Special was reduced to six pairs and Schiergen scored 69.961% However, in the finals with horse change, the 53-year old Schiergen turned the tables and achieved the high score.
The biggest rival was Felix Kneese on Mareike Groth-Becker's 14-year old Oldenburg mare Quibelle (by Quaterback x Sandro Hit) who took a big lead in the Grand Prix, winning the class with 72.633%. Also in the Special Kneese was far ahead with 73.333% but in the medal deciding horse-change finals, he landed second place. 
The horse change final struggled to be filled as the third and fourth ranked riders of after two rounds (Barbel Eppinger, Wieger de Boer) both opted not to compete in the final class. This left room for Jakob Hetzel to give it a try. He was 6th in the Grand Prix with 64.100% and sixth in the Special with 64.100% aboard the 17-year old Luxembourg bred Rubicon Leonardo (by Rubin Cortes x Weltmeyer). In the horse change finals he was third. 
In the horse change finals Schiergen scored 68.67% on his own Semias, 68.028% on Rubicon Leonardo, and 71.528% with Quibelle. His end total of 208.226% gave him his seventh title. Kneese scored 73.05% on his own mare Quibelle, and 65.428% on Semias and 64.778% with Rubicon Leonardo. He totalled 203.356 % to become the reserve champion. Hetzel acheived a 64.60 on his own Rubicon Leonardo, 64.194% on  Quibelle which he rode last, and he got 61.556% with Semias to finish on a total of 190.350 %.
Horse change finals results here. Results GP - GPS
Related Links
Martin Pfeiffer Wins 2020 German Professional Dressage Riders Championship
Frederic Wandres Wins 2019 German Professional Dressage Riders Championship
Heiner Schiergen Wins 2018 German Professional Dressage Riders Championship
Schiergen Takes Three in a Row at 2017 German Professional Dressage Riders Championship
Schiergen Renews Title at 2016 German Championships for Professional Dressage Riders 
Marcus Hermes Edges Out Timpe in 2014 German Professional Dressage Riders Championships
Thomas Wagner Wins the 2013 German Professional Dressage Riders Championships
Hartwig Burfeind Wins 2009 German Championships for Professional Dressage Riders
Photo Report: 2008 German Championships for Professional Dressage Riders
Scores: 2007 German Championships for Professional Dressage Riders
Scores: 2005 German Championships for Professional Dressage Riders
Hubertus Schmidt wins 2004 German Professional Dressage Riders Championship