Prinsjesdag Foal Auction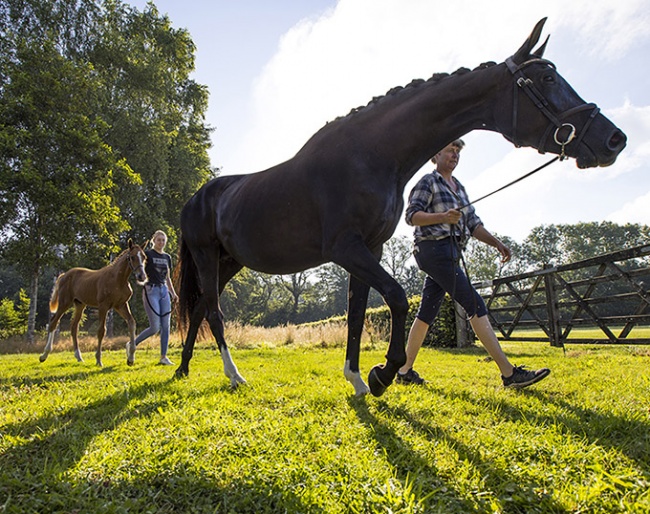 For the elite auction on Tuesday 20 September, Foal Auction Prinsjesdag again has put together a spectacular collection. Almost eighty foals in dressage and jumping will be auctioned by Koen Olaerts on the third Tuesday of September in Ermelo. The medallists of the last World Championships in Herning are represented in both dressage and showjumping.
Perhaps the most striking horse of the World Championships in Herning was the impressive dressage stallion Glamourdale. Ridden by Great Britain's Charlotte Fry, Glamourdale made the hearts of horse lovers beat faster and secured two gold medals and a silver team medal in Herning. Lauw van Vliet and Cas van der Oord, selection committee dressage, secured two offspring of Glamourdale for the auction collection of Tuesday 20 September. The filly Suntresse Texel is a Glamourdale daughter from the famous Texel breeding and the colt Star On Firedale MCB is a Glamourdale son from the line of Jazz.
Glamourdale & Hermes
Glamourdale is not the only dressage stallion from Herning with offspring in the dressage collection; the selection committee also added a daughter of Hermes to the collection. Ridden by Dinja van Liere, Hermes was of great importance for the Olympic qualification of the Dutch team in Herning and won a well-deserved bronze medal in both the Grand Prix Special and the Freestyle. Special Diva Texel is a filly by Hermes and a striking foal in the collection of Foal Auction Prinsjesdag.
Another world champion who is well represented is Kjento - last year's convincing world champion of the 6-year-old dressage horses in Verden. This Negro son could have a similar career as Glamourdale ahead of him and delivered three Prinsjesdag foals for this year's collection: Stromae T (ds. Charmeur), Sweet Murona (ds. Glock's Toto Jr) and Syracuse B (ds. Grand Galaxy Win).
Daughter of Quel Homme de Hus
Fred van Straaten, Willem van Hoof and new commission member Bob Janssens put together a very high quality jumping collection. An exclusive foal for example is Quintodecimo SK Z. This filly from a performance damline is a daughter of Quel Homme de Hus. Ridden by Belgium's Jérôme Guery, the spectacular Quidam de Revel son Quel Homme de Hus won the silver medal in Herning. He left all rails in the cups after five rounds of impressive showjumping and only King Edward stayed ahead of him in the championships. Quel Homme de Hus does not have many offspring and therefore the filly Quintodecimo SK Z is a unique opportunity; especially since she is bred out of a daughter of Chacco Blue and a sister of Grand Prix winner Chablis.
Foals for sport and breeding
Other striking fillies included in the collection are Shamrock VDS - a daughter of the Nations Cup star Grandorado TN out of the same dam as Defender Z, or Balou's Girl W - a daughter of Balou du Reventon out of a daughter of Electra van 't Roosakker. Another special one is Sweet Sue Reuvekamps - the full sister of reigning Dutch champion Highway TN; or Wonder VD, an Emerald daughter from the Van 't Roosakker family. Colts with potential for the sport and breeding are a major part of the jumping collection as well; think for example of Uricas van 't Gebergte Z from the direct line of Emerald, William Lawson de W&S - closely related to Mumbai and Opium JW van de Moerhoeve, or El Niño G Z - an Emerald son out of the sister of CSI5* winner Glamour Girl.
View the collection here: https://www.prinsjesdag.eu/en/veulenveiling-prinsjesdag/
Schedule Foal Auction Prinsjesdag
Tuesday 20 September
Dressage and jumping foals
09:00 am | Arrival foals and veterinary check
12:00 pm | Stable viewing
01.30 pm | Presentation
03.30 pm | Start auction
For this year's auction, Foal Auction Prinsjesdag offers again wonderful VIP packages, so you can fully enjoy the unique experience of Prinsjesdag. Book your VIP-place now via the website: https://www.prinsjesdag.eu/en/veulenveiling-prinsjesdag/