Spain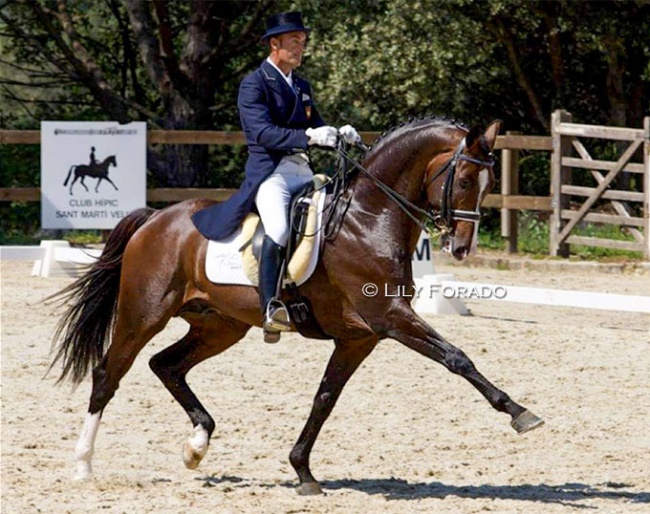 Spanish Grand Prix rider Carlos Torrell died unexpectedly on 5 September 2022. He died of an apparent heart attack in Barcelona, Spain.
Carlos Torrell Jane was born on 25 March 1968.
Life with Horses
Torrell was a professional dressage rider, trainer and clinician. 
He began riding at the age of 10 and started a career with horses when he was 16 years old. He first worked for Antonio Ignacio Vargas and became a rejoneador, a bullfighter on horses before switching to dressage. According to Lilyforado.com, the career making figures in his life were Javier Peris, Joan Font and Francisco Triquell.
He ran his own sales and training facility with around thirty dressage horses and young horses in Granollers, close to Barcelona. He regularly travelled across Spain and to the U.S.A. for clinics. 
Carlos' heydays in sport were between 2008 and 2010. He was fifth at the 2008 Spanish Dressage Championships on the KWPN bred Thompson (by Metall) and competed C Wolfgang at small tour level at the time.
 Upido C-TL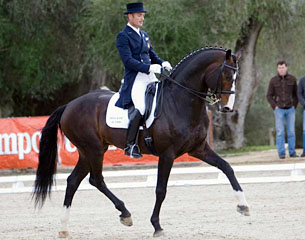 Torrell's last big dressage horse was  Upido C-TL, a highly talented Dutch warmblood by Ferro x Amethist, which he competed internationally up to Grand Prix level.
 Carlos discovered Upido at a small breeding farm in The Netherlands when the colt was one and half years old and purchased him with his partner Francisco Triquell, a Spanish breeder and owner of the stud farm Circulo Alferesi Yeguada Las Tijeras.
Torrell and Upido C-TL won the 2007 Spanish Young Horse Championships in the 6-year old division and was reserve small tour champions in 2008. They dominated the Spanish small tour scene in 2009, winning the Sunshine Tour CDI classes, and in 2010 made the transition to Grand Prix. They were close to an individual medal at the 2010 Spanish Grand Prix Championships until a rider error in the Kur got them eliminated.
The 2020 CDI Vejer de la Frontera in Spain was the rider as well as the horse's last interntional show. Upido ended up selling to Dutch Jan Kelders,  Stallion Station van Uytert and Equestrian International BV (= Anky van Grunsven and Sjef Janssen), the same syndicate that had owned Painted Black before he sold to Morgan Barbancon. Upido was the intended successor for Salinero, but Anky ended up never showing the horse. 
Coach and Trainer
After Upido sold, Carlos kept on competing other horses in Spain at national level until 2016. He showed, for instance, Grand Prix horses Embrujo XXXI and Symphonie, small tour horses Florian, Wieske and Diamond Hill, and young horses Sea Dragon and Deborah No Limits (by Davignon x Weltmeyer).
He also coached students such as Lucia Gallardo, Kevin Roegele, Erik Balasch González, Lucy Walker, Karin Huskova, and Jeanette Vallvé, amongst others.
A New Chapter
Torrell dealt with some health issues in recent years.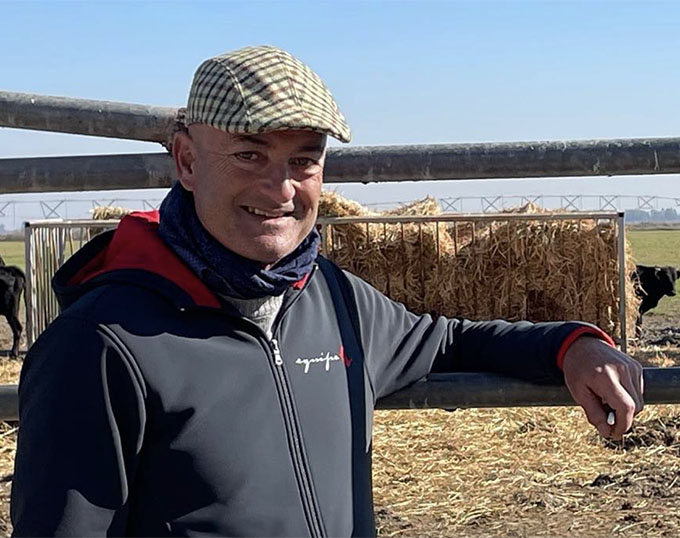 He sold his yard in Granollers and in January 2021 moved to Alicante, Spain, to become head trainer at "Southeast Sport Horses."
In 2022 Carlos experienced two set-backs, first injuring himself in a riding accident falling off a horse, and on 27 August he got injured in a hit and run at 6.45 am in the morning, which fractured several bones in his body and kept him out of the saddle for a while.
Only a few months ago Carlos decided to turn a new page in life and move to Italy. He wanted to start a new chapter there together with business partner Silver Massarenti and was part of the technical staff of the Italian School of Classical Equitation of Travagliato. 
Carlos was 54 years old.
Photos © Private - Top Iberian
Related Links
Spanish Grand Prix Horse Upido C-TL Sold, Moving to Stable van Grunsven
Beatriz Ferrer-Salat Recaptures National Title at 2010 Spanish Championships
Carlos Torrell Jane and Upido C-TL, Spain's Shooting Stars
Munoz Diaz, 2008 Spanish Grand Prix Dressage Champion