Grand Prix Sales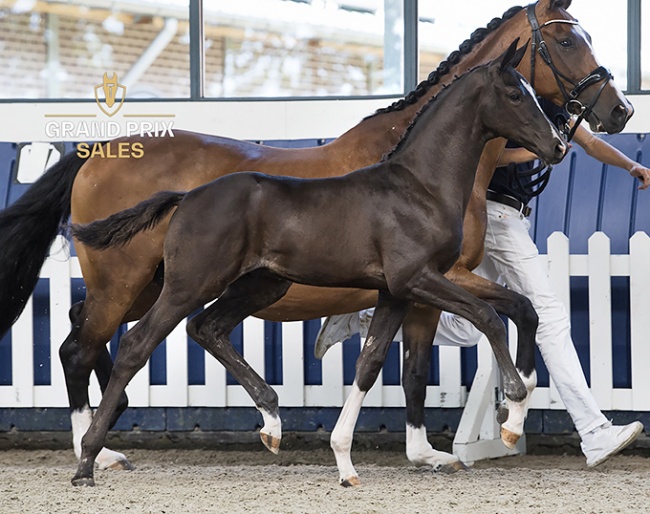 It's gonna be another spectacular auction night on Tuesday 30 August when the bidding for the Grand Prix Sales comes to a conclusion.
Superb movers, top elite moms and elite dam lines are all present! We love to select the best for our clients and are looking forward to meet you online next Tuesday!
SENNA VAN DE BROEKEN [by Total Mclaren x Charmeur] colt, brother to approved stallion New Kid in Town. Grandam competed at ZZL level
SPACESTAR W [by Wynton x Krack C] colt, full brother to the incredible approved KWPN stallion Imposantos
SERGEANT [by For Romance x Krack C] colt, out of Grand Prix mom and brother to Grand Prix horse
SZA SZA [by Escolar x Andretti] filly, out of Elite Sport ZZL dressage mare Europa, dam line of approved KWPN stallion Ladignac
And many more! Check them out..
Jumping foals
Grand Prix Sales auction sells also exclusive jumping foals out of the best dam lines of Europe and fillies out of world class families by Chacco Blue, Cumano, Heartbreaker..
Check them all out on our website!
Online Auction:
August 29, 2022 jumping foals starts at 10.00 AM, ends at 08.00 PM (CEST)
August 30, 2022 dressage foals starts at 10.00 AM, ends at 08.00 PM (CEST)
For online bidding you need to register on our website first.: www.grandprixsales.nl . Bidding by Telephone is also possible.
The team of Grand Prix Sales
Sannah Angenent: +31 6 54 62 66 22
Marjolein Ras: +31 6 10 39 42 37
E-mail: info@grandprixsales.nl
Register here for online bidding
Go to Auction August 2022