Bits 'n Pieces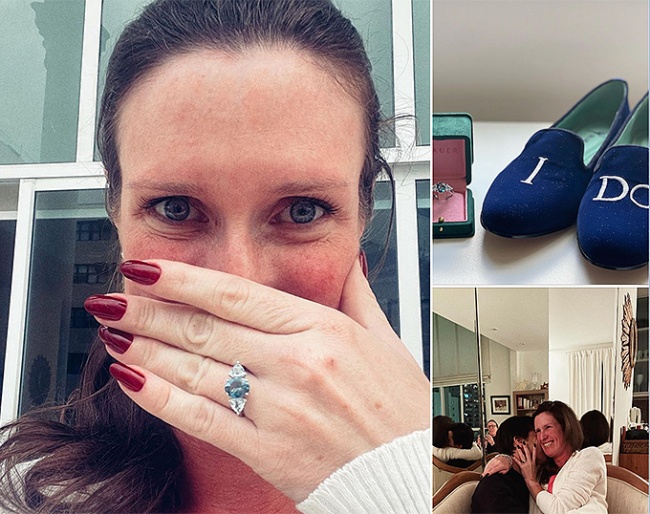 Brazilian dressage rider Sarah Waddell got engaged to her partner, Dr. Daniel Miragaia, on 10 August 2022. "10.08.22 will forever be known as the day I questioned Dr. Daniel Miragaia's sanity of mind, but not his perfect taste, as he asked me to be the Mrs to his Mr. Grumpy, and I accepted with the shoes I conveniently ordered a couple of months back," Waddell took to Facebook. Sarah is the assistant rider at Dr. Jorge de la Rocha's yard. She most recently competed Bojangles and Bijora at the 2022 CDI Sao Paulo in July.
Former Danish young riders' champion Rose Marie Henriksen got married on 13 August 2022.  Henriksen, who is the daughter of Danish stallion owner and breeder Lone Boegh Henriksen of HP Horses (owner of Furstenball, Vitalis and Total Hope), married her long-time partner Lukas Hartmann Bonde, whom she got engaged to in November 2020. Rose was 2017 Danish Young Rider champion on the gold medal Danish warmblood mare Donna Silver.
Portuguese B-squad listed Grand Prix horse Jeropiga has passed away following a severe bout of colic. Owned by Team Rubi, the bay Jeropiga (by Rubi x Hostil) was ridden by Vasco Mira Godinho and in February 2022 Portuguese team trainer Kyra Kyrklund submitted them to the B-squad as a rising Grand Prix hope for the country. In July, Jeropiga unfortunately developed a colic and despite all medical help could not be saved. 
Caroline Sstühlmeyer (née Wilm) has given birth to her first child, a baby boy named Ben William, on 20 August 2022. Father is husband Patrick Stühlmeyer, a German show jumping rider. They got married on 25 September 2020. 
It is with much sadness that Dressage New Zealand reported the passing of dressage rider William "Bill" Millar. The 69-year old Millar competed internationally in New Zealand from 2015 till February 2022 with Rakura Satori MH (by De Niro x Genius) and Centurion III (by Donnerwind x Stylish Century).  "Bill was a true inspiration and friend to many. Always an encouraging and kind word was offered, coupled with a cheeky smile and wonderful sense of humour. Bill will be long remembered for his inspirational Grand Prix performances on Rakura Satori MH. The world class piaffe was a delight to watch. Our sincere condolences to Bills family and close friends and supporters," said Dressage NZ. A memorial service at Woodside Estate Function Centre in Hamilton was held on Friday 19 August 2022. 
Snap! Spanish Olympian Severo Jurado Lopez is sidelined with a broken leg. He fractured his leg after a riding accident falling off a horse.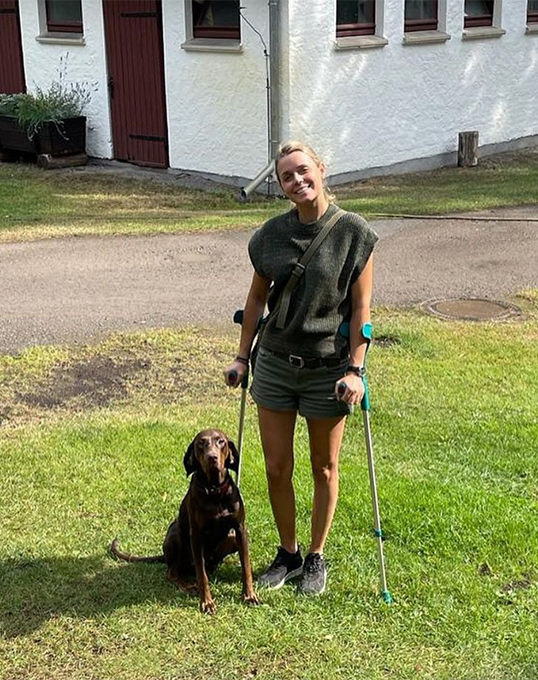 Also German Stella Charlott Roth took a spill and fractured her sacrum. She is in crutches and needs some time off the horse. "I try to see it as a "creative" break which I can use as a vacation for my body," Roth said with a wink. "Also a change of perspective by seeing the horses from the ground instead of riding them is sometimes really good as it shows you new approaches how to solve some "problems" and gives you new ideas for your daily work."
After a 13-year (!!) break from the competition arena Annette Rüscher has made her come back at the regional show in Nordwalde on 12 - 14 August 2022. Rüscher, who runs her family's stallion station Rüscher-Konermann in the Westfalian area, last competed in 2009 aboard the Hanoverian stallion Lissaro van de Helle. In Nordwalde she made a long awaited come back with Best Friend (by Baccardi x Samarant) and Fantinus SW (by For Final x Schumacher).
St. Georg editor-in-chief Jan Toenjes has been elected president of the International Alliance of Equestrian Journalists at the 2022 World Championships in Herning. "Couldn't be prouder to have been elected president," said Toenjes. "I would like to thank my fellow board members Kim C Lundin, newly elected vice president Mollie Bailey, Kirsty Pasto, Diane de Rosa, Arnd Bronkhorst, Jon Stroud for there trust in me. Together with these fabulous guys I will try to keep on the great and sincerely appreciated work that Pamela Young and Louise Parkes have done for all equestrian journalists worldwide. Big footsteps I will try to follow. Pam's and Louise's dedication for both the sport and those who write, post and speak about it as well as those taking marvelous pictures of the four legged heroes in our wonderful sport is hard to top. Of course the IAEJ also owes a lot to our business angel Jennifer Anstey."