Great Britain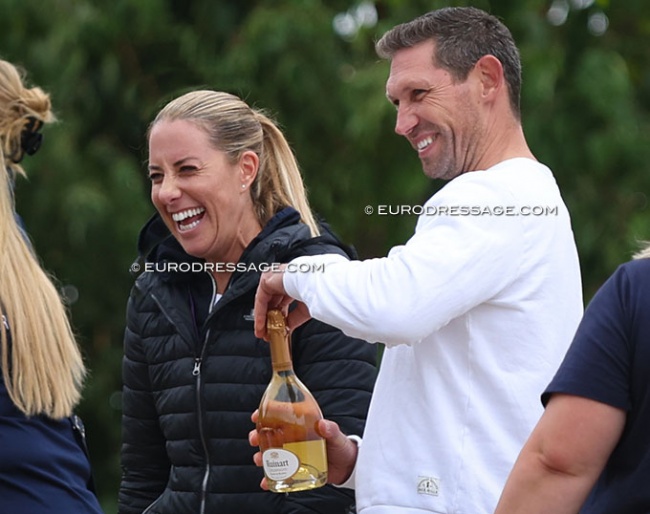 Double Olympic champion Charlotte Dujardin has announced she is pregnant with her first child. It will be a baby girl.
Dujardin went public with the news on social media. 
"In early 2023, myself and Dean will be expecting our first child and our hearts are already full of more love than we thought possible," she posted.  "A new chapter in our journey will begin; one that we have always hoped for, and we cannot wait to welcome our little girl into the world.  I just hope she already knows, how much she has been wished for and how much love awaits her, from ourselves and our excited families."
Dean Golding
Father of the baby is Dean Golding, with whom the rider has been together for almost two decades. At the London Olympics Golding had hinted at an engagement when he flashed a board in the crowd and by the 2016 Rio he was again in the crowd with a banner on his T-shirt stating 'can we get married now?" 
The wedding never happened and in 2019 the couple broke up.  Dujardin gave a tell-all tale about the break-up to the British newspaper Daily Mail.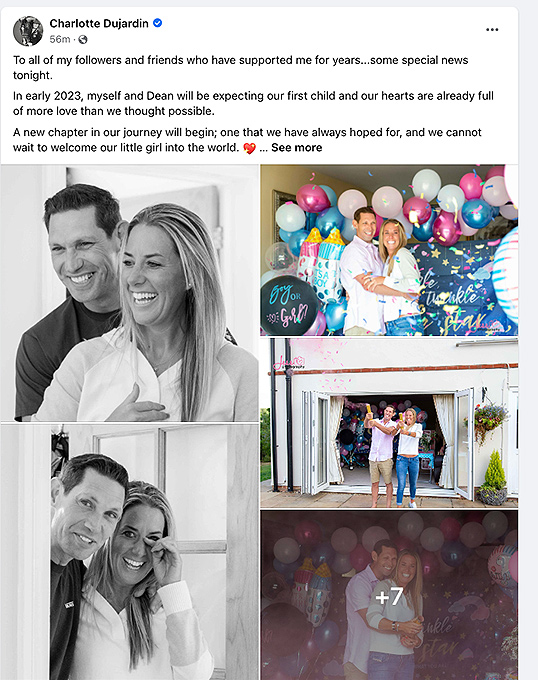 "Dean was my first love. It felt like I'd had everything and then it was all taken away. I'd lost my relationship. I was going to lose my horse (Gio) — my whole life had been turned upside down. 'If I could have given my medals back and have things return to the way they were, I would have done. I remember having to go to shows and everyone would be like, 'are you OK?' Whenever I was with Blueberry everything disappeared. I was in my bubble. But when I wasn't with him I wasn't in a good place."
Rekindled
Dean Wyatt Golding is from Durban, South Africa and his father owned a pub in a nearby Cotswolds village. He was introduced to Charlotte by Carl in 2007. 
More recently the couple rekindled their relationship and has now decided to start a new chapter in life with a baby.
A gender reveal party was held where it became known that it's a baby girl.
Related Link
What's Happening: December 2014
What's Happening: September 2013 - Part 1
Charlotte Dujardin Collects CBE Honour From Queen Elizabeth II
Dean Golding Proposes at the London Olympics