Seat Instruction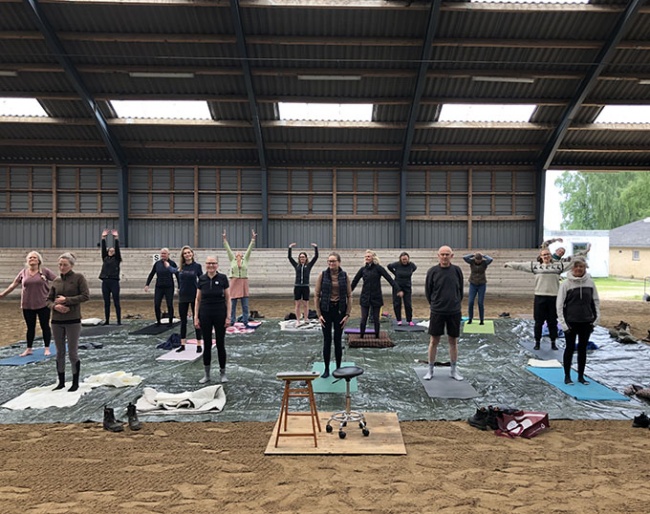 Following last week's amazing dressage performances in Herning, riders across the world find themselves newly inspired to improve their riding. 
 "Whether the goal is to directly improve our seat, or to enjoy the residual benefits that include enhanced communication, suppleness and heightened performance, even the best riders in the world know that improving our riding almost always begins with continuously coming back to improving our seat," stated equestrian biomechanics expert and certified German Trainer A, Dave Thind.
Free Zoom Webinar on Seat Improvement
With this purpose in mind, join a group of global riders who share a passion for learning and continuous improvement:
Saturday 20 August 2022 at 12:00 EST (9 am Pacific/18:00 Europe) featuring a full Dave Thind Method Feldenkrais Awareness Through Movement® lesson. 
Dave will teach one of his favourite lessons, that will leave you feeling tall, upright, open in the chest, relaxed in the shoulders and supple in the hips, making for an effortless but impressive riding posture and seat.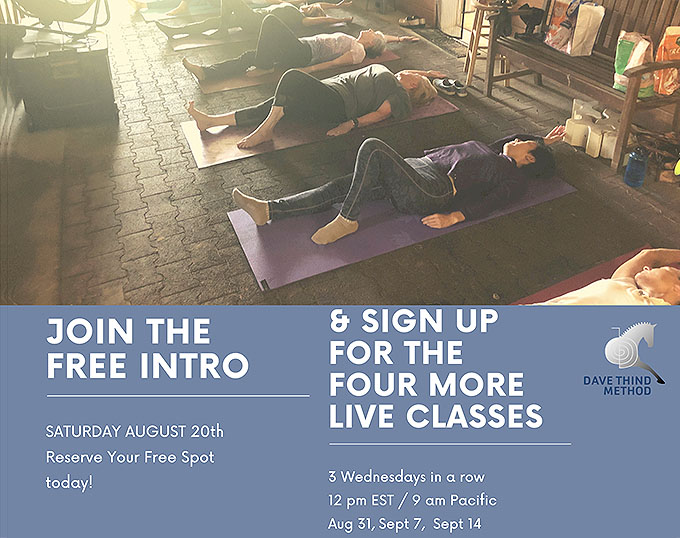 Find out for yourself what "magic" Feldenkrais Awareness Through Movement® lessons can create. 
Don't miss this event, and reserve your spot today: https://www.davethindmethod.com/registration-page
A Late Summer Breeze, a Seat Instruction Series
Additionally, riders are urged to check out the upcoming series of DTM lessons, and sign up for the whole series, "A Late Summer Breeze".
The series will build on what is taught and more, but it is already possible to sign up now in order to guarantee your spot, and register for a reduced rate. This is not a requirement to attend the free event.
"After reading your emails, and input, the lessons will be centered around breathing. These lessons will gently recalibrate and improve your whole seat and riding, in a way that only Feldenkrais can. Let's do these lessons together and see what we can improve!", enthusiastically proclaimed Thind.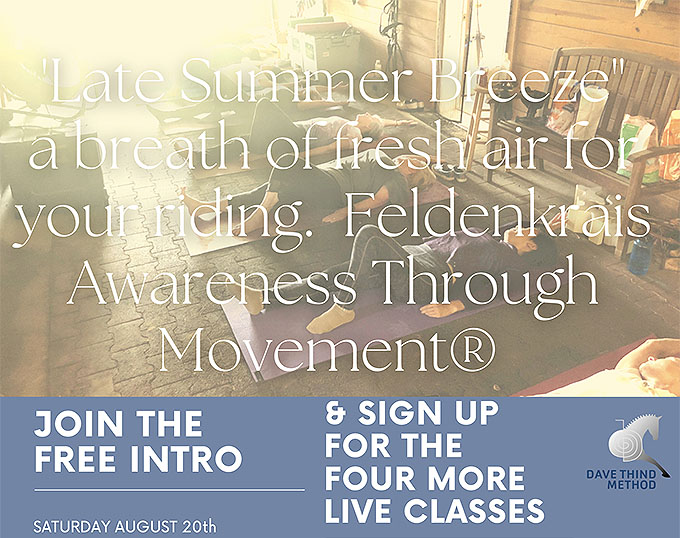 In addition to the free lesson, series of 4 additional easy to do Feldenkrais Awareness Through Movement Lessons are designed specially to enhance your riding, to make you supple and more.
"The theme of these lessons is lessons centered around our breath, but please remember that Feldenkrais® Awareness Through Movement® lessons serve to improve function and movement, creating ideal function of the whole body.  By doing "breathing awareness lessons", we of course expect a sense of inner calmness and quiet alertness,  but also expect better posture, ease in your own self carriage, easy uprightness, better contact, more solidly, clearer aids etc. Actually, the possibilities are endless," added Thind.
REGISTER HERE https://www.davethindmethod.com/zoom
Related Links
Dave Thind: "Picture Yourself Being a Better Rider"
Christoph Hess: "The Most Important Part of Training a Horse is Training the Rider's Position"
Start the New Year right with At-Home Seat Training - the Dave Thind Method
Dave Thind Method™ Releases New Edition of Online Biomechanics Course: "60 Days to a Better Dressage Seat"