2022 North American Junior / Young Riders Championships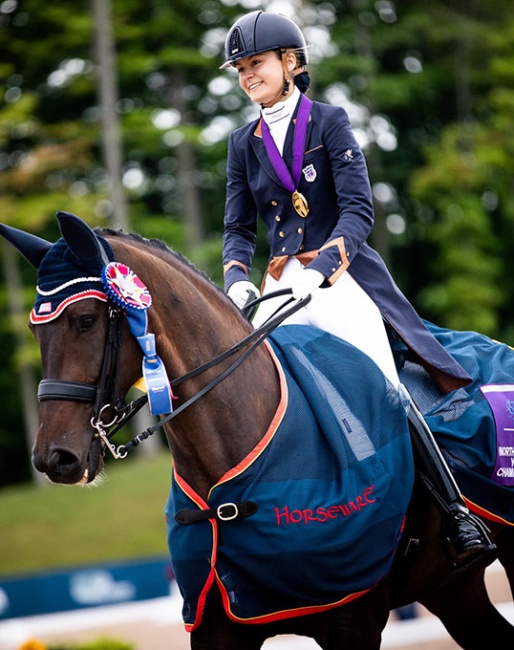 - USEF press release, edited by Eurodressage
A dream came through for Erin Nichols on Saturday at the 2022 North American Young Riders Championship (NAYC) as she finished in gold-medal position for the Individual Young Rider Dressage division.
No Title Defender
2021 NAYRC title defender Christian Simonson forfeited riding last year's gold medal winner Zeaball Diawind at Young Riders level this year.
Although Simonson competed Zeaball (by Furstenball) in the small tour at the 2022 Global Dressage Festival in Wellington, the horse got a break from showing after March, while Christian rode brand new acquisition Son of a Lady at two European CDI's at Young Riders instead, where he was joined on the Euro tour by Erin Nichols and Mackenzie Peer for the "Dreamers Programme". 
Clear Road to Gold for Nichols
The road was cleared for Nichols (Yorba Linda, Calif.) to guide her own Handsome Rob AR, a 2012 Dutch Warmblood gelding by Charmeur x Don Schufro, through a precise and flowing test that earned a 69.000% from the judges. The victory comes after Nichols and her Region 7 Young Riders team took team silver earlier in the week.
"I was just so proud, and hearing that final score was so exciting," said Nichols. "I'm super thankful for my ride that I did today and all of the moments leading up to this."
Nichols has developed Handsome Rob AR through his career since he was a five-year-old and the pair's top scores at this year's NAYC is a testament to their partnership.
"I definitely didn't imagine this moment," said Nichols. "I was optimistic and excited for what was to come when we first got him, and to be able to come and be individually gold at this championship is so exciting. It's a total dream come true.
"We're hoping to keep developing up the levels and see how much he can do," said Nichols. "He's still young—he's only 10—so he's still got some talent. We've still got to teach him some new things, and I'm excited to see where we go next."
Silver for Gemma Starn
Gemma Starn (Putnam Valley, N.Y.) finished in second place with her own Diamond First Choice, a 2011 Hanoverian gelding by Desperados x French Kiss, scoring a 68.206%.
"'Theo' is a really kind horse," said Starn. "He's often compared to a pet or a dog, but he's a very talented pet! He tries so hard every single day. There's never a day where he says no to me."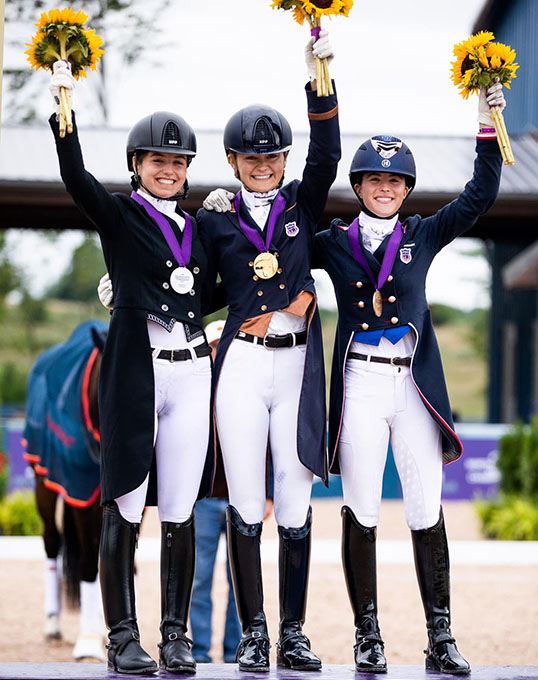 At age 21, Starn is in her final year of eligibility for Young Riders, and she reflected on the impact of the NAYC experience.
"[NAYC] is a really special event," said Starn. "Being around a lot of people who are super passionate and about riding and dressage and are coming up through the levels is really special." Starn rode her first NAJYRC in 2017 as a junior on Laudabilis Osvaldo (by Laudabilis x Ad Hoc) and finished 12th in the Kur. 
Boehning on Bronze
Another Region 7 athlete, Ellanor Boehning, (Rancho Santa Fe, Calif.), took home the bronze medal with Sir Junior, the 2011 Rhinelander gelding by Sir Stauffenberg x Grosso Z, which she co-owns with Ann Boehning.
"I think the Region 7 team this year has a really strong team, both in the Juniors and the Young Riders," said Boehning. "Having a team that's there to support you, cheer you ringside, even when there's mistakes, they're there to cheer you up, it's a big part of what goes into all of this. I think it makes a big difference to have people there that you know from home there to cheer you on and support you."
After winning team silver and scoring a 67.117% for the individual bronze, Boehning is looking ahead to the upcoming U.S. Dressage Festival of Champions.
"Next up for 'Junior' is going to be to head up to Lamplight," said Boehning. "To be honest, this was our first year doing Young Riders and I wasn't sure if I was going to move up or not, so just to be up here and be on a team—let alone be a podium finisher—is amazing in and of itself. So, now [our goal] is just fixing everything up and smoothing it all over."
Related Links
Scores: 2022 North American Junior/Young Riders Championships
Ella Fruchterman on Holts Le'Mans Wins Individual Test Gold at 2022 North American Junior Riders Championships
Region 3/9 Grabs the Team Gold at the 2022 North American Young Riders Championships
Region 4 Wins Team Gold at the 2022 North American Junior Riders Championships