2022 North American Junior / Young Riders Championships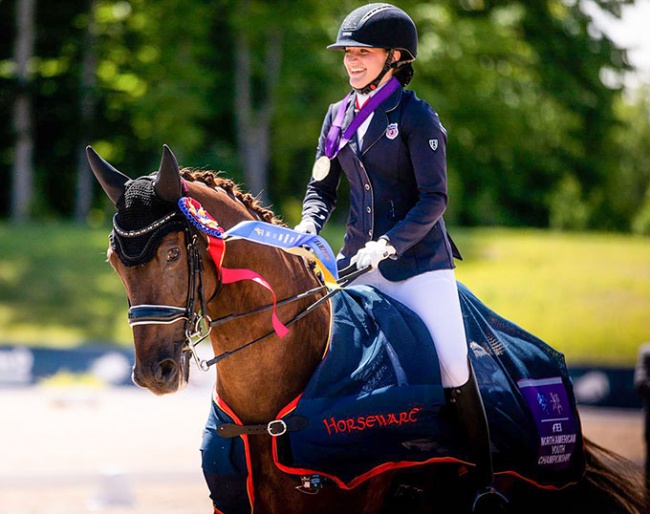 - USEF press release, edited by Eurodressage
At the midway point of the 2022 North American Youth Championships (NAYC), Ella Fruchterman has already racked up a pair of gold medals in the Junior Dressage division. 
Fruchterman (West Lakeland, Minn.) and Holts Le'Mans, her own 2011 Danish Warmblood gelding by L'Espoir x De Noir, were part of the Region 4 team that won gold on Wednesday's Junior Team Competition.  On Friday, the pair clinched the individual gold medal with a smooth and elegant test that earned them a 69.294%, a new personal best.
"I was just focused on a clean ride today," said Fruchterman. "[My horse] felt great in the warmup. I was a little more nervous today than I was on Wednesday just because you come off that high [of winning gold] and you want to do well, but I wanted to make sure my nerves were under control and that I was very calm and there with him. I trusted him the whole time. Overall, it was a fairly balanced test; I don't think there were too many super highs or super lows. I was working on keeping him engaged the whole time and I think I accomplished that for the most part."
Fruchterman has been partnered with Le'Mans for two years and said that their relationship has come together over the past season. The horse was first shown in Denmark as of 2016 by Ann Katrine Kejser Rasmussen, while in the summer of 2018 Mette Svare Ehlers took over the ride and campaigned him until July 2020 at small tour level.
"The trust has been built between us," she said. "I hang out with him and give him some cuddles. He has a really big personality; anybody that knows him knows he likes to be up in your grill. He definitely likes cuddles and he likes to know what's going on. He's a super hard worker. When we go out there, he wants to work and he wants to show off, and I know he's right there with me."
Silver for Swackhammer
After a silver-medal team result on Wednesday, Anna Swackhammer (Ontario, Canada) won individual silver with Fabienna GV, a 2013 Westphalian mare (by Fackeltanz x August der Starke) owned by Jean Szkotnicki, Kristina Bennett, and Melissa Sinclair. They turned in a clean test to earn a 69.029%, despite only having been paired up for a few months. Swackhammer noted that the flying changes were a highlight of the test.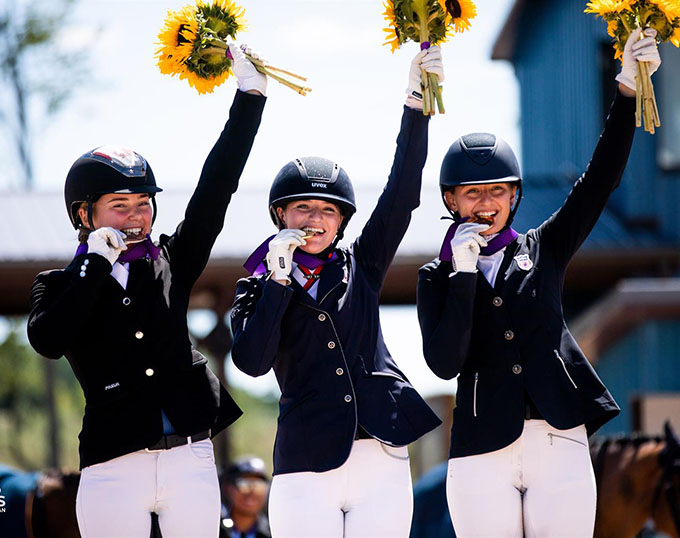 "She did the changes and I felt like, 'Oh my god, I'm in the air!'" said Swackhammer. "But then it's always a good feeling when you come out of the ring and your coach says, 'I have nothing to say.' So yeah, that was really awesome."
Fabienna GV made her show debut in Germany under Laura Strobel and was also competed by Stefan Lehfellner, Tamara Michei, and Yvonne Kläne, before she sold to the U.S.A. after the summer of 2021. 
Bronze for Kment
Kylee Kment, another team gold medalist from Region 4, rounded out the top three with a solid test on Jami Kent's Honor, a 2012 Dutch Warmblood gelding by Sir Sinclair who she describes as her "little buddy."
"He has such a personality, and he and I click really well," said Kment. "He loves to be super energetic and I kind of go along for the ride. I think that me believing in him has helped him come along and grow and helped me grow as well."
Honor was previously shown by Jami Kment and Ashley Duran, before Kylee Kment took over the ride in 2021.
All three of the junior individual medalists agreed that one of the most important parts of the NAYC experience was meeting and making connections with other young dressage athletes from across the country. Fruchterman summed up the experience and camaraderie that comes from participating in the event.
"All of the top junior riders in the country are in one place at one time," she said. "It's really great getting to meet people that have the same passion as you and understand the long hours in the barn balanced with schoolwork and missing social events with your friends because you're at horse shows on the weekend. As a junior, it's also really inspiring watching the Young Rider division and aspiring to get there next year."
Related Links
Scores: 2022 North American Junior/Young Riders Championships
Region 3/9 Grabs the Team Gold at the 2022 North American Young Riders Championships
Region 4 Wins Team Gold at the 2022 North American Junior Riders Championships