Danish Warmblood Foal Auction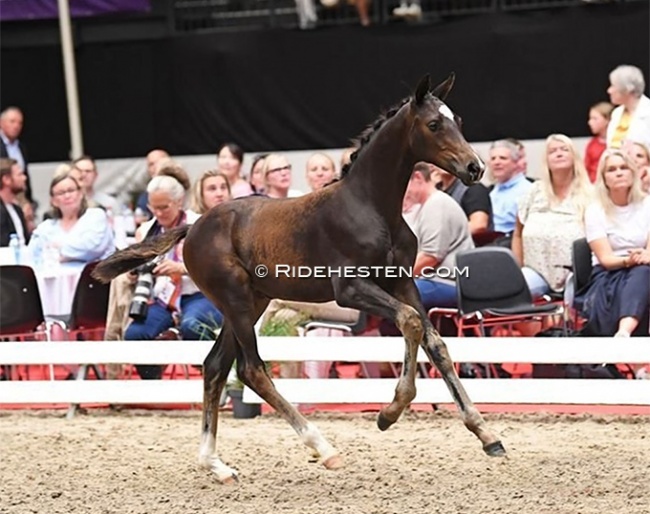 Gravity became the price highlight of the 2022 Danish warmblood elite foal auction which was held in the Jyske Bank Boxen indoor arena at the 2022 World Championships in Herning on 9 August 2022. 
From Vilhelmsborg to Herning
Instead of hosting the auction at the national equestrian centre in Vilhemsborg like usual, the Danish warmblood society moved the elite foal and mare show, as well as the  auction to Herning to benefit from the traffic at the championships. The move, however, was hardly made public and no press releases were sent to the media to notify the general public of the changed circumstance.   
The society, however, was able to reach out to its fixed network of clients as regular customers showed up in Herning and dug deep into their pockets for Danish bred foals. 
Inspired by Glamourdale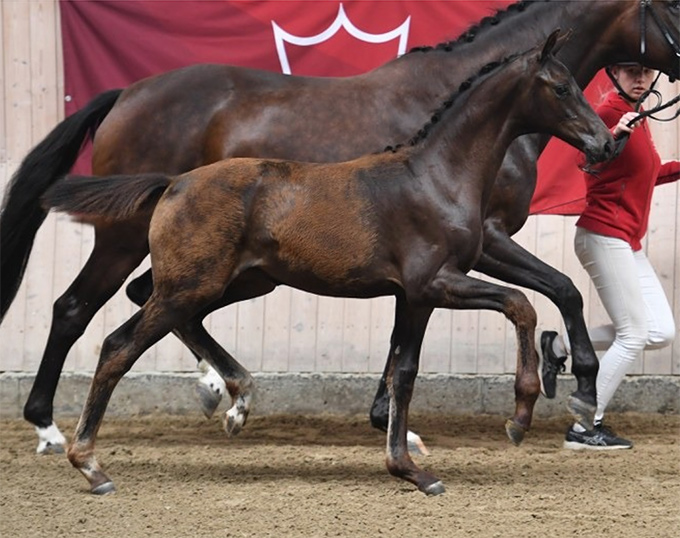 American Rachael Franks bought three foals, including the price highlight Gravity (by Glamourdale x For Romance) for which she paid 71,000 euro. She also bought Dina Guldbjerg (by Glamourdale x Blue Hors Zatchmo) for 24,000 euro and colt Baunehøjens Forever Fun (by Fynch Hatton x Ibiza) for 14,000 euro.
"Because the World Championships were so amazing and so moving, I felt compelled to grab the chance to have my very own Glamourdale," Franks took to Facebook. "There were 2 Glam's in the Danish Warmblood auction. Since both were fantastic, both Glamourdale fillies are coming home with me."
Franks travelled to Herning together with her friend, Canadian Grand Prix rider Vicky Lavoie, who has already purchased numerous foals in Denmark in the past few years, but this year focused her shopping on the German market. However, in Herning, she was convinced to buy Strauss (by So Perfect x Tailormade Temptation) for 36,000 euro and Gammel Mølles Five Weeks (by Highfive Fuglsang x Blue Hors Leredo) for 18,000 euro.
Lavoie, who owns the bio-energy company Nexolia in Quebec, also bought Henri the mascot for 3,000 euro for the tree planting project near Herning.
Danish Buys
Former Danish Grand Prix team rider Anna Zibrandtsen acquired the 2022 Danish Warmblood Filly Foal Champion, Terpling's Tiffany (by Total Hope x Zonyx ox), bred by Heima Poulsen. She paid  46,000 euro for her. Zibrandtsen also purchased Lykke Ariana (by Fynch Hatton x Blue Hors Don Olymbrio) for 30,000 euro.
Blue Hors stud acquired the filly Hygum's Ziggie (by Blue Hors St. Schufro x  Blue Hors Zack), who is bred by Tine and Henning Lygum. Kjell Kirk Kristiansen paid 35,000 euro for her .
The most expensive jumping colt sold to Frandsbjerg Horses, who each year by the Danish Warmblood Jumper foal champion. This year they paid 32,000 euro for Lerskovs Dialon (by Diablue PS x Colman).
Auction results here. 
Photo © Ridehesten
Related Links
Slangerupgaards Josefine, Best Seller of the 2021 Danish Warmblood Elite Foal Auction
Borbjergs Fairy Beautifull, Best Seller at the 2019 Danish Warmblood Elite Foal Auction
Netstutteriet Fazza, Price Highlight of the 2018 Danish Warmblood Elite Foal Auction
Vianna, Price Highlight of the 2017 Danish Warmblood Elite Foal Auction
Lissau's Ginger, Best Seller of the 2016 Danish Warmblood Elite Foal Auction
Tophojs Tebaldo, Top Seller of 2015 Danish Warmblood Elite Foal Auction
Strandagergaards Sirocco, Price Highlight of the 2014 Danish Warmblood Elite Foal Auction
Stenagers Franzeska, Price Highlight of the 2013 Danish Warmblood Elite Foal Auction
Ohlala, Price Highlight of the 2009 Danish Warmblood Elite Foal Auction
Record Prices at 2008 Danish Warmblood Elite Foal Auction