2022 World Championships Dressage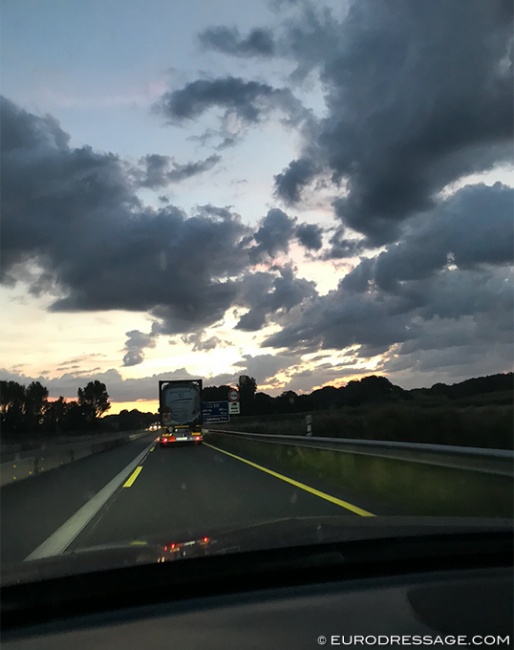 The last week has been a whirlwind: from the roller coaster of emotions, exhaustion, and fun covering the 2022 European Junior and Young Riders Championships in Hartpury (GBR) to an avalanche of work at home that needed to be shovelled in three days, followed by an 8-hour drive to the next attraction: the 2022 World Championships Dressage in Herning (DEN). 
"Greetings from the gearbox," that's the expression my Austrian colleague Petra Kerschbaum uses when one can't find the right gear with the stick shift and you hear the box clunking. This is what my life has felt like the past few days. 
Clunking Gearbox
 I was in doubt of going to Hartpury to cover Young Riders and made a very expensive last minute decision to go. The airfare was astronomical and although I enjoyed the adventure and camaraderie  at the championships, from a business perspective I probably made the wrong choice to go. I was once again confronted with how difficult some people digest my eye-witness interpretation of the show and it felt like an uppercut, Mortal Combat style. It made my wonder what happened in one generation time as I don't recall such hefty reactions ten years ago. These riders aspire to be professional athletes, but as soon as they see a mistake or flaw printed in black and white, the bubble bursts  - a bubble very carefully spin-doctored on instagram to present a world of perfection.
It made me think of the Facebook post former British chef d'equipe Clair Moir posted during Hartpury and then retracted. It produced a storm of outrage. It even prompted the board of British Dressage to distance itself from that position and make a public statement. I don't want to stir the same pot again, but I feel it's important to highlight a sentence from Moir's quote because it is an important reflection on the state the sport is in. She wrote, "too often I have had to pick up the pieces, as a chef d'equipe, when riders have not finished where they had hoped. They have their confidence bashed and it takes a long time to repair by which time the age window could have closed."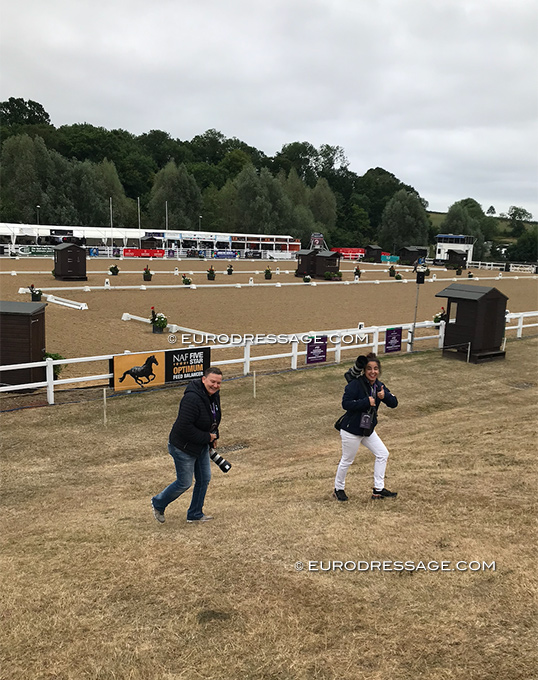 I always thought that sport was a way to harden character, build resilience, grown as a person, and fuel the drive for success and greatness? To what extent do athletes need to be bubble-wrapped and protected from failure or mistakes? Moir wrote her words in a slightly different context, as it related to selecting team riders with medal winning potential for the championships. To me it didn't make sense, as I remember well how Great Britain for many years was the red lantern in the team ranking (senior level) and only rose to top echelon in the late 2000s. Experience, mileage at championships, and the opportunity to try and fail (or succeed) nourish growth. Dealing with hardship is essential to become a better athlete. It builds character. And if I am completely mistaken on this view, let me know! I hope I still have all my marbles.
It sounds like I'm digressing but I think I'm not. I couldn't help but notice how very few equestrian publications in the world provide critical journalism of the sport. And these few publications seem to be under constant attack instead of being treasured for the coverage they bring. In Hartpury there were only two journalists on the scene who wrote up the event....two !! No media publication across Europe even bothers to send a journalist into the field to cover what really happens at these European Youth competitions; it's too low an FEI level. Not even the popular British Horse & Hound had a journalist there for dressage, or at least I didn't see him/her.  In fact, 98% of the print and online equestrian publications just regurgitate show results into sentences without knowing what happened. They do it from the comfort of their sofa and bring absolutely zero to the sport, except create more indifference to what is being printed. Who cares to read about the European Youth Championships? Who bothers to even read a time-consuming articles? Let's just watch a flighty photo on Instagram, swipe and gone. 
Hartpury was an amazing event: very well organized, brilliant weather, super sport, and all in all good judging. I was happy to be there as a journalist and photographer and had a total blast with my colleagues and friends, Lily Forado (ESP) and Petra Kerschbaum (AUT), who saved my day as we explored Gloucester, Stratford-upon-Avon, and Ledbury in our precious time off. 
When Shall We Three Meet Again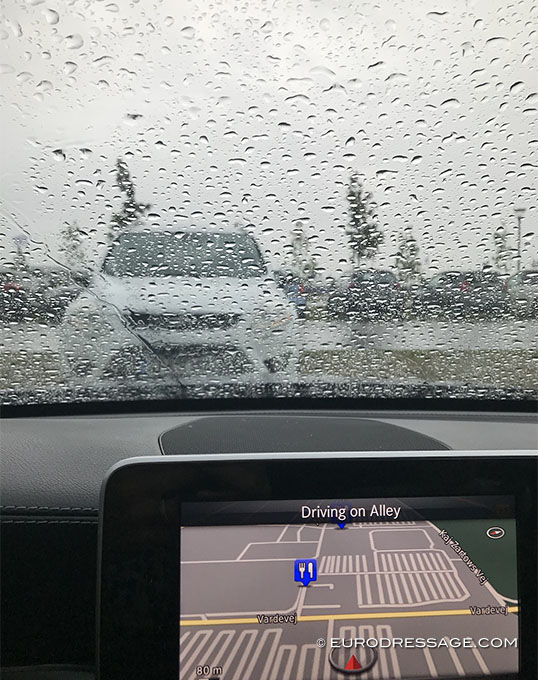 Inspired by our visit to Stratford, Petra started quoting Macbeth and compared us three to Shakespeare's Wayward Sisters. 
FIRST WITCH: When shall we three meet again? In thunder, lightning, or in rain?
SECOND WITCH: When the hurlyburly's done, When the battle's lost and won.
THIRD WITCH: That will be ere the set of sun.
Three days after Hartpury we met again in Herning. Lily flew from Barcelona to Billund, Petra drove from Vienna to pick up her caravan in Germany and then head to Herning, and I woke up at 2h45 to commence my drive and ensure I wouldn't be stuck in traffic in Hamburg.. It was pitch dark outside when I left my house at 3 AM and by 4h30 dawn set in and a beautiful cloudscape painted my view as I drove north to Denmark. 
I stopped at a gas station as soon as I passed Hamburg after 4h30 driving Petra texted where I was and it seemed no co-incidence that we were just five minutes apart. She also had a little stop-over to stretch her legs and catch up. My breakfast couldn't have been more German, a salty, plastic doughy bretzel which I munched on in the car while I did the final three-hour stretch to Herning. 
I arrived at the AirBnB I had booked more than a year ago and got shown the house by Claus. We are 3 km from the show grounds and I patted myself on the back for being so well-prepared and situated for another whopping World Championship that is about to start.  After dropping off my bags in the house, I headed to to the train station to pick up Lily. As I waited for her to arrive I started a conversation with a security guard who wrote a 100 euro  (800 DKK) parking ticket for someone who forgot to put their blue badge behind the windscreen. Denmark punishes their wrongdoers with purpose.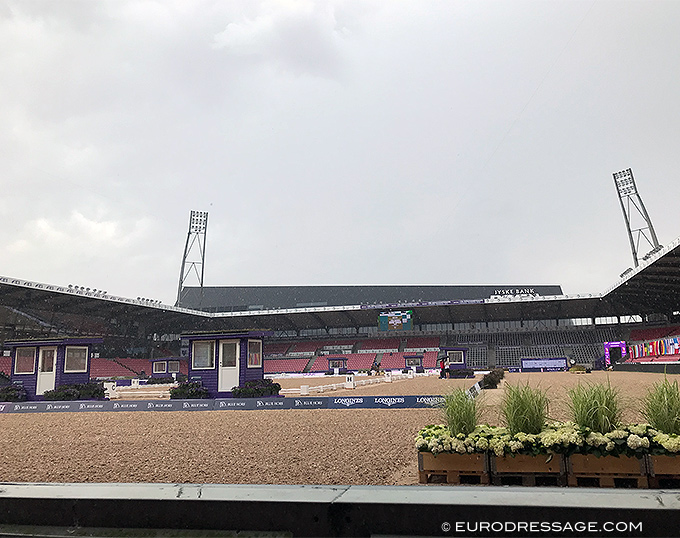 After getting settled in at the house, we went to the show grounds to pick up our accreditation and explore the venue. It was a nice summer temperature of 26 C°n when all of a sudden the heavens opened and rain poured down on us. We waited in the car for 10 minutes for the showers to clear.
The field of play is huge ! I covered the 2013 European Dressage Championships in Herning, but ten years later the event has doubled in size and they have done an amazing job at dressing up the show with purple banners, photos, flowers, etc. It really feels like a big sporting competition is ready to start and it only adds to the buzz that is stirring in our tummies. Can't wait for it to start. In the press centre we even got a goodie bag !! When I started as a journalists, we would often get small bags to remember the show by (usually it was a bag with the logo and a pin or a T-shirt, but since the financial crash of 2008 goodie bags were bygones. I'm happy they are re-instated in Herning).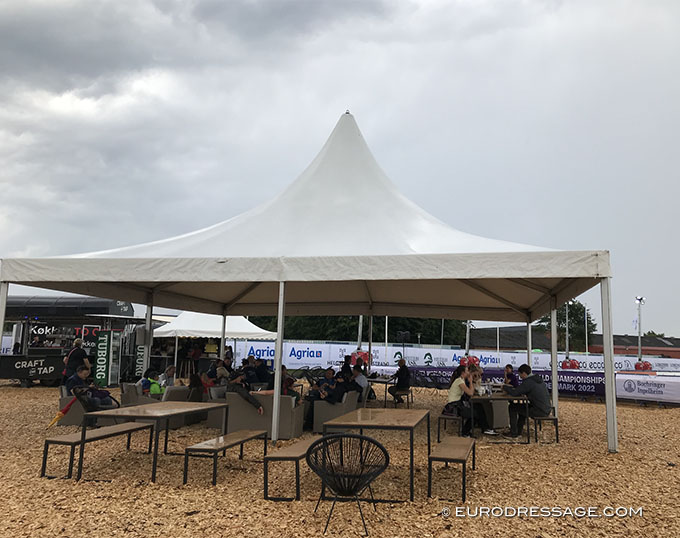 We greeted our colleagues and then went to check out the show stadium. Out of the blue this flash was followed by the loudest lightning strike that hit right above our heads and made the whole stadium tremble on its foundation. It was the loudest bang I ever heard. The lightning had struck somewhere near the warm-up arena and blown some of the fuses, but no real damage was done, fortunately. I had an overpriced (40 DKK), semi-enjoyable cappuccino near the warm-up ring as we sat out another rain storm. 
Then the three of us returned to the press center and headed back to our cars. Lily and I stopped at Aldi to buy some breakfast (yoghurt and special K) and then we just worked on the computer. 
Let the Games begin!
by Astrid Appels
Related Link
Eurodressage Coverage of the 2022 World Championships Dressage