Horses & Maths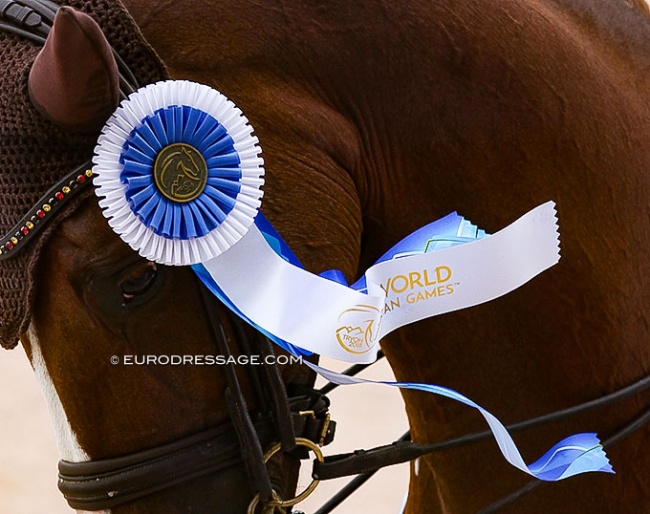 - by David Stickland
In two days the 2022 World Championship Dressage will be underway in Herning, Denmark. For several different reasons this edition promises to be a nail-biter with very little separating the top six nations in the Team medal competition.
Just as a reminder, and also because the rules seem to change with each such championship, in Herning the Team medal is determined by the addition of the top three scores for each nation in the Grand-Prix test taking place on Saturday and Sunday 6-7 August. The Individual championship is decided by the Grand Prix Special, comprising the top 30 combinations from the Grand Prix, with no national participation limits, and the Freestyle Championship from the top 15 combinations from the Special – but with a maximum of 3 combinations from each Nation.
I am also estimating it will need a score of 72+ to get into the Special and 75+ to get into the Freestyle.
Less Predictable Than in the Past
Almost all the participants are now known though there can still be substitutions from the listed reserve combinations – but only before the horse inspection on August 5. In this article I am going to concentrate on the Team competition.
The current world Champion Jessica Von Bredow-Werndl has more important things on her mind right now and we wish her the very best for her second baby due later in August. In addition, there have been a spate of recent horse retirements and a number of top horses that are for some reason not fit this time around, all of which promises that this quadrennial version of the world championship will be even less predictable than in the past.
The Top 6 Teams Contending
Summarizing the top 6 contending teams in alphabetical order, and I only take account, unless noted otherwise, of results since 1 December 2021:
Denmark is the host nation and by most analyses the favourite to win the team medal, their top rider Cathrine Dufour initially listing Bohemian as her nominated ride but she also has a strong reserve in Vamos Amigos and now chosen him to ride. Either horse has a strong possibility of scoring 80+ (The only other combinations scoring recently above 80 are Charlotte Fry and Glamourdale). Carina Cassoe Krüth (Heiline's Danciera) and Daniel Bachmann Andersen (Marshall-Bell) are consistently in the 75-77 bracket, but the real unknown is Nanna Skodborg Merrald with Blue Hors Zack. They haven't competed internationally since a CDI-W in Herning last October, but they were very strong at the Danish Championships scoring a 79.140% in the Grand Prix, but that was a national show.
Germany always wins these things, except when they don't. They find themselves without Jessica or Dorothee Schneider for this competition, but of course they have the most depth of any nation in terms of top scoring combinations. In Herning we expect to see Frederic Wandres (Duke of Britain), Benjamin Werndl (Famoso) and the cross discipline giant Ingrid Klimke (Franziskus 15) – oh, and of course Isabell Werth (Quantaz). Isabell and Quantaz have a high score of 78.9 recently, but then in Kronberg just a few weeks ago things went pear-shaped with a 69.5 – the last time she got a score lower than that was 7 years ago. Of course, she is without doubt the strongest dressage rider probably ever, so we can be sure that lessons have been learnt, but it does introduce uncertainty.
Great Britain has interesting "travel problems" these days so their home-based riders have not been competing in Europe so much recently. Charlotte Dujardin brings her 9-year old Imhotep who has only competed twice at CDI, once in Compiegne and once in Wellington (The UK Wellington that is). Charlotte Fry is European based and has Glamourdale with, as noted above, an 80+ Grand Prix Special score April of this year and Everdale as her reserve. Stalwart GBR riders Gareth Hughes (Briolinca and Sintano Van Hof Olympia) and Richard Davison (Bubblingh) complete a solid team. How will the Charlottes do? If they both come out strongly then GBR will be a force to reckon with.
Netherlands has also had some disappointments with horses having to withdraw but they still bring a strong team led by Dinja Van Liere (Hermes and Hartsuijker), Emmelie Scholtens (Indian Rock), Marieke van der Putten (Torveslettens Titanium) and Thamar Zweistra (Hexagon's Ich Weiss). Hermes has a high score just 1⁄4 point below the 80% line. It will come down to how far Dinja can push it and how strongly the rest of the team can support her.
Sweden is of course led by their long time anchor Patrik Kittel with Touchdown, teammates are Therese Nilshagen (Dante Weltino), Juliette Ramel (Buriel K.H.) and Jeanna Hogberg (Astoria). This is a team without one standout top combination but with three equally strong in the 75-76 bracket. What remains to be seen is if that strong field in depth can beat the nations that have one top ride and 2-3 middle rides.
USA has been very active in Europe heavily this spring after their usual Florida winter season. Their powerhouse Salvino is back in the game and has also nudged the 80% mark. Teammates are the ever present Steffen Peters (Suppenkasper), Ashley Holzer (Valentine) and newcomer at this level Katie Johnson-Duerrhammer (Quartett). As with most of the other top 6 teams they have one strong combination and then a good supporting cast.
So how might this all play out?
I perform all sorts of analyses for individual nations and decompose the performance and trends of each combination to give team trainers and selectors as much information as possible – but for obvious reasons that isn't going to be presented here! Nor do I present any predictions for individual riders, again I think that is not the sporting thing to do, there should not be strong expectations out there.
What I have done is consider various scenarios and what effect that may have on eventual team scores, I only consider in those analyses results since 1 December 2021.
What if each team rider does the best they have done?

What if they perform at their median score over the season for each movement and they do that without mistakes in this Grand Prix

What if the top rider underperforms by 5%?
That is summarized in the chart. The data point is plotted at the expectation from the top 3 in each team, it uses their median scores for each movement from the past 8 months. The upper limit assumes each rider performs the best they have done in the last 8 months, and the lower bar shows the effect of losing the top scoring rider, such that the 4th rider score is used instead of the 1st.
This competition is wide open. Of course, one team may go higher, and another may go lower, but I am pretty sure we won't know the final team rank till the last rider goes on August 7th!
- by David Stickland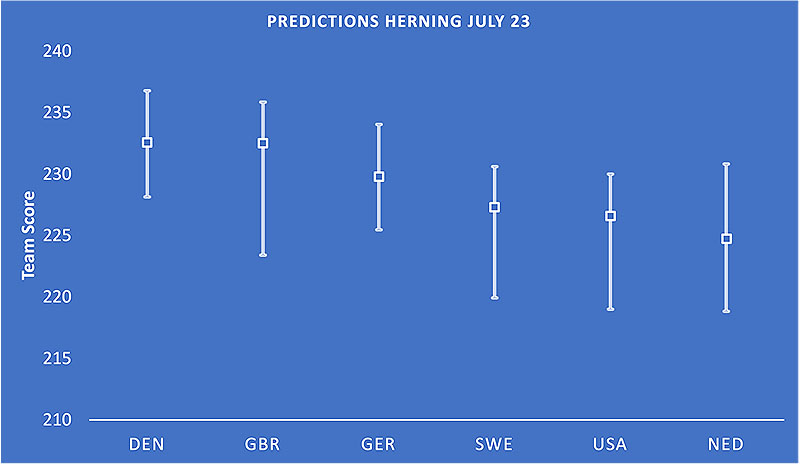 Related Link
Eurodressage Coverage of the 2022 World Championships Dressage