Trakehner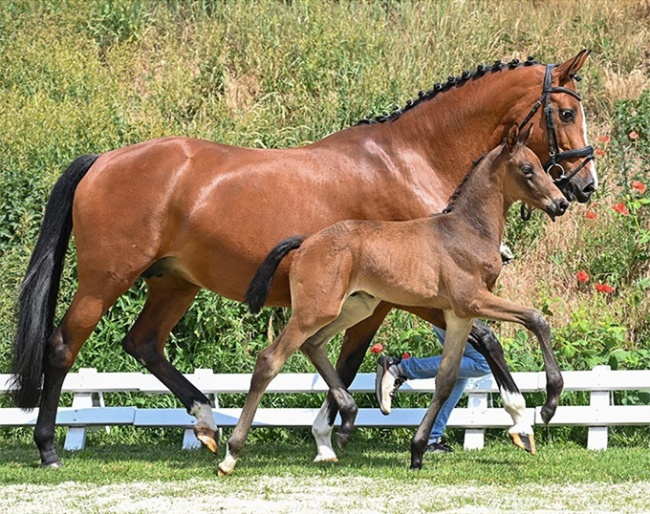 Two foals became the price highlight of the 2022 Trakehner Open Air Foal Auction held during the Trakehner Horse Championships on 23 July 2022.  
Save the Date (by Kwahu x Exclusiv) and Paladin (by Millennium x Canzler) both fetched the top sales price of 35,000 euro and sold to Paul Schockemöhle and Joop van Uytert.
The second most expensive foal of the auction was Havertz (by Blanc Pain x Millennium) which sold for 32,000 euro.
The collection featured 25 foals and one was a drop out. 
Beeten Fien (by Tecumseh x Cavallieri xx) sold for 25,000 euro, while Interpol (by Windfall x Krokant) fetched 23,000 euro.
Pillau (by Ganderas x Millennium) and Donna Rosa Verde (by Gaspard x Herbstkonig) both went for 18,000 euro
Graceful (by High Motion x Berlusconi) for 17,000 euro, Griezmann (by Rheinglanz x Durrenmatt) and Felix de Luxe (by High Motion x Montafon) both for 16,000 euro, Finesse (by Gaspard x Millennium) and Maranello (by Schaplitzer x Banderas) for 15,000 euro, Nachtmond (by Interconti x Niagara) for 13,000 euro, and Hans im Glück (by Grafenstolz x Camaro) for 12,500 euro. 
Related Links
In Utero Foal from Dalera's Dam Line, Top Seller at 2021 Trakehner Sport Horse and Foal Auction
Danish Breeders Nissen Sell Three Price Highlights in 2020 Trakehner Mare and Foal Auction
Inzaghi and Iniesta, Price Highlights of 2018 Trakehner Foal Auction
Greenwich Park, Top Seller of 2018 Trakehner Sport Horse Auction
Instagram Top Seller at 2016 Trakehner Elite Foal Auction
Hopkins, Top Seller at 2014 Trakehner Sport Horse Auction
Standing O' Vation, Top Seller at the 2013 Trakehner Elite Sport Horse and Foal Auction
Herzrouge and Cote d'Azur Shine at 2012 Trakehner Mare and Dressage Championship